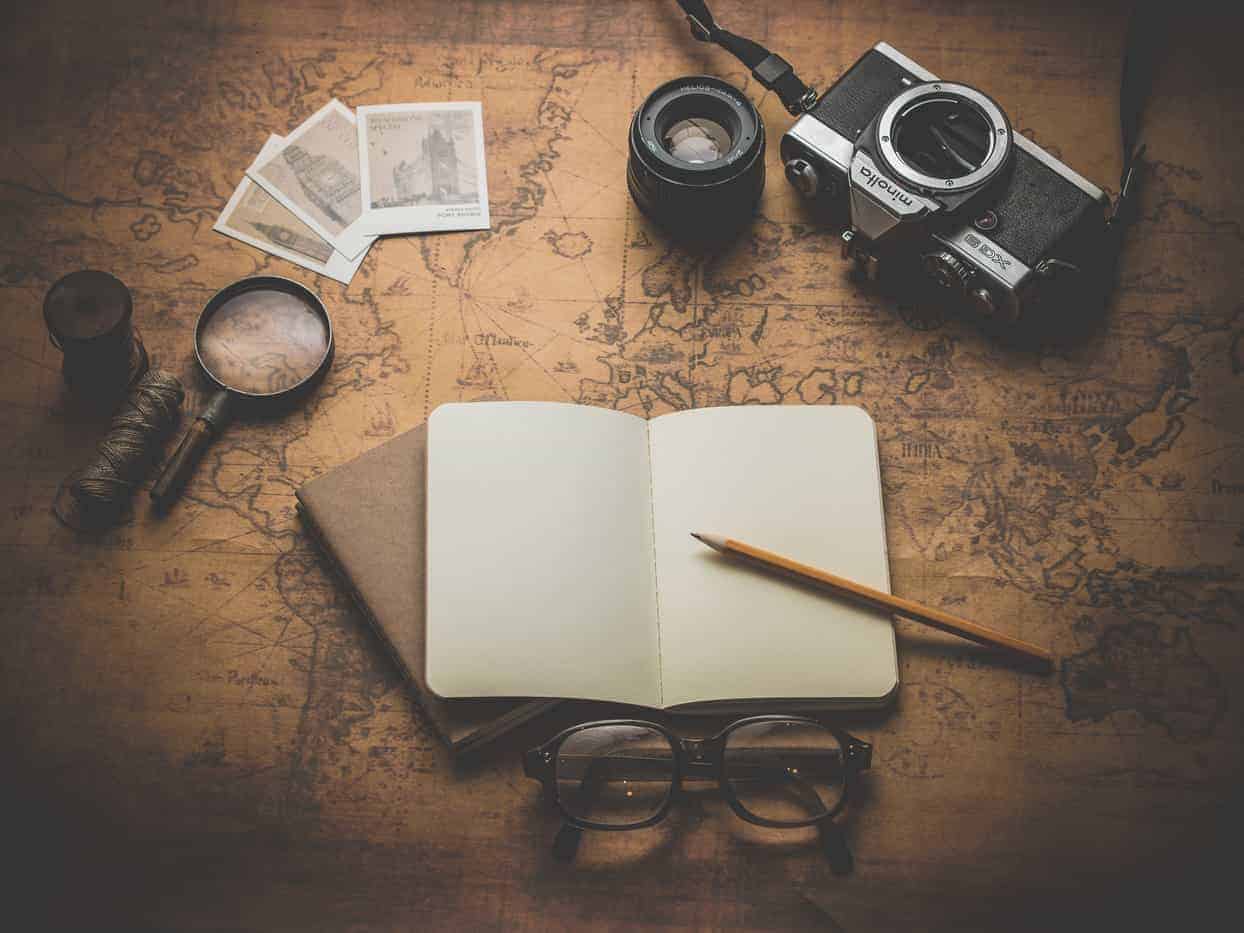 RadioGyan.com completed three years in June 2021 (3rd June 2019 to be precise)! I skipped the second-year review as I was busy. This year I compiled the 2021 Radiogyan Annual Report before it skips my mind. Read till the very end as I reveal how much the website earns monthly 🤑. So far it has been a memorable journey and I would like to share an account of it every year. You can read the first blog here where I talk about why I came up with the website and how I put it together: RadioGyan Turns ONE – The Journey So Far!
First of all, I would like to thank YOU, the readers. You guys have been extremely kind the past year and have helped the growth of the website by sharing content and by giving valuable feedback. Thank you, #TeamGyan for being a part of the RadioGyan community!
Stats for Nerds – Numbers Don't Lie!
More than 472432 users served so far with almost 1.5 million pageviews!
Visitors from more than 200 countries (212 / 230 countries).
Website Content
I will be honest, this year I have not been able to contribute much to the website given the work that we are doing on our social media channels (listed below). Despite this, we did come up with a few good articles. Here are a few notable ones:
RadioGyan YouTube Channel – 0 to 9000 subscribers!
I always thought that video is a better way to teach rather than text but have always been shy of the camera. I am not a great public speaker and was hesitant to do anything on video. To add to it I did not have the right equipment: No good cameras or fancy microphones. To add to it, our place is close to the hospital and on the top floor of a high-rise apartment so there is a ton of background noise. My mantra so far has been to try and not care about the result. So I did try to create a video despite these shortcomings and here is my first attempt at recording video:
This is the first video that I uploaded on YouTube. It took me more than 5 hours to create this and it turned out to be pretty disappointing. Although the content was pretty good, the audio quality was pretty bad. I was too dejected to upload anything for the next 4 months. In the meanwhile, the pandemic hit, and in-person radiology education was no longer possible. There was a barrage of online webinars and like others, I thought of using Zoom for teaching. We had a good response to case-based teaching sessions and I started uploading recordings on our YouTube channel.
I realized that I am not good at pre-recorded video but am good when I do live talks. So instead of sharing pre-recording videos, I started doing live classes. With each lecture, I kept getting better. The video quality improved. I gradually upgraded my audio setup. I started with a basic in-ear microphone. I then got a pair of basic headphones with a microphone which improved the audio quality a lot!
Here is a sneak peek into my current setup:
Recently I upgraded to the Blue-Yeti Microphone which is a professional microphone with amazing audio! My primary computer is a Macbook Pro 2020 version (Unfortunately I bought this just before the M1 came out. Major FOMO 😅). I also bought a second display to make it easier to check comments during live streams – an affordable 21 inch Dell Monitor. I also use my iPad occasionally when I am short of screens.
Lately, I have collaborated with a few colleagues and we have been doing regular teaching sessions on Saturday which has helped our growth. Thanks to Dr. Avni Skandhan, Dr. Venkatesh Manchikanti, and Dr. Ameya Kulkarni for contributing to teaching sessions.
Click here to access all previous recordings.
Here are the results: We now have more than 60 videos, almost 9000 subscribers and thousands of views for our videos!
By now I should have convinced you to hit the subscribe button. Right? Click here to subscribe to get awesome radiology content for FREE!
How did I solve the problem of the background noise that I spoke about earlier? Here is my secret: Krisp Audio. Krisp is an AI-based software that suppresses background noise and echoes. It works on Windows and Mac and supports all video conferencing software. It has worked really well for me and I did not have to worry about background noises since I have started using it. It is a paid software but they offer a generous free 120 minutes per month free trial, which is enough for most of us. The best part is that it can also suppress background noise from other speakers. So for example your Zoom tutor is in a noisy environment, you can get rid of the noise at your end. Here are a few samples:
Remember, there is always a solution!

Dr. Amar Udare
Notice the difference? If you are in a similar situation, you can sign up for a free trial using this exclusive link for RadioGyan viewers: Get Krisp AI Free
Other Social Media Channels
Our community has grown quite a lot during the past year. You can join us on your preferred channel by clicking on the links below.
The best way to stay connected is to sign up to our mailing list as I post a weekly newsletter where I share updates from RadioGyan and free radiology resources.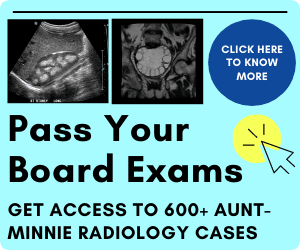 Workshops
We had three successful workshops on Breast Imaging by Dr. Ameya Kulkarni. We chose breast imaging as that is not taught well in most institutes. These were different from the routine passive webinars and the students loved these!
You can access one of these here sessions (includes videos and pre/post test quizzes): Learn Basics of Breast Imaging
Mega-Event – RadioGyan Quiz For A Cause
We organized a 9 hr long mega-event to raise funds for Doctors For You an NGO working for COVID relief in India. We raised more than 4,50,000 INR /+6000 USD over a span of two weeks without any sponsorship or support from any radiology organization or company. This is the power of our #TeamGyan community 💪. This amount will DIRECTLY be going to Doctors For You and will help them purchase basic life support equipment. Click here for details.
We had eminent radiology speakers and contributors from all over the world. I thank you everyone for being part of this herculean effort🙏. The Case-based radiology lectures were loved by the viewers which was evident from the live comments. Click here to watch the video on YouTube with timestamps.
RadioGyan Memberships for Case Collection / Spotters
I had to move the radiology spotter case collection to a separate section as it was quite distracting for exam-going students. The sidebar and ads made the interface clunky. Here is how it looked earlier.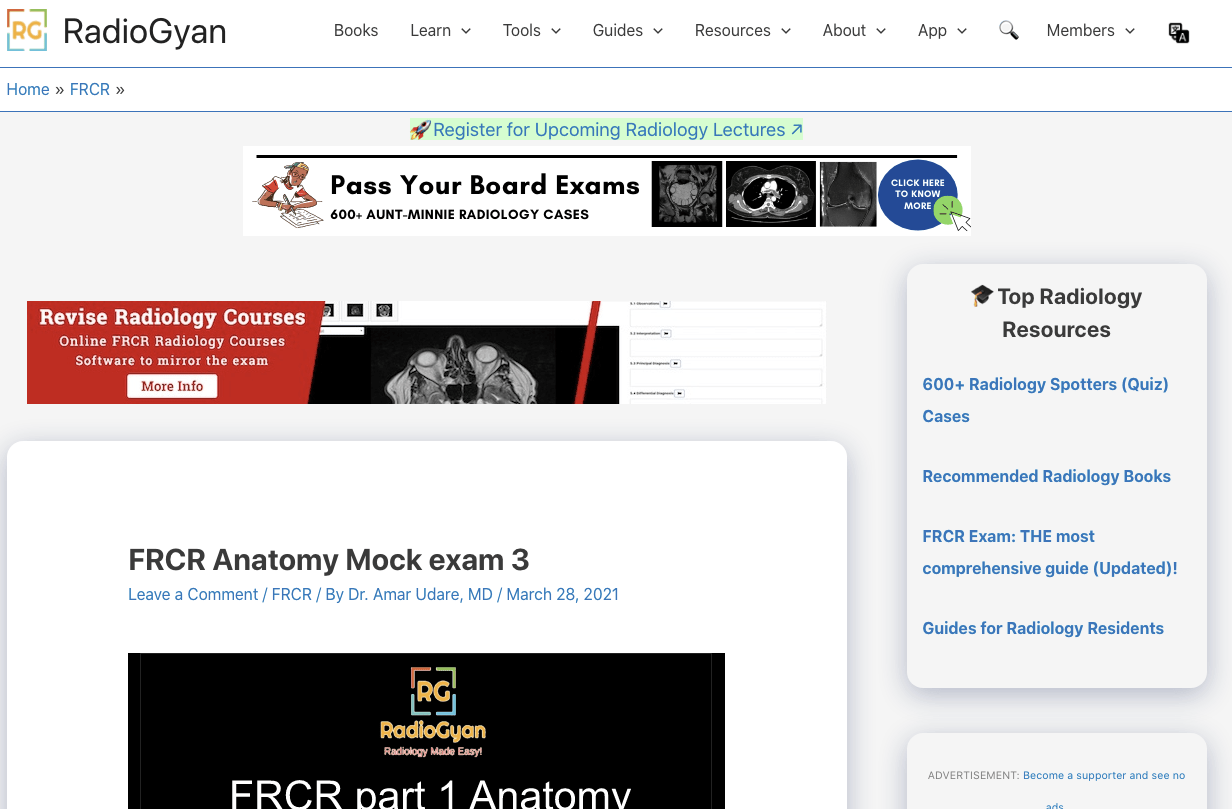 At the same time, I had to make sure that the website sustains itself. I do not intend to put any personal funds into it as I am already investing tons of time for which I do not get any returns. To make it a win-win situation for all, I have made this into a separate section with a cleaner interface with quick navigation links to the next and previous case sets. Zero Ads. This is how it looks now:
Our exam going candidates have loved this change. Another important factor that has helped students learn more is that you tend to value a particular thing more when you pay for it. The cost for accessing these is minimal as compared to what it takes to put all of this together. This helps the website going. Another important change is that because now people have to pay for these, I have a sense of responsibility to keep uploading newer sets. This has helped me keep improving this section. As I said before, a win-win situation for all!
You can read more about these and sign up here: Pass your Board Exams – RadioGyan Membership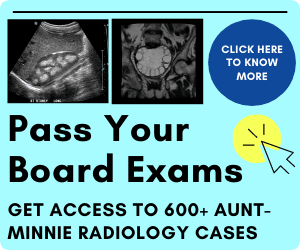 Backend Tweaks and Design Changes
The backend of the website is handled by me as I am interested in web development. If you wish to know how can you start your own website, let me know in the comments section and I would be happy to help.
Given the number of visitors that the website gets, I had to upgrade the hosting servers. The website is now powered by virtual private servers that are blazing fast. Most visitors around the world should be able to load the website in under a few seconds, depending on your internet connection. Check the results below: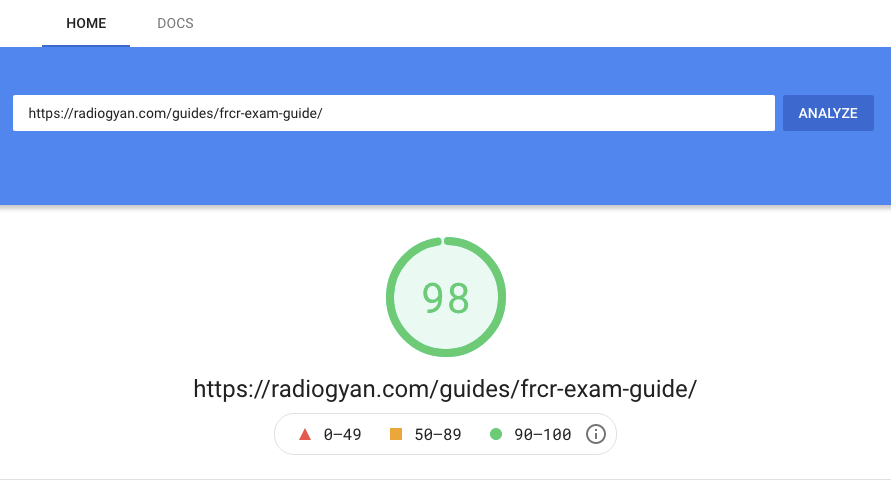 Design:
I lack creativity so I try to get inspiration from other website designs. I am a huge fan of rounded corners and they give a modern aesthetic feel to the website. Do you agree? Let me know in the comments.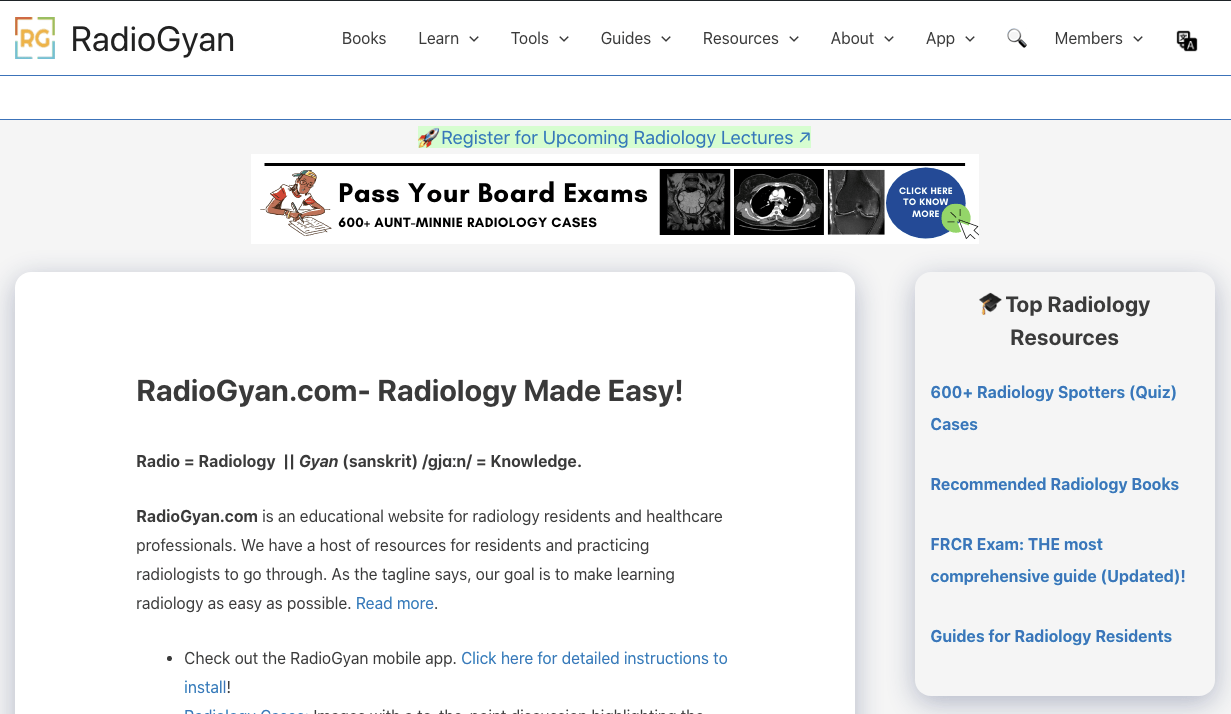 Google Love:
Most of the content on the website is well researched and in-depth, hence we have acquired top positions for a lot of Google search terms.
We rank in the top ten for a lot of web searches, for eg "radiology spotters", " FRCR exam", " radiology conferences", "tirads calculator"

#TeamGyan
As the website has grown over the past year, it has become difficult for me to handle on my own. We now have a small team of residents and radiologists who help me put this together. I thank all the members of #TeamGyan for their contributions. I always believe in giving back more than I take and I hope that all our members learn new things while they are creating content across social media platforms and the website.
If you wish to be a part of the team, please fill this Google Form if you have not already applied. We are not taking any more members until we organize the work among the current members. We will soon have a list of our current members on the contributors' page.
What next?
A lot of ideas in the pipeline but need time to execute those.
More illustrations – Thanks to #TeamGyan members Dr. Disha Lokhandwala and Dr.Bhargavi Sovani for their illustrations. Also thanks to Dr. Esha Agarwal for her radiology memes!
More cases!
More workshops focussed on active learning.
Updating all spotters sets with descriptions, videos, and more pearls.
iOS and PlayStore App. Currently, you can download the app from the website. Click here to download the RadioGyan App.
If you have any suggestions, please let me know in the comments section below.
How Much Does the Website Make 💸?
This is something that a lot of people may have in mind. I have reduced the number of ads on the website after your feedback so the website hardly earns anything these days. The lack of ads on the spotters' pages has also reduced income. A few of you have the misconception that YouTubers are rich and make a ton of money. Here is a snapshot of earnings from one of our YouTube videos with over 2500 views:
1$ for 1000 views! The reason for this discrepancy is our viewer demographics. Most of you are residents and have lesser purchasing power so YouTube does not show you costlier ads and gets lesser revenue. In fact, a sizeable portion. from ads goes to YouTube. In the future, I would definitely want this to improve so that I am able to hire people to help me in scaling our operations.
The point I am trying to make is that website does not make a lot of money but it definitely makes a lot of difference! Money has never been the motivation for me in this endeavor. Hundreds of residents have benefitted from the content on the website and will continue to. Ads and other revenue sources only help the website to grow. Each content on the website takes hours to put together and by now most of you are aware of how much a practicing radiologist can earn during this period.
If you wish to fuel our growth and help us reach more residents, check out ways to support us: Help RadioGyan Reach More Radiologists.
The core ideology behind the website remains the same, to help as many residents and radiologists as possible.
I shall see you next year with another annual report!
Dr. Amar Udare
Founder,
Related Posts ↓
📧 Radiology Newsletter↓
Get Updates and Exclusive Radiology Content
About the Author
---
Dr. Amar Udare, MD, DNB

Dr. Amar Udare is a board-certified radiologist. He is currently working as a fellow radiologist at McMaster University, Canada. He has a passion for teaching (#FOAMrad and #FOAMed) and has been a semi-finalist for the 2018 and 2020 Aunt-Minnie Most effective Radiology Educator Awards. He has authored multiple peer-reviewed publications which can be accessed on
PubMed
and
Google Scholar
.