Adrenal Washout Calculator (CT)
?Bookmark this page for future reference ('Ctrl+D' (Windows)/ '⌘ +D' (Mac users).
CT Adrenal wash out formulae: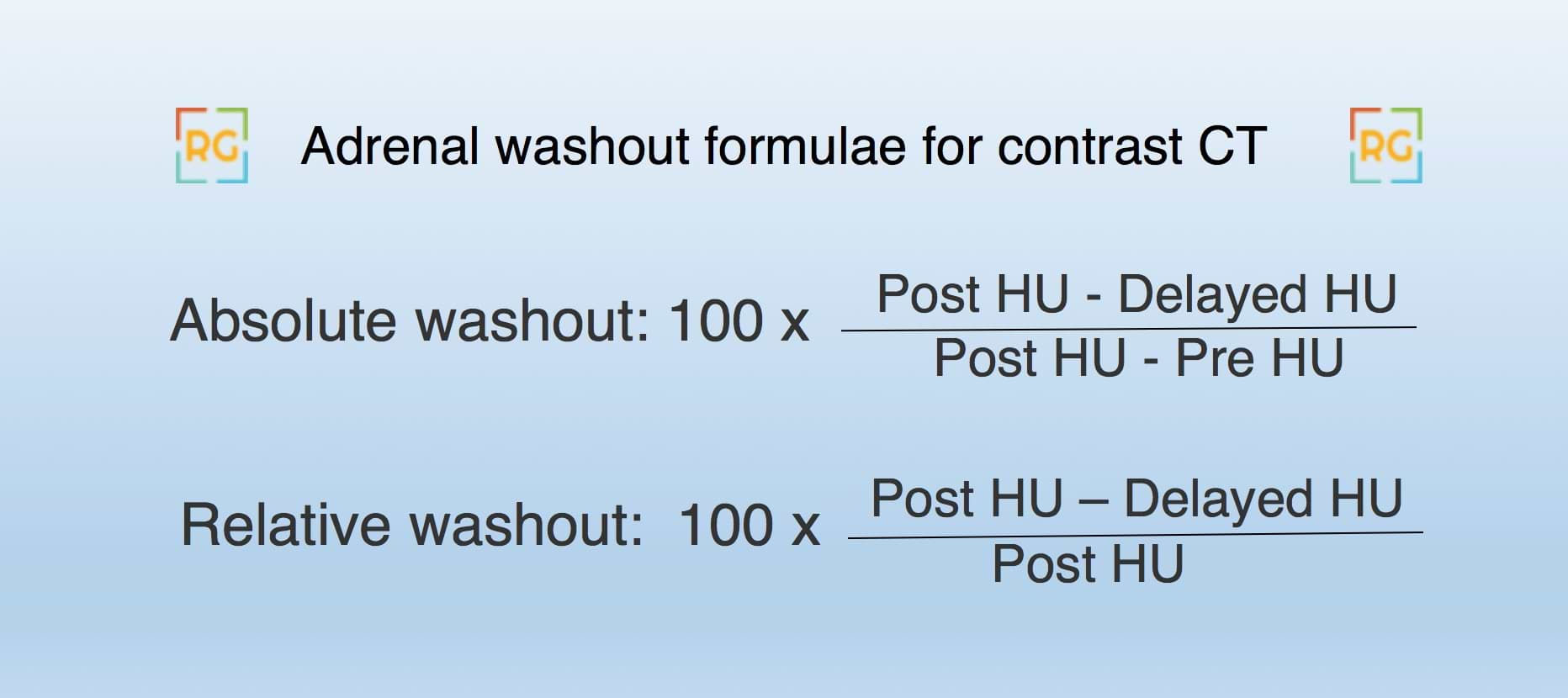 How to measure attenuation of adrenal adenomas on CT?
ROIs (Region of Interest) should be placed within the nodule encompassing two-thirds of its circumference to obtain a measurement that is as accurate and representative as possible.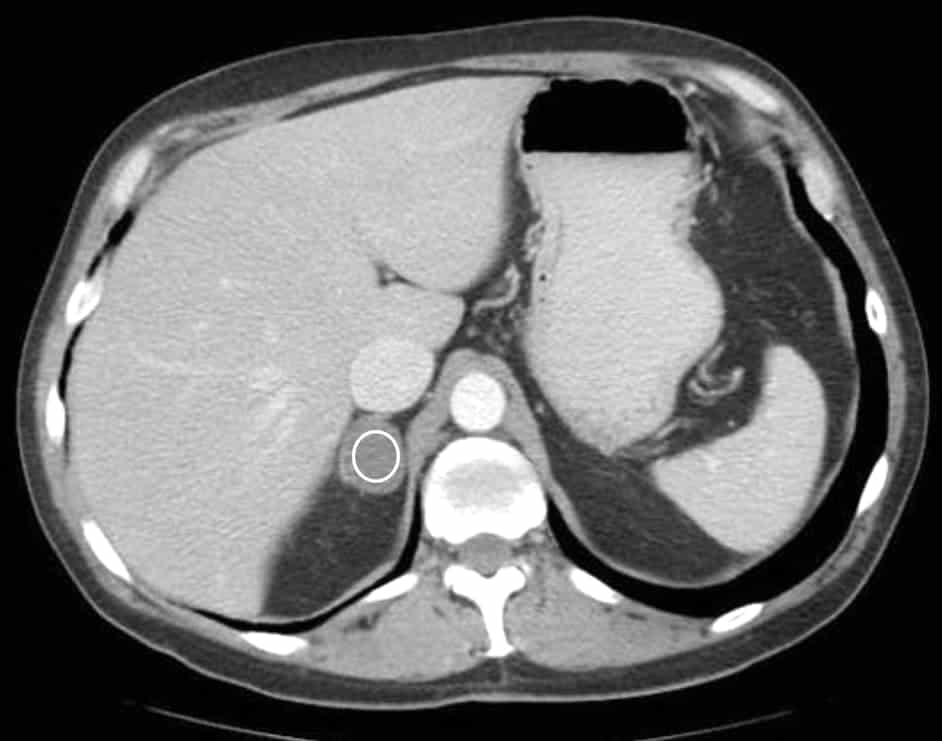 What is Adrenal Mass Protocol CT?
Adrenal protocol CT is performed for characterizing incidentally detected adrenal lesions (incidentalomas). It consists of :
A non-contrast CT -> If the adrenal lesion characteristics are that of a benign lesion (adenoma/myelolipoma), no further imaging is necessary.
Post-contrast CT at 70 secs delay.
Delayed CT at 15 minutes. 
To avoid excess radiation dose to the patient (ImageWisely), the CT can be tailored to cover only the adrenal glands.
Tips and tricks for Adrenal lesion characterization:
An incidental adrenal mass that is <1 cm in the short axis need not be pursued.
Attenuation value of less than 10 HU on unenhanced CT is diagnostic of an adrenal adenoma. This is owing to intra-cytoplasmic fat. Note that MACROSCOPIC fat suggests and adrenal myelolipoma and not an adenoma (Refer to spotter case 6 from case set 11).
Unenhanced HU of more than 43 HU in a noncalcified, non-hemorrhagic lesion is suspicious for malignancy, regardless of washout characteristics.
One-third of adenomas are lipid-poor. These can be diagnosed using

Chemical shift MR imaging (CSI) – Drop of signal on out of phase MRI sequence (Spotter case 1 in the case set number 17).
If the unhenanced HU value is more than 20, multiphase contrast CT is preferred over CSI MRI imaging. This includes an unenhanced scan and post-contrast images at 70 seconds and 15-min. Adenomas washout early while other lesions don't. Absolute percentage washout (APW) more than 60% and relative percentage washout (RPW) more than 40 % suggests an adenoma. Refer to the formulae for calculating adrenal washout.
Use the adrenal washout calculator to calculate APW and RPW for indeterminate adrenal lesions.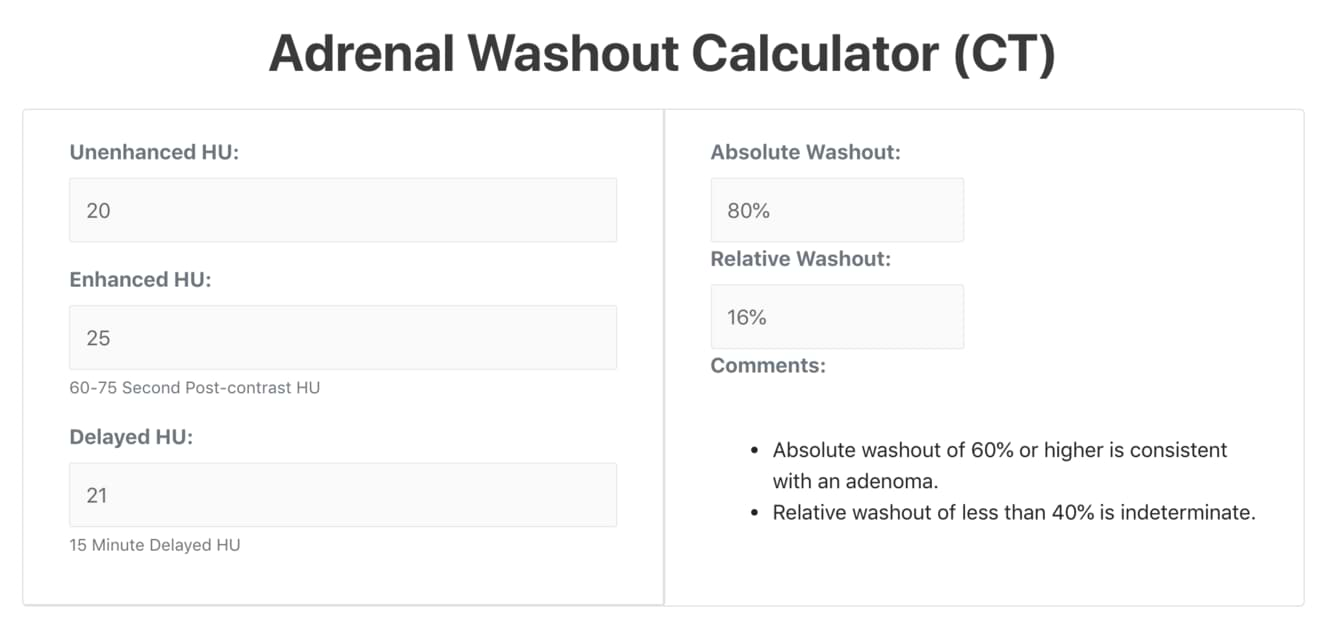 False-positive values for APW and RPW include:

Adrenal metastases from hypervascular lesions like hepatocellular carcinoma and renal cell carcinomas: Compare with prior imaging studies and/or biopsy.
Pheochromocytomas: These enhance>100 HU on arterial phase & >130 HU on the venous phase while an adenoma does not enhance this much.

Benign adrenal masses include:

Lipid-rich adenoma
Myelolipoma
Cyst
Hemorrhage, in the appropriate clinical setting.
Lesions with benign calcifications

Lesions which are indeterminate can be further characterized:

Size: Size less than 4 cm and interval stability of more than a year favors benign etiology.
Known malignancy raises the risk of malignant lesions. 
Peripheral enhancement should raise concern for metastasis in the setting of primary malignancy
In suspicious cases, an image-guided biopsy is the next best step.
What is an adrenal incidentaloma?
An adrenal incidentaloma is an adrenal mass measuring greater than 1 cm that is discovered during a radiologic examination that was performed for indications other than evaluation of adrenal disease.
Differentiating adrenal myelolipoma vs adenoma on CT:
Adrenal myelolipoma has MACROSCOPIC fat while adenoma has microscopic fat.
Myelolipomas are benign tumors of the adrenals that are composed of hematopoietic tissue (myelo-) and fat (lipoma).
Adenomas are most-common adrenal tumors.
Myelolipmas contain MACROSCOPIC fat i.e visible fat. This can be identified either as low density on CT (approx -30 to -150 HU) or on MRI T1W images.
Adenomas may have MICROSCOPIC fat. This may not be visible on routine CT and is detected on in and out of phase MR imaging.
Management flow-charts for evaluation and work-up of adrenal lesions on imaging
Refer to these flow-charts by Radiology Assistant and the ACR for differential diagnosis of adrenal lesion and management of incidental adrenal lesions.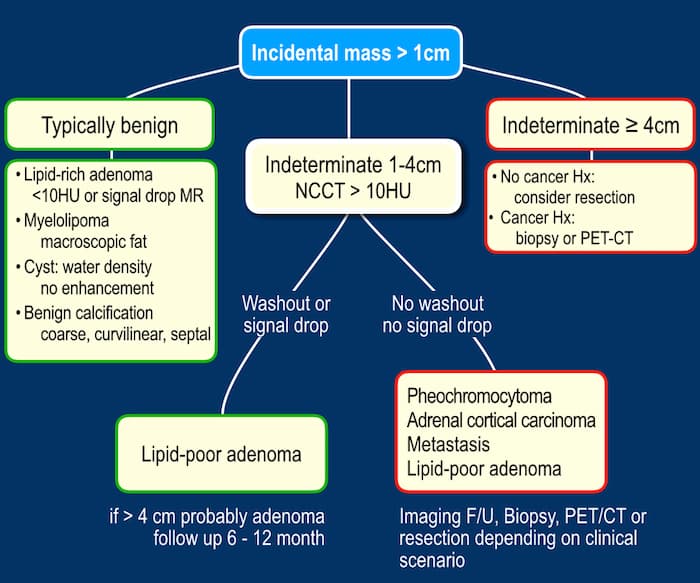 References:
Taner AT, Schieda N, Siegelman ES. Pitfalls in adrenal imaging. Semin Roentgenol 2015; 50:260–272
Blake MA, Kalra MK, Sweeney AT, et al. Distinguishing benign from malignant adrenal masses: multi-detector row CT protocol with a 10-minute delay. Radiology 2005; 238:578-585

Schieda N, Siegelman E. Update on CT and MRI of adrenal nodules. AJR Am J Roentgenol 2017; 208:1-12

Radiologyassistant.nl. (2020). The Radiology Assistant: Adrenals – Lesion Characterization. [online] Available at: http://www.radiologyassistant.nl/en/p5b9ea3aca897e/adrenals-lesion-characterization.html [Accessed 29 Aug. 2019].
Disclaimer: The author makes no claims of the accuracy of the information contained herein; this information is for educational purposes only and is not a substitute for clinical judgment.
Check out other radiology calculators:
Built by Dr. Amar Udare, MD
Coded by Aniket Udare