There are a lot of free radiology resources online but before the exams, it is difficult to browse through all of them. Also, you might just end up surfing from one website to another without actually learning anything. A lot of FREE to share radiology notes are available which are usually circulated in private social channels like WhatsApp and Telegram. I have tried to compile all of these in one place so that it is easy for residents to read before the exam. These are FREE to download in PDF, PPT format with direct links from Google Drive.
The page is best viewed on a desktop. Make sure you bookmark this page for future updates (Control + D on Windows and Command + D on Mac). Please share the page with your friends and colleagues so that maximum people will benefit.
The folder includes:
List of DNB / MD / DMRD practical exam cases.
Subjectwise Spotter presentations and Quizzes.
DNB radiodiagnosis logbook
Viva material
System wise Oral Recalls
Intervention Radiology instruments
Lots more!
All we request is to share the content on social media so that more people can get access to it. Once you share you will be able to browse through the Google drive folder for useful Radiology Exam resources. All credits to the original creator of these.
Radiology Exam Resources:
The files currently in the folder are as follows:
DNB MD DMRD Radiodiagnosis Radiology long cases and spotters list pdf
DNB Radiodiagnosis log book RadioGyan
Barnard College Radiology Notes pdf
IRIA Radiology quiz pptx
Radiology Flashcards RadioGyan pdf
Collection of Chest Cases by Dr Hamdi Turkey RadioGyan pdf
List of Short cases RadioGyan pdf
Oral Recalls Chest RadioGyan ppt
Oral Recalls GI RadioGyan ppt
Oral Recalls GU RadioGyan ppt
Oral Recalls interventional radiology RadioGyan ppt
Oral Recalls Mammography RadioGyan ppt
Oral Recalls MSK RadioGyan ppt
Oral Recalls Neuroradiology RadioGyan ppt
Oral Recalls Nuclear Medicine RadioGyan ppt
Oral Recalls Peds RadioGyan ppt
Oral Recalls US RadioGyan ppt
Viva material RadioGyan pdf
Cardiac Radiology Review RadioGyan ppt
Pediatric Radiology Review RadioGyan ppt
Neuroradiology radiology Review RadioGyan Part ppt
Neuroradiology Review RadioGyan Part pptx
MSK Radiology Review RadioGyan ppt
Mammography review Radiogyan ppt
Interventional Radiology Part Radiogyan ppt
Interventional Radiology Part Radiogyan pptx
Gastrointestinal Radiology Review RadioGyan ppt
Chest Radiology Review Part RadioGyan ppt
Instruments and catheters for table vivaMust follow rules for PCPNDT pdf
PCPNDT ACT GUIDELINES PPT WORKSHOP pptx
PCPNDT FAQ public pdf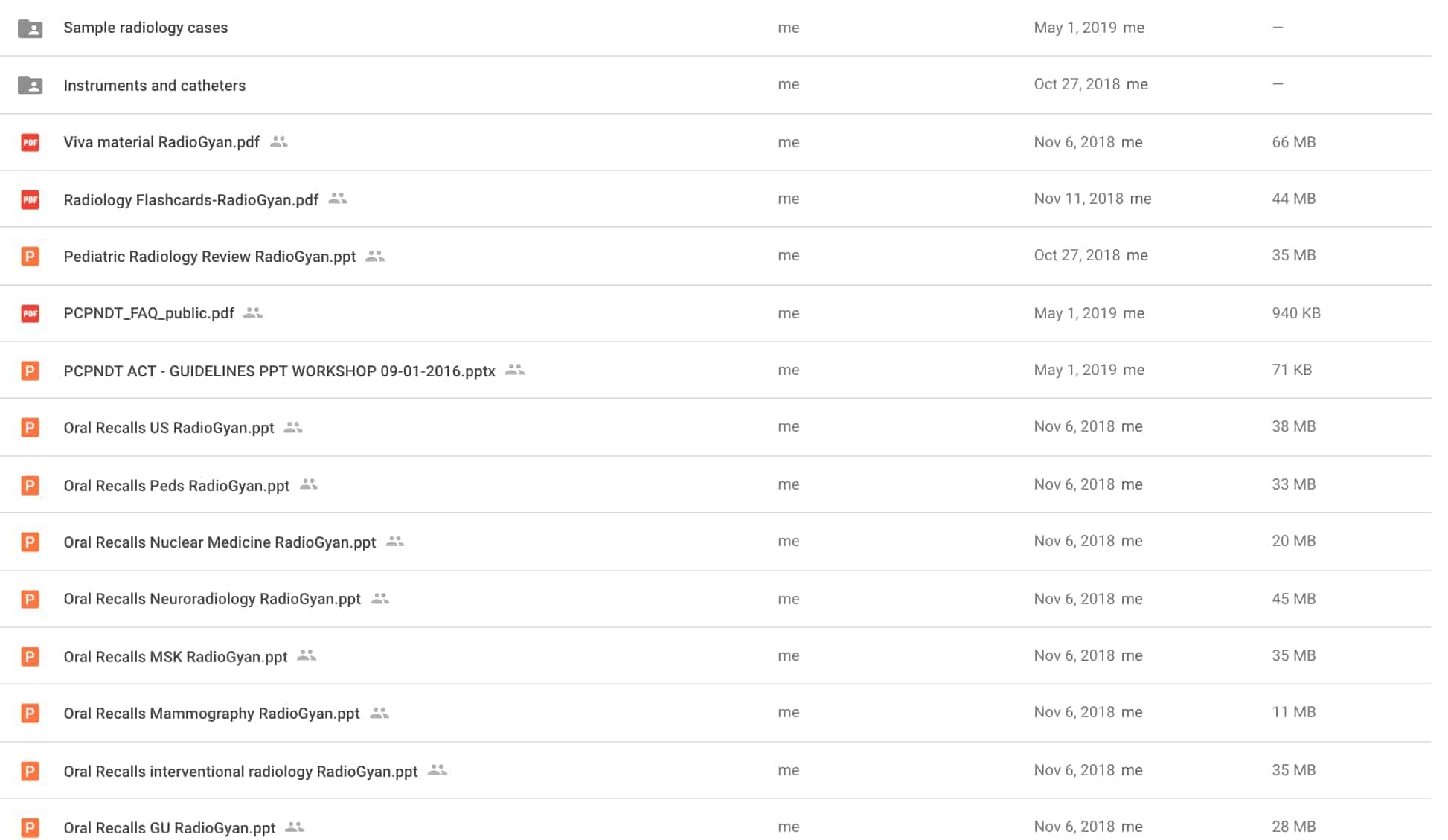 If you wish to share any relevant exam resources you can contact us or share it in our telegram group.
Other useful resources for radiology residents:
Radiology Practical Exams Questions compilation for MD/DNB/DMRD !
NOTE: The files uploaded in this folder are not owned/ downloaded by me. They are available on various file-sharing websites and I compiled them for convenience. These are intended to help radiology residents with their practical exams without any commercial motives.
We at RadioGyan.com respect copyright and if you have issues with any of the uploaded files you can request us to remove them at Contact radiogyan.com
You are free to use the files as you wish. Comment below and let us know what was the best radiology resource that helped you in the exams!
Do share the page with your radiology colleagues!
Found an error in the post? Please let us know in the comments below or
contact us
and we will update it with due credits!
Related Posts ↓
📧 Radiology Newsletter↓
Get Updates and Exclusive Radiology Content
About the Author
---
Dr. Amar Udare, MD, DNB

Dr. Amar Udare is a board-certified radiologist. He is currently working as a fellow radiologist at McMaster University, Canada. He has a passion for teaching (#FOAMrad and #FOAMed) and has been a semi-finalist for the 2018 and 2020 Aunt-Minnie Most effective Radiology Educator Awards. He has authored multiple peer-reviewed publications which can be accessed on
PubMed
and
Google Scholar
.