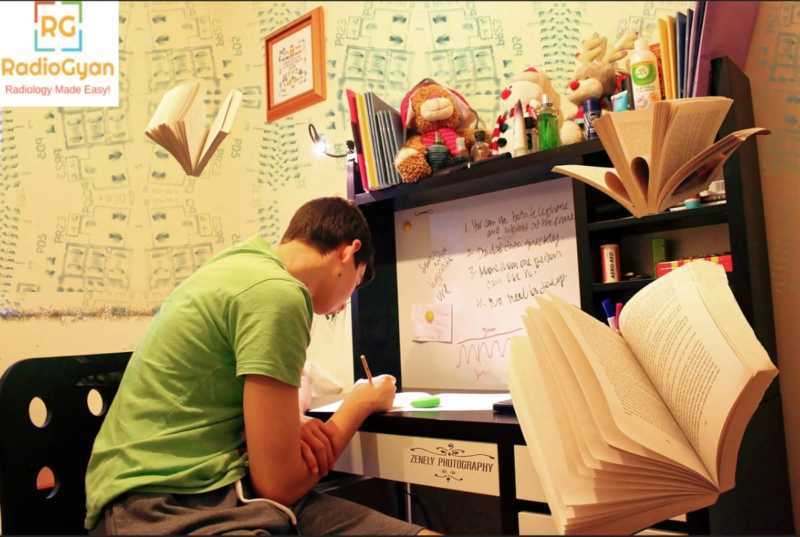 Tips and Tricks for DNB/MD Radiology Practical Exam
Exams, in general, are tricky and the Indian system of evaluation is far from perfect. The same is true for the radiology practical exam and especially for NBE/DNB (National Board of Examination / Diplomate of National Board). Multiple in-training assessments are better ways to assess the worthiness of a candidate as opposed to a one-time examination. DNB candidates are expected to appear for practical exams in an institute other than their parent institute which often is in a different part of the country. The examiners as well are from different institutes. This makes the exam apparently very fair but unfortunately, at times it isn't. The shortcomings of this system have been openly criticized by eminent radiologist Dr. Bhavin Jankharia in the IJRI article titled, 'Why examiners should not forget to be decent human beings'.
MD examinations are conducted in the parent institute so there is at least one internal examiner. This does introduce bias but it also gives a margin for error for the student. A student can be well-read and sincere in his work throughout his radiology residency but on the day of the exam he/she can screw up. During these tough times, an internal examiner at least has an overall idea about the student and can help bail him/her out. A DNB resident does not have the luxury of having an internal examiner at the exams. If battling a possibly malignant examiner in a foreign institute isn't enough, DNB makes planning and traveling for the exams hectic. Usually, the practical exam dates are declared a few weeks/month earlier a candidate has to also invest time and energy in planning those things as well. And if you end up in a shady hotel in Paharganj like me (thanks to my lack of knowledge about places to stay in the capital city and sugar-clad description of hotels at AirBnB), that will just add to the stress of the not-so-pleasant exam. In short, DNB radiology practical exam preparation is a daunting task! 
All said and done, we and specifically YOU don't have an option so no point discussing things we can't do much about. And I know you are not interested in this is an inconsequential rant so let's get to the point. I had requested radiology residents who have cleared their practical exams to help out juniors by recollecting practical exam questions. 

Dr. B Yashwanth has compiled a few tips and tricks that help him clear his DNB radiology practical exam.  Dr. B Yashwanth is from Bangalore and has completed his DNB Radio-diagnosis from Bokaro General Hospital, a 910-bedded public sector hospital located in Bokaro Steel City, Jharkhand. Here is his four-part comprehensive guide for radiology practical exam. Although his article is focussed on DNB exams, most of the points are relevant even for MD exams. I have not read a more comprehensive article regarding the approach to radiology practical exam preparation and am sure that radiology residents will find the article really useful. If you wish to contribute to this exhaustive article, do contact me on Telegram or by email
General Introduction
The ulterior motive of writing this piece was to sensitize, alert and prepare an anxious candidate appearing for the DNB Radio-diagnosis practical examination. I know there are very few articles which speak about the challenges faced by candidates during preparation and examination, which itself has created a fear psychosis in the minds of several candidates, including myself.

DNB Radiology Practical exam is often seen by many, including myself as a very challenging examination, with poor pass rates and candidates appearing in repeated attempts in order to qualify for the DNB degree. Failure to obtain a DNB degree, especially in the case of a primary DNB candidate has far-reaching personal and professional consequences and causes considerable stress.

In all these years of preparation, I have interacted with many teachers, seniors, colleagues and juniors who aced this exam with vastly different methods of preparation and also discussed with them about their experiences in the DNB Radiology Practical exam. I too have tried different approaches, schedules as part of my preparation.
First and foremost, as with anyone who has tasted success, the predominant factor and the important prerequisite that matters for sure shot success is HARD WORK and only HARD WORK that counts, more so for this examination. And practice makes one perfect, so never stop till you learn well.

Candidates who have joined recently must remember to start preparing for this exam early in their residency so as to avoid disappointment when expecting results. A saying aptly sums up this: "Procrastination is the thief of time".
Stress can make you forget what you have learned and can cause a serious mental block, something you don't want to happen in an exam setting. So keep yourself calm while giving the exam. I can personally vouch for this.

You are your only savior in this exam- so success really depends on "U" (Sorry, but I had to say this at the cost of using SMS language just to drive the point home)

Always remember—"Patient and perseverance surmount every difficulty"

Never think of giving up—investigate and find out what is really going wrong to improve and develop finesse which, trust me will keep you in very good stead in the future years of your career.

Never hesitate to seek help, after all, it is to better yourself, your career and your future.

Last but not the least—learn to take criticism well and I strictly mean positive, constructive criticism and shun the negative kind to advance your learning and career growth.

Tips for Spotters:
The first section of the DNB Radiology Practical Exam currently is the Spotters section in which a candidate must answer 40 spotters in 40 minutes and give a single spot diagnosis. Each spotter carries 2 marks and the maximum total score of 80 marks.
The spotters are from across different modalities, ranging from Radiography to Nuclear medicine and Interventional Radiology. Cases from various organ systems are on display for the candidate to decode the diagnosis and for the examiner to gauge the powers of observation of the candidate.
I am aware of the fact that this section happens to a daunting one, considering the time limit, the complexity of cases and the very high expectation to score in this section.
Candidates should remember that Radiology is a visual subject and eyeballing helps to retain information and process images faster, whether in the exam or in clinical practice. I would like to quote this very popular saying- " Eyes don't see what the mind does not know ˮ is very apt with respect to Radiology.
I will cover this topic in two sections-
a) "How and from where should I prepare for the spotters? ˮ and
b) "How to write answers for the spotters? ˮ
Step 1: " How and from where should I prepare for the spotters? ˮ
The answer to this question is
⃰Please note- This list is not exhaustive and are the museums that I am aware of, where one can view the spotters' collection. Candidates aware of museums close to their hometown or region may visit accordingly. Candidates are especially advised to approach the heads of the Radiology departments of the respective medical colleges/hospitals and seek proper permission before planning a visit if they wish to.
Step 2: " How to write answers for the spotters? ˮ
This is where most candidates go wrong and end up losing marks, even if they know the diagnosis. One MUST follow these two basic rules while attempting spotters. Silly mistakes like these are CRIMINAL.
Write

neatly and legibly

across the appropriate spotter number (at least try to!).

Always

mention the

side

with the diagnosis. For example., "Osteosarcoma of the distal Right femur ˮ will fetch you full 2 marks rather than just writing "Osteosarcoma femur ˮ or just " Osteosarcoma ˮ

Mention

ancillary findings

if any for eg.

"Angiomyolipoma of the left kidney with hemorrhage" will fetch you more marks than writing just "Angiomyolipoma left kidney ˮ or just "Angiomyolipomaˮ

"Simple bone cyst of the right humerus with a pathological fracture will fetch you more marks than "Simple bone cyst right humerus ˮ or just "Simple bone cyst ˮ.

Don't write acronyms

in the answer sheet. This can backfire badly. For example, don't write OM for Osteomyelitis or MS for Multiple sclerosis etc.

Attempt all the spotters

. At least write the finding if you cannot write the diagnosis which can still fetch you some marks.

Avoid differential diagnosis

since the cases given are worked up cases and have a final diagnosis unless the examiner on the day of the exam has given you the liberty to write so. Even so, please don't write differential diagnosis for all the cases.

Finally, I will advise candidates not to panic if they are not able to get a spotter correct, rather one must look ahead and

try to get the next spotter correct.
Tips for Case presentation and Case Viva
The second section of the DNB Radiology Practical examination is the Short Cases section. The current format includes 4 short cases, each carrying 40 marks, total weightage being 160 marks, the giant's share of weightage in the Practical examination. The time allotted for each case is 15 minutes, totaling 1 hour for 4 cases.
This is a crucial section for candidates and the first point of face to face interaction of the candidates with the examiners. This section allows the examiners to gauge the candidate's knowledge of the subject and approach of the candidate to a certain case.
This is a vital section and candidates must leave a good first impression since marking in this section is based on a subjective evaluation. This section, according to me, decides the result and sets the tone in the subsequent table viva section.
I want to make a special mention to my friends and juniors – do present cases to seniors, colleagues, and juniors in order to develop the right confidence to speak and answer questions in an exam simulated atmosphere. This really helped me come out of my comfort zone and face the exam boldly. The more one does this, the more he/she is likely to ace the exam with flying colors. This makes a HUGE difference.
Materials to read for Case presentation and case viva-
We always wonder what would be an ideal "approach ˮ?I believe there are 2 sections in the case presentation.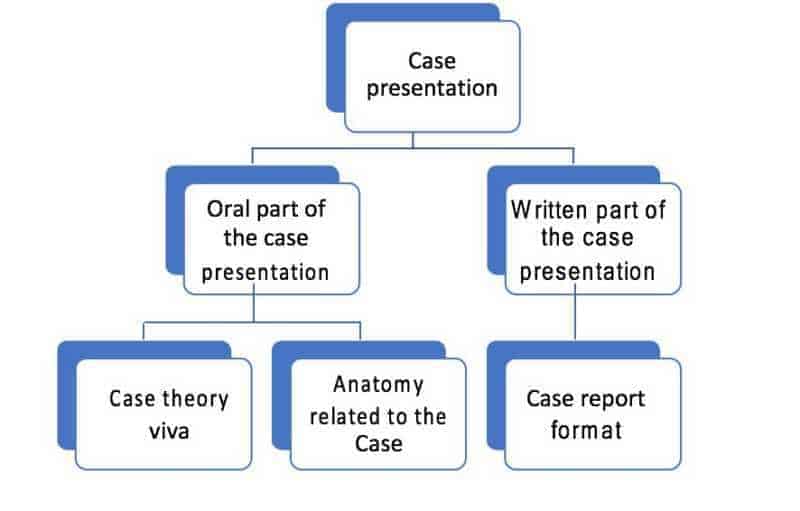 Oral part of the Case presentation is where the examiner gauges the approach and knowledge of the candidate and the candidate must be prepared with lots of confidence and be ready with the answers to the questions asked by the examiner.
One must remember, that the examiners can ask questions related to
Theory related to the case and/or

Anatomy related to the case.
In my case, the case viva predominantly veered towards anatomy which a lot of us candidates choose to ignore.
My approach to the cases was
Firstly, localization of the lesion which means we localize the lesion into a specific anatomic compartment or area.
Secondly, characterization of the lesion based on density (Radiographs / CT), echogenicity ( Ultrasonography ) or intensity ( MRI )
I was able to arrive at a reasonable differential diagnosis based on the above-mentioned approach. Please go through the appropriate anatomy atlases (Weir & Abrahams' Imaging Atlas of Human Anatomy, Pocket Atlas of Sectional Anatomy, Applied Radiological Anatomy- Butler,Anatomy for Diagnostic Imaging - Ryan or normal radiological anatomy modules) to learn anatomy and normal anatomical variants to appropriately localise the lesion. Knowledge of densities, echogenicity and intensities of different lesions helps in understanding the composition of the lesion thereby helping in narrowing the differentials in the case.

There are two types of cases in the examination – Spotter type cases with classic features in which one must not offer any differentials and the other, which has ample room for discussion and the candidate must not hesitate to give a differential and keep an open mind. One must not be rigid in approach and must pick the clues thrown at him.

I will advise my friends and juniors to strictly adhere to writing case reports in the following format-

Age /Sex of the patient, If history is given, do pay special attention to it as the diagnosis will depend on it and that is why it has been provided.

Modalities with the number of films provided.

Positive findings beginning from conventional modalities to advanced modalities.

Relevant negative findings- for e.g., "No pneumothorax in a case of LCH ˮ.

Summary of the findings in a sentence.

Incidental findings in the rest of the organs.

Any further imaging to be done to arrive at a diagnosis, if appropriate.

Treatment aspect.

Do read the basics of interventional radiology, which is gaining a lot of attention these days.
Do's and Don'ts for Radiology Practical Exam
DO's
Face the day of the examination with positivity and clear thoughts. Reach the examination venue well ahead of time.

Prepare well in terms of anatomy and case theory.

Keep an open mind during the discussion.

Be pleasant and wear a smile.

Dress well. Be tidy.
Carry a magnifying glass, ruler and pointer (Very important). This is a cheap and handy option: Extendable Fescue Ball Pen with LED Flashlight and Laser Pointer.

Give a maximum of 2 differentials in a case where you are not sure of the diagnosis.
DON'Ts
Go with negative thoughts and attitude.

Give differentials in a case where you are sure of the diagnosis.

Say things you don't know about, which can divert the discussion and land you in trouble. Simply put, keep it simple.

Argue with an examiner.

Spread negative vibes during the examination.
Tips for Table Viva
The final section of the DNB Practical examination is Table Viva which has 2 subsections
Table viva related to conventional radiography, instruments and procedures, AERB guidelines, PC-PNDT guidelines etc.

Table viva related to Interventional radiology and procedures.
The above-mentioned sections carry 30 marks each, totaling 60 marks. By the time we candidates reach this section, are tired and overwhelmed by the way we have attempted the spotters and cases and choose to ignore the importance of this section. But remember, this also is an important section and pay special attention to it.

Materials for preparation of table viva:
Tips for Table viva:
Be thorough with at least ONE topic

as often the examiners ask to pick an instrument of your choice, for e.g., I would always be prepared on the topic of TLD badge etc.,

IR procedures, description of instruments are a vital part of the examination. There is almost always an IR specialist on the panel of examiners.

One must be aware of

how to manage radiological emergencies

– VERY IMPORTANT.

PCPNDT guidelines and AERB guidelines are must-read topics.

You are expected to know the basics of Radiography-X ray tubes, Grids, Cassettes, Intensifying screens, contrast media, Film processing, and development etc. Mistakes in these sections are unpardonable.
Disclaimer: – This article and its subsequent parts are purely based on my understanding of the exam pattern and my approach to it which helped me pass the DNB Radiology Practical exam and is by no means is a substitute for active departmental work, learning, and guidance by senior teachers.

An interesting suggestion by Dr. Sanjay Yadav sir is to set this as your ringtone prior to the exam so that you get used to the "spotters" bell : Download Spotters bell
Check out our collection of radiology exam resources:
Check out more radiology guides at RadioGyan: