Table of Contents
Thorax (Coming soon!)
Musculoskeletal system (Coming soon!)
Obstetrics (Coming soon!)
Normal radiology reference values and measurements
We have tried to compile the list of normal reference values and measurements in diagnostic radiology for all systems in one place. The page also includes criteria for various pathologies for each organ system.
This is a work in progress as there are multiple reference values in radiology. The page will be updated regularly. If you need a specific value/measurement updated/corrected do let us know in the comments.
The most important thing to remember is that you should not invest time in memorizing these. You can bookmark this page (Press 'Ctrl+D' (Windows)/ '⌘ +D' (Mac users/ Three dot menu at right upper corner and star icon for chrome mobile users).
Gastrointestinal system (GIT)
Liver
The normal liver span is less than 16 cm in the mid-clavicular line.
It is important to note that the live size depends on the body habitus as well and varies a lot between individuals.
This is often a non-specific finding.
The normal liver span in neonate and children is as follows:
| | | |
| --- | --- | --- |
| Age (years) | Mean (cm) | Normal range (cm) |
| 0-0.25 | 6.4 | 4.0 – 9.0 |
| 0.25-0.5 | 7.3 | 4.5 – 9.5 |
| 0.5-0.75 | 7.9 | 6.0 – 10.0 |
| 1-2.5 | 8.5 | 6.5 – 10.5 |
| 3-5 | 8.6 | 6.5 – 11.5 |
| 5-7 | 10 | 7.0 – 12.5 |
| 7-9 | 10.5 | 7.5 – 13.0 |
| 9-11 | 10.5 | 7.5 – 13.5 |
| 11-13 | 11.5 | 8.5 – 14.0 |
| 13-15 | 11.8 | 8.5 – 14.0 |
| 15-17 | 12.1 | 9.5 – 14.5 |
The general formula which can be used for estimation :
Upper limit of normal liver span in children: 8 + age/4
Alternatively, the right hepatic lobe should not extend below the right costal margin in children and >1cm below the right costal margin in young infants.
Gall-bladder
A gall bladder is termed as over-distended when its breadth is more than 4cm
Wall thickening more than 3mm is abnormal in a distended gall bladder. Avoid commenting on the gall bladder size when it is collapsed.
Over-distended gall bladder with wall thickening is characteristic of acute cholecystitis.
Normal gall bladder values for neonates and children:
| | | |
| --- | --- | --- |
| Age (y) | AP Diameter (cm) | Length (cm) |
| 0-1 | 0.9 | 2.5 |
| 2-5 | 1.7 | 4.2 |
| 6-8 | 1.8 | 5.6 |
| 9-11 | 1.9 | 5.5 |
| 12-16 | 2 | 6.1 |
Biliary tree:
CBD

Normal diameter < 7 mm.
For patients for more than 60 years, add one mm for every 10 years.
In postcholecystectomy patients up to 10mm is normal.
In paediatric patients, 4mm is upper limit.

Normal diameter of the common hepatic duct is less than 5mm
Intrahepatic bile ducts: <2mm is normal.
The cystic duct is normal up to 5mm.
Spleen
<13 cm is normal.
In pediatric patients, a simple formula for estimation of spleen volume is: 6 + Age/3
A detailed table is available here:Normal splenic size for pediatric patients
Pancreas
AP diameter 3 cm is abnormal.
Pancreatic duct diameter of more than 3mm is abnormal.
Bowel Loops
Small bowel follows the "rule of 3"

 Wall thickness < 3mm
 Valvulaeconniventes <3 mm •
Diameter < 3cm
Air-fluid levels < 3.
Tip: When in doubt in radiology quote 3mm / 3cm and you will be corrent in most cases 🙂
Infantile Hypertrophic pyloric stenosis:

Hypertrophic – pyloric muscle thickness is more than 3 mm. This is the main diagnostic criteria.
Pyloric Length >15mm

Normal colon diameter is less than 6cm while that of the cecum is less than 9cm
Normal diameter of the appendix is less than 6mm (less than 8mm in patients with cystic fibrosis).
Toxic megacolon: In the appropriate clinical setting, transverse colon diameter more than 6cm suggests toxic megacolon.
Genitourinary system (GUT)
Adrenal glands
Length: 4-6 cm, thickness < 1cm , arm thickness <3mm
Use the adrenal washout calculator to evaluate adrenal lesions on CT.
On antenatal ultrasound normal values for

adrenal length and thickness

 are as follows:
| | | |
| --- | --- | --- |
| Gestational Age | Length | Thickness |
| 25 – 30 wk | 1.2 | 3 mm |
| 31 – 35 wk | 1.4 | 3 mm |
| 36 – 40 wk | 1.7 | 3 mm |
Kidneys:
The upper limit of the normal renal length is 11 cm while the upper limit of the renal volume is 140cc.
Nomogram for renal volume 
Here is a nomogram for normal renal measurement in pediatric patients: Normal renal measurements in children
Another reference table is available here: Normal renal measurements in pediatric patients
Normal values for neonatal kidneys 
For Doppler measurements refer to the vascular segment below
Urinary Bladder
Bladder wall thickness less than 3mm is normal.
Normal bladder capacity – Adults: 300-400 ml; children: [(years of age + 2) × 30 ml]
Significant post-void residual urine criteria:

Adults: Over 200mL PVR indicates inadequate emptying, while more than 500 ml if present with other signs is suggestive of cauda equina syndrome.
Children: More than 20mL PVR is considered abnormal
Prostate
Prostate volume more than 30 cc / 30 gm is considered as abnormal.
1cc prostate = 1 gm prostate. So people tend to use these interchangeably. I would suggest that one should stick to volume (cc) as that is what we are actually measuring not the weight.
PSA density: A larger gland will secrete more PSA so PSA values alone can be erroneous. Hence PSA density is postulated to be a better estimate of rising PSA. Here are a few inferences from recent studies:

"Omitting prostate biopsy for men with PSA-density ≤0.07 ng/ml2 would save 19.7% of biopsy procedures while missing 6.9% of clinically significant prostate carcinoma. PSA-density cutoffs of 0.10 ng/ml2 and 0.15 ng/ml2 resulted in detection of 77% and 49% of Gleason Score ≥7 tumors" – Nature 2018.
Low-grade tumors secrete PSA similar to that of benign prostate tissue while the higher grade tumors disproportionately more PSA. Hence , the association between the risk of prostate cancer and PSA-density is primarily confined to Gleason Score ≥7 tumors – Nature 2018.
The study recommends: "Previously suggested PSA-density cut-offs for suspicion of cancer (0.10–0.15ng/ml) may lead to under-detection of significant cancer, and a lower threshold (e.g., ≤0.07 ng/ml) should be considered." – Nature 2018.
Hence it is prudent to use the cut-off value of 0.07/ng/ml for PSA density to help ensure that we detect a larger proportion of clinically significant prostate cancers.

Use the calculator to calculate the prostate volume and PSA density: Radiology volume calculator
Testicles
Normal testicular volume in children less than 6 years is approx 0.3 ml.
Normal testicular volume in adults is approx 18-20ml.
Use the calculator to calculate the testicular volume: Radiology volume calculator
Criteria for varicocele:  Dilated tortuous veins in the pampiniform plexus with a diameter greater than 3mm. The reversal of flow on the Valsalva maneuver on Doppler suggests a higher grade.
Ovaries:
The upper limit of normal for ovarian volume is 20 cc in premenopausal women and 10 cc in postmenopausal women.
Criteria for polycystic ovaries:

≥ 25 follicles per ovary measuring 2-9 mm in diameter (revised criteria by 2013 Androgen Excess and Polycystic Ovary Syndrome Society Task Force).
As per 2018 ESHRE guidelines: ≥ 20 follicles per ovary measuring 2-9 mm in diameter.
Volume more than 10cc.
Features seen in 1 ovary are sufficient to diagnose PCOM.

Note that PCOS (polycystic ovarian syndrome) / PCOD (polycystic ovarian disease) is a clinical diagnosis and ultrasound findings are only supportive, not diagnostic.
Examples of polycystic ovaries on ultrasound: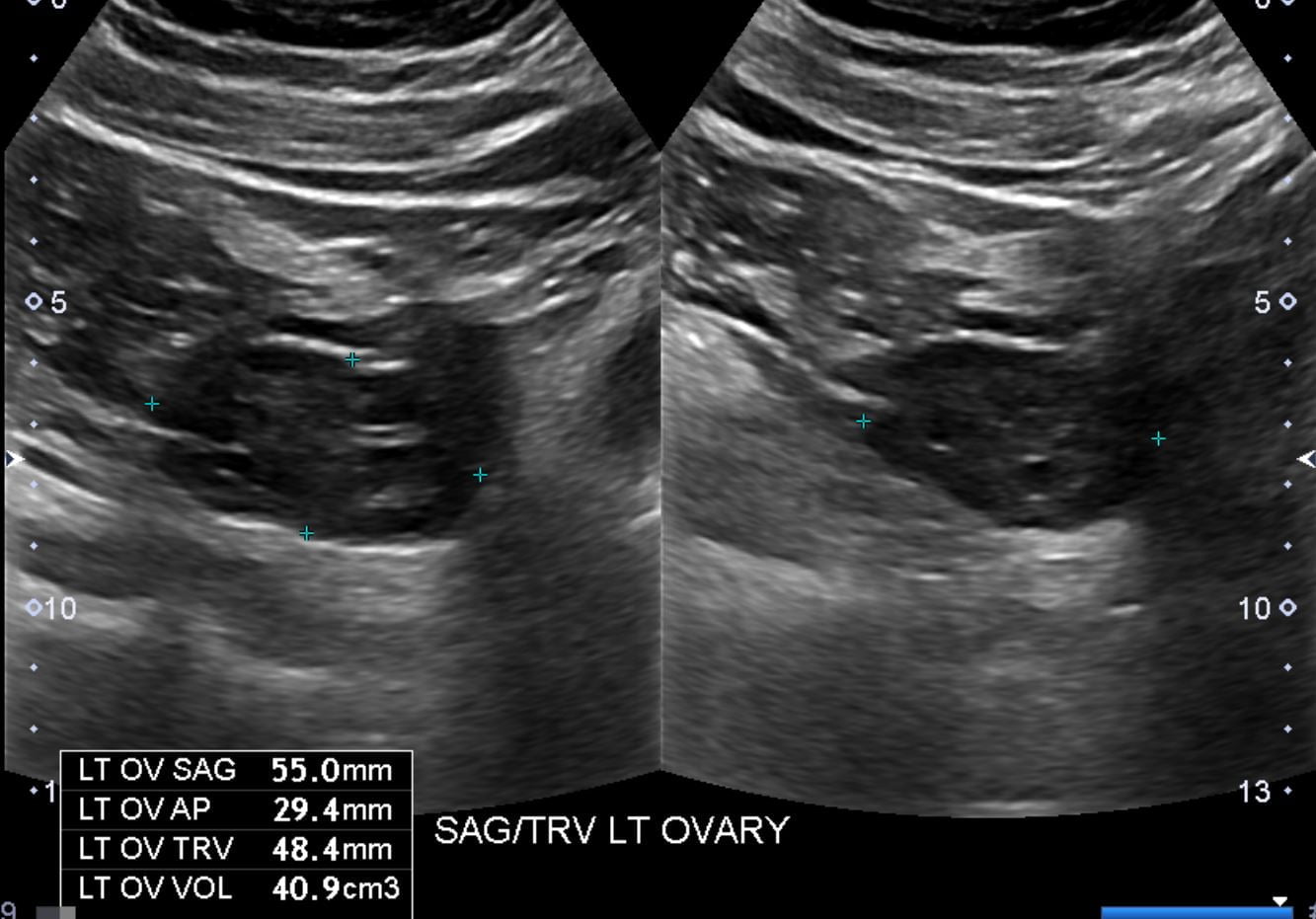 Criteria for the diagnosis of pelvic congestion syndrome on ultrasound:
Dilated tortuous pelvic vein with a diameter greater than 4 mm
Slow blood flow (≤ 3 cm/s)
A dilated arcuate vein in the myometrium that communicates with the pelvic varicosities.
Absent or reversal of flow in the vein on the Valsalva maneuver.
Uterus and endometrium:
Endometrial thickness in postmenopausal females is abnormal if :

>5 mm in patients with vaginal bleeding
>11mm in asymptomatic patients (biopsy recommended)

In the presence of endometrial fluid, it should be excluded from the thickness measurement.
Criteria for diagnosis of adenomyosis:

USG- two out of five of the following

No distinction of the endometrial-myometrial junction
Asymmetry of the anterior and posterior myometrium;
Subendometrial myometrial striations
Myometrial cysts and fibrosis;
Heterogeneous myometrial echotexture.

MRI – Similar findings as USG. Junctional zone thickness more than 12mm. 

Criteria for short cervix/cervical insufficiency on transvaginal insufficiency: Cervical length <25 mm before 24 weeks of gestation inpatient with a singleton pregnancy and prior history of preterm birth less than 34 weeks of gestation.
Vascular/Doppler ultrasound
Abdominal Aortic aneurysm
Diameter more than 3 cm suggests an aneurysm.
Repair is indicated when the aneurysm becomes greater than 5.5 cm in diameter or grows more than 0.6 to 0.8 cm per year.
Renal Doppler criteria for renal artery stenosis (RAS) in native kidneys
Direct criteria by evaluating the main renal artery

Peak systolic velocity (PSV) > 200 cm/sec. This has the best accuracy for the diagnosis and grading of RAS.
Renal Aortic Ratio > 3.5. This is the ratio of the PSV in the stenosed renal artery to that PSV in the pre-renal abdominal aorta.

Indirect criteria (less sensitive)

Acceleration time greater than 0.07 second
Acceleration index less than 3 m/sec
Side to side differences in the resistive index (dRI) of more than 0.05
Pulsus parvus et tardus

A RI of 0.8 predicts poor response to revascularisation treatment.
Doppler evaluation of transplant renal artery stenosis (TRAS): 
PSV at stenosis 2.5 times higher than the pre- or post-stenotic velocity
PSV > 300 cm/sec
PSV (renal artery)/PSV (intralobar artery) > 13
AT > 0.06 sec
Portal Doppler
Normal portal vein is <12mm in diameter and has hepatopetal (towards liver) flow  with velocity in the range of 16-40 cm/sec showing normal respiratory variations.
Doppler criteria for portal hypertension:

Low portal venous velocity (<16 cm/sec).
Hepatofugal portal venous flow (flow away from the liver)
Portosystemic shunts (including a recanalized umbilical vein)
Dilated portal vein (diameter more than 13 mm)

Splenic vein: Normal diameter is less than 10mm
Superior mesenteric vein (SMV): Normal diameter is less than 10mm
Normal hepatic vein diameter is less than 10mm
Normal IVC diameter is less than 20mm.
Normal RI in hepatic, splenic and renal arteries is less than 0.7
Normal RI in the superior mesenteric artery (SMA) is more than 0.8
Criteria for TIPS (transjugular intrahepatic portosystemic shunt) dysfunction
Aliasing at the site of the stenosis on color Doppler.
Velocity of >190 cm/sec at a stenotic segment or  velocity of <90 cm/sec in nonstenotic segments
Velocity <30 cm/sec in the pre-stent portal vein
Lack of color Doppler flow suggestive of complete stenosis.
Miscellaneous
Thyroid
Normal thyroid lobe length is 4-6 cm while thickness (AP dimension) is ≤ 2cm
Normal adult thyroid volume is ~10-15 cc.
Read more about the evaluation of thyroid nodules in our TIRADS article and use the TIRADS calculator to calculate the TIRADS score for thyroid nodules.
Use the calculator to calculate the testicular volume: Radiology volume calculator
Suggestions, feedback, and contributions are always welcome – Contact us
Reference book for normal radiology measurements:
Measurements In Radiology Made Easy by Vineet Wadhwa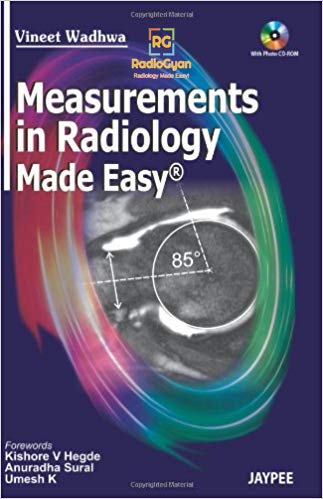 This is a good reference book for all measurements for all modalities.
It gives an exhaustive list of radiology measurements for various modalities and systems.
You can edit the measurements depending on what your institution follows /note down additional ones in this book for ready reference.
Do check out the complete list of recommended radiology books:
References:
Check out other radiology calculators:
Disclaimer:
Do note that these values are reference purposes only and may not be accurate. Each institution has its own policy and readers are encouraged to follow those. Also, these values have to be interpreted in the appropriate clinical context.  The authors cannot be held liable for any mistake of harm resulting from the use of this website or its content.