Marque esta página para referência futura ( 'Ctrl + D' (Windows) / '⌘ + D' (usuários do Mac)!
Esta é uma calculadora simplificada para a pontuação TI-RADS de nódulos da tireóide no ultrassom, com base no white paper da ACR. Possui uma interface de usuário elegante que imita o gráfico ACR para facilitar o uso e inclui recomendações para cada categoria de pontuação.
Índice
GRÁFICO DE ACR TIRADS
Diretrizes da carta ACR TI RADS Imagem em alta resolução
TIRADS
TIRADS ( t hyroid eu maging R eporting e D ATA S istema) é um sistema de pontuação de 5 pontos para os nódulos da tiróide em ultra-som, desenvolvido pela American College of Radiology (daí também denominado como ACR TIRADS). Ajuda a decidir se um nódulo da tireóide é benigno ou maligno, combinando vários recursos no ultrassom.
Como calcular a pontuação TIRADS para nódulos da tireóide?
Etapa 1: Realize o ultrassom conforme as diretrizes do ACR. Leia o white paper do ACR-TIRADS e o  artigo simplificado do TIRADS completamente. Você pode usar a planilha do sonógrafo   para documentar todas as descobertas.
Etapa 2: Selecione as categorias apropriadas na calculadora da tireóide acima.
Etapa 3: verifique a pontuação total e as recomendações conforme o gráfico da tireóide ACR na parte inferior da calculadora.
Etapa 4: use o modelo de relatório de ultrassom TIRADS para gerar o relatório.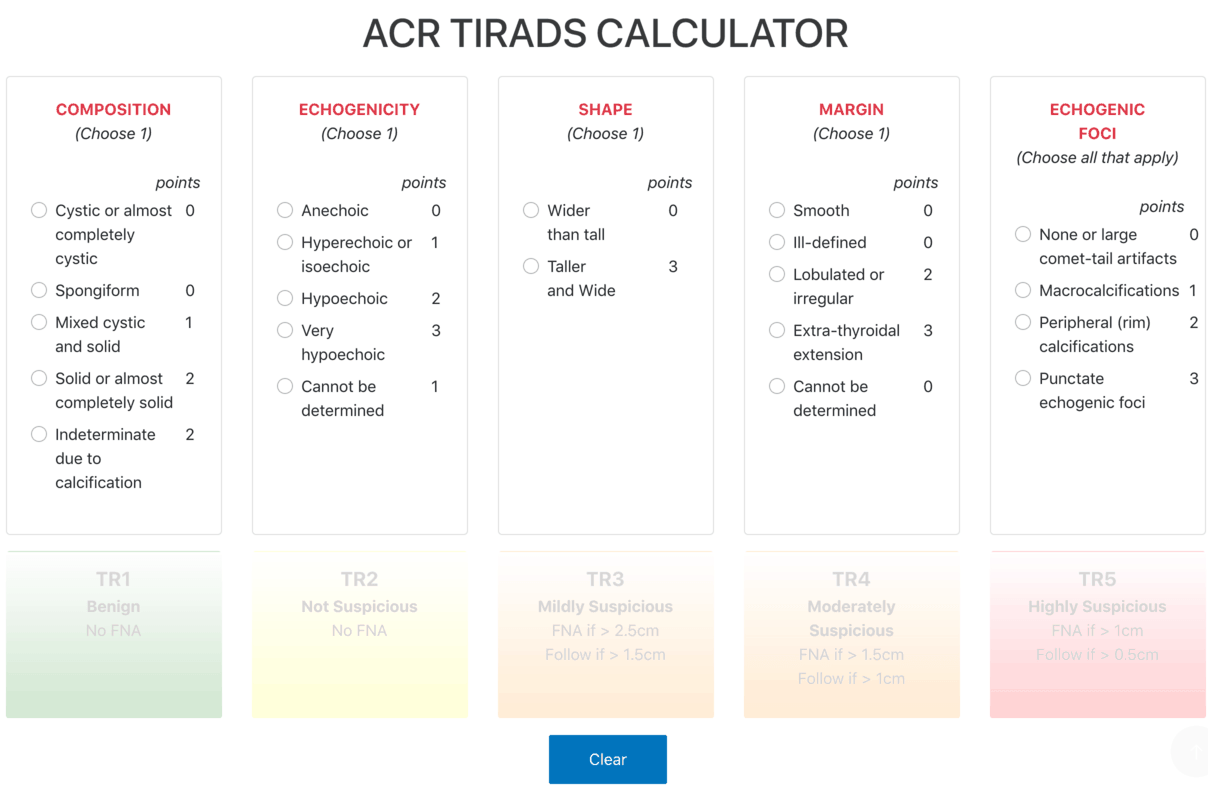 Isenção de responsabilidade: O autor não reivindica a precisão das informações aqui contidas; essas informações são apenas para fins educacionais e não substituem o julgamento clínico. Esta calculadora é baseada na classificação TIRADS do American College of Radiology (ACR), mas não é oficialmente endossada pelo ACR.
A versão traduzida está disponível em vários idiomas, incluindo o espanhol. Para acessar a versão em espanhol da calculadora TIRADS, use a opção de tradução na esquina superior.
Para mais recursos de radiologia, consulte a página inicial do RadioGyan ! Desenvolvido e mantido por Aniket Udare
Check out other radiology calculators: