Calculadora de lavado suprarrenal (CT)
Marque esta página para referencia futura ('Ctrl + D' (Windows) / '⌘ + D' (usuarios de Mac).
Fórmulas de lavado CT Adrenal: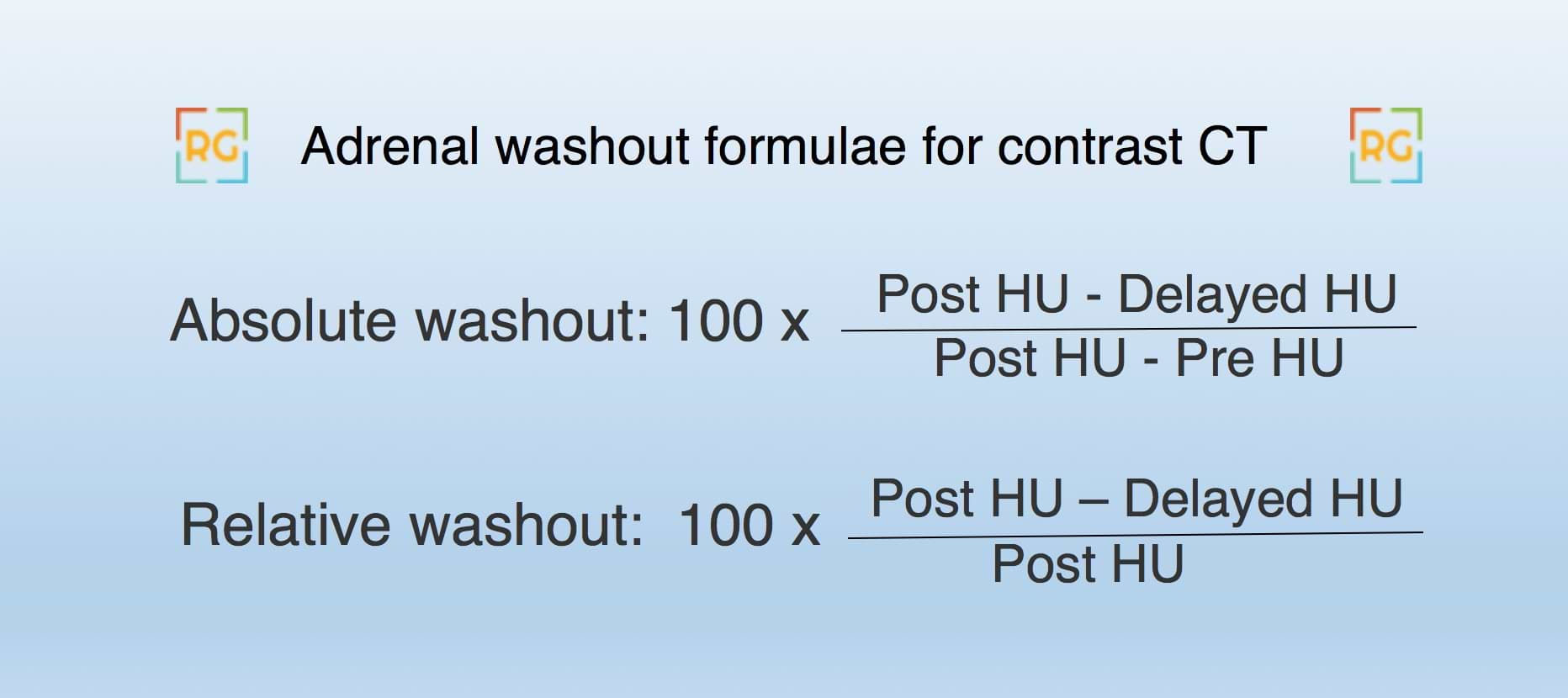 ¿Cómo medir la atenuación de los adenomas suprarrenales en la TC?
Las ROI (Región de interés) deben ubicarse dentro del nódulo que abarca dos tercios de su circunferencia para obtener una medición lo más precisa y representativa posible.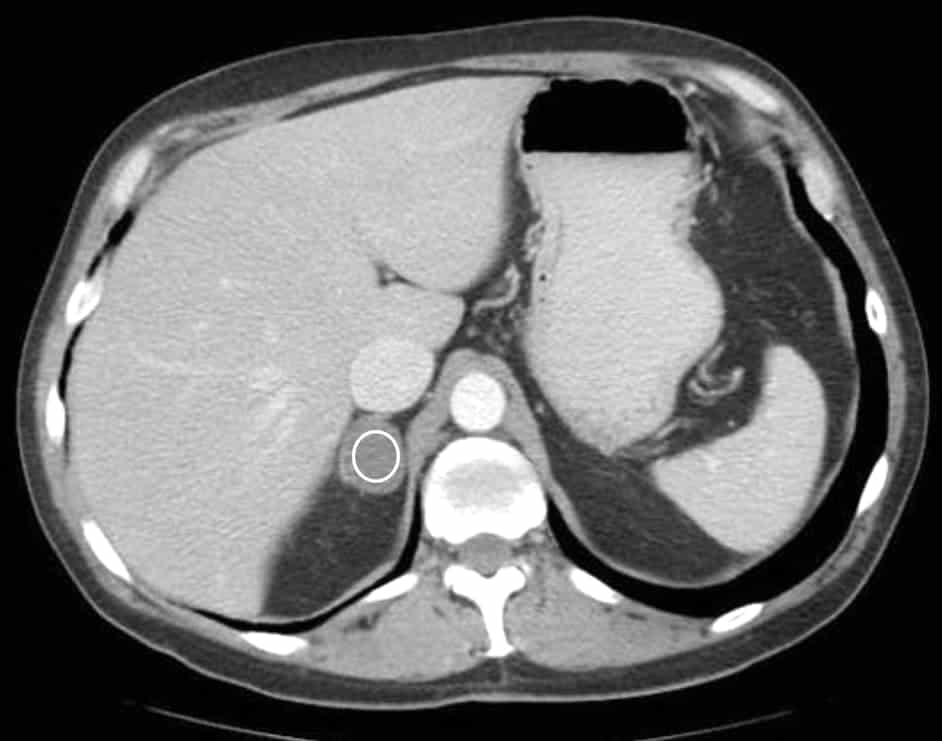 Consejos y trucos para la caracterización de la lesión suprarrenal:
El valor de atenuación de menos de 10 HU en la TC sin contraste es diagnóstico de un adenoma suprarrenal. Esto se debe a la grasa intracitoplasmática. Tenga en cuenta que la grasa MACROSCÓPICA sugiere un mielolipoma suprarrenal y no un adenoma ( consulte el caso del observador 6 del conjunto de casos 11 ).
No es necesario buscar una masa suprarrenal incidental que sea <1 cm en el eje corto.
Un tercio de los adenomas son pobres en lípidos. Estos se pueden diagnosticar usando

Desplazamiento químico de imágenes por RM (CSI) : caída de la señal en la secuencia de resonancia magnética fuera de fase ( caso 1 de Spotter en el conjunto de casos número 17 ).
Si el valor de HU sin contraste es superior a 20 , se prefiere la TC de contraste multifásico en lugar de las imágenes de IRM por CSI. Esto incluye un escaneo sin realzar e imágenes post-contraste a los 70 segundos y 15 minutos. Los adenomas desaparecen temprano, mientras que otras lesiones no. El porcentaje de lavado absoluto (APW) más del 60% y el porcentaje de lavado relativo (RPW) más del 40% sugiere un adenoma. Consulte las fórmulas para calcular el lavado suprarrenal .
Use la calculadora de lavado suprarrenal para calcular APW y RPW para lesiones suprarrenales indeterminadas.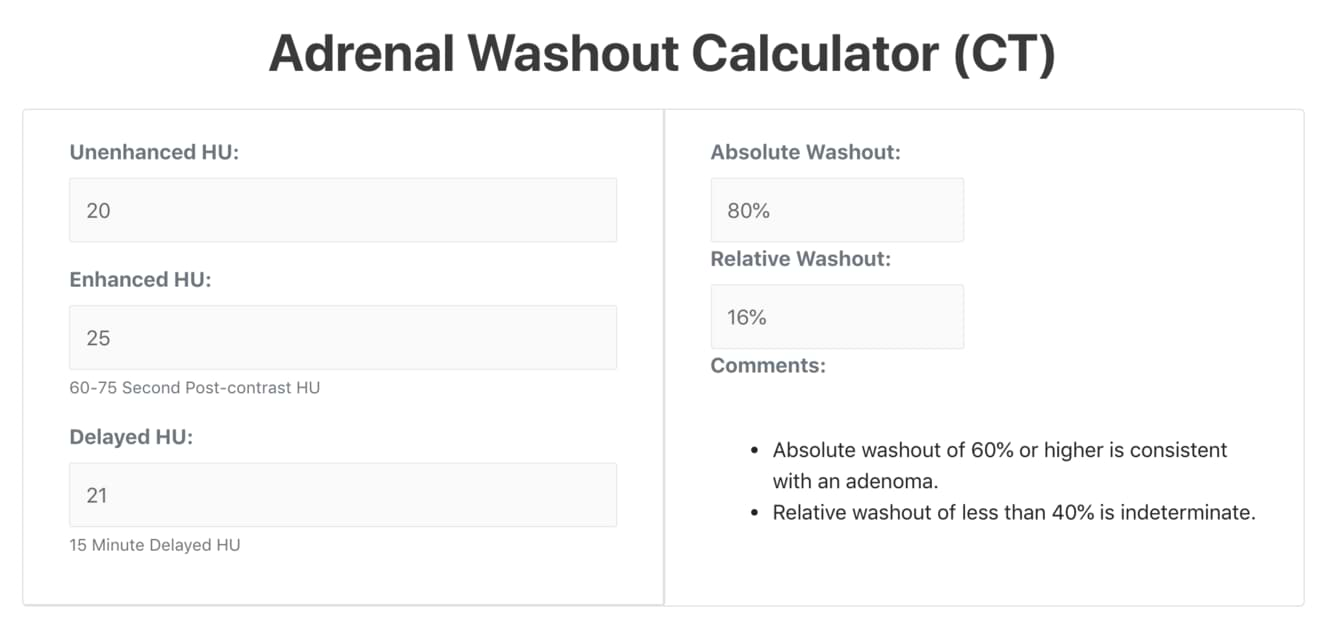 Los valores falsos positivos para APW y RPW incluyen:

Metástasis suprarrenales de lesiones hipervasculares como el carcinoma hepatocelular y los carcinomas de células renales : compárelo con estudios de imagen y / o biopsia previos.
Feocromocitomas : estos aumentan> 100 HU en la fase arterial y> 130 HU en la fase venosa, mientras que un adenoma no mejora tanto.

Las masas suprarrenales benignas incluyen:

Adenoma rico en lípidos
Mielolipoma
Quiste
Hemorragia, en el entorno clínico apropiado.
Lesiones con calcificaciones benignas.

Las lesiones que son indeterminadas se pueden caracterizar aún más:

Tamaño : El tamaño de menos de 4 cm y la estabilidad del intervalo de más de un año favorece la etiología benigna.
La malignidad conocida aumenta el riesgo de lesiones malignas. 
La mejora periférica debería generar preocupación por metástasis en el contexto de neoplasia maligna primaria
En casos sospechosos, una biopsia guiada por imagen es el siguiente mejor paso.
¿Qué es un incidentaloma suprarrenal?
Un incidentaloma suprarrenal es una masa suprarrenal que mide más de 1 cm que se descubre durante un examen radiológico que se realizó para detectar otras indicaciones además de la evaluación de la enfermedad suprarrenal.
Diferenciación del mielolipoma suprarrenal versus adenoma en la TC:
El mielolipoma suprarrenal tiene grasa MACROSCÓPICA mientras que el adenoma tiene grasa microscópica.
Los mielolipomas son tumores benignos de las glándulas suprarrenales que se componen de tejido hematopoyético (mielo-) y grasa (lipoma).
Los adenomas son los tumores suprarrenales más comunes.
Los mielolipmas contienen grasa MACROSCÓPICA, es decir, grasa visible. Esto puede identificarse como baja densidad en CT (aproximadamente -30 a -150 HU) o en imágenes de MRI T1W.
Los adenomas pueden tener grasa MICROSCÓPICA. Esto puede no ser visible en la TC de rutina y se detecta dentro y fuera de la imagen de RM de fase.
Diagramas de flujo de gestión para la evaluación y elaboración de lesiones suprarrenales en imágenes
Consulte estos diagramas de flujo del Asistente de radiología y el ACR para el diagnóstico diferencial de la lesión suprarrenal y el tratamiento de las lesiones suprarrenales incidentales.
References:
Taner AT, Schieda N, Siegelman ES. Pitfalls in adrenal imaging. Semin Roentgenol 2015; 50:260–272
Blake MA, Kalra MK, Sweeney AT, et al. Distinguishing benign from malignant adrenal masses: multi-detector row CT protocol with a 10-minute delay. Radiology 2005; 238:578-585

Schieda N, Siegelman E. Update on CT and MRI of adrenal nodules. AJR Am J Roentgenol 2017; 208:1-12

Radiologyassistant.nl. (2020). The Radiology Assistant: Adrenals – Lesion Characterization. [online] Available at: http://www.radiologyassistant.nl/en/p5b9ea3aca897e/adrenals-lesion-characterization.html [Accessed 29 Aug. 2019].
Descargo de responsabilidad: el autor no afirma la exactitud de la información aquí contenida; esta información es solo para fines educativos y no sustituye el juicio clínico.
Check out other radiology calculators:
Construido por el Dr. Amar Udare, MD
Codificado por Aniket Udare