Known Unknowns Of Everyday Radiology Practice is a practical radiology handbook that answers a lot of questions that we face in everyday radiology practice. The topics it covers are relevant and described in a succinct yet lucid manner.
I recently finished reading this book, co-authored by Dr. Akshay Baheti,  Dr. Bhavin Jankharia, and a few other senior radiologists from India. It's an excellent book and is a must-read not only for radiology residents but also for practicing radiologists. Radiology practice is different than the classic "Aunt-Minnie's" we come across in books, and the same can be said about certain situations that we face while practicing. Most often, we are confused about what needs to be done, and what we usually do is what has been passed on to us by our seniors without understanding the rationale behind that and confirming its authenticity. Some of these situations include:
Radiation and Patient Safety
Contrast media safety.
Cross-section Imaging in Pregnant and lactating patients.
Interacting with patients and informing them about their investigations and procedures.
Radiology reports: When to call back a report and when to add addendums instead.
This book addresses these and many more such common issues that one comes across during practice. They are presented in a very lucid manner. The content is referenced to standard articles from reputed associations like the American College of Radiology (ACR) and the European Society of Urogenital Radiology (ESUR). Content is presented concisely with many tables and flow charts explaining steps that need to be followed in specific situations. It busts a lot of myths that we have been forwarding to our juniors, for eg:
Radiation being a stochastic effect, the risk of every CT is individual and not cumulative with respect to carcinogenesis.
The format of the book is also interesting. Every chapter starts with a set of questions we all must have encountered frequently. A detailed discussion of the topic and a short summary follows this. The authors answer the questions at the end. Because of this format, the concepts are revised multiple times, and it helps retention. The question-answer format is one that will be an eye-opener for many.
This is a must-have book for any radiology department. The book is also a must-read for all exam-going radiology residents as this includes questions that are the favorite of certain DNB/ MD examiners, like " Should one administer IV contrast for CT in a patient with renal failure?", "What would you prefer in a patient with renal failure: IV CT contrast or MR contrast?".
Another important aspect is that when patients and referring clinicians are more confident about the validity and safety of a particular radiology test (for eg. Contrast CT in a patient with borderline renal function) when they have an authentic reference like this book.
Not only radiology professionals even the technicians and support staff in a radiology department will find this book really useful as it addresses common concerns faced in routine radiology practice.
Highly recommended!
The book costs less than 350 INR and is worth the price. You can buy it here from Amazon: Known Unknowns Of Everyday Radiology Practice.
Here is a sneak peek into the contents of the book: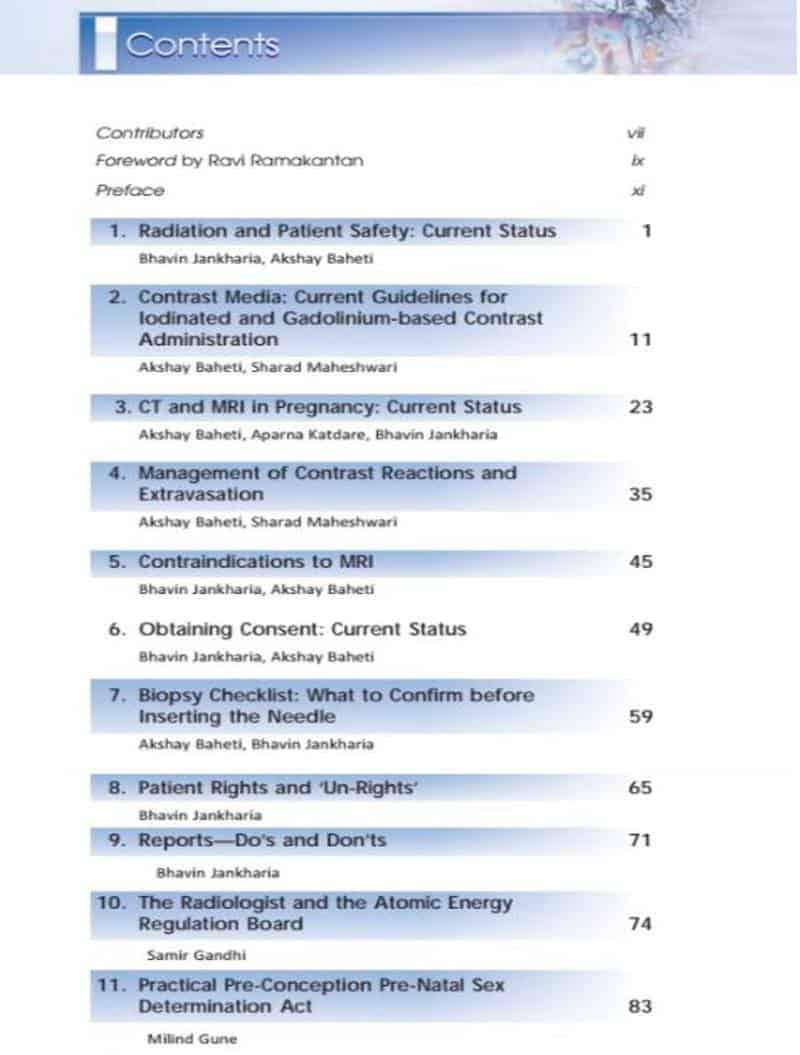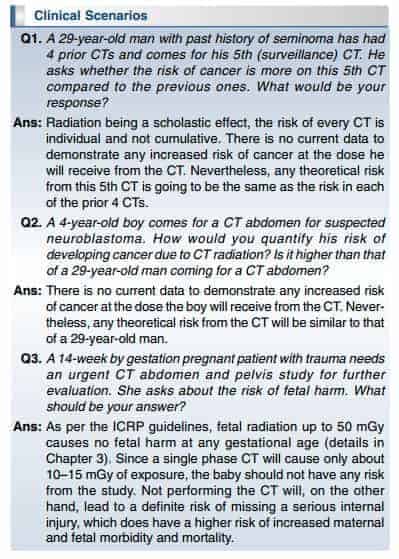 Thanks to Dr. Akshay Baheti for sharing the contents of the book. If you have any queries regarding the book's content, you can contact us, and we shall communicate the same to the authors!
Book Title: Known / Unknowns of Everyday Radiology Practice: A Practical Radiology Handbook: Demystifying Common Patient Questions and Issues!
Authors: Dr. Akshay Baheti and Dr. Bhavin Jankharia.
Best buy link: Known Unknowns Of Everyday Radiology Practice.
Rating: 5/5.
Here are other book recommendations for radiology residents:
Other useful radiology resources: