Head Start Radiology – Jump-Start Your Radiology Residency!
Learn Tips And Tricks from EXPERTS and
Now Available On-Demand (30 days Access)
A Unique Interactive Radiology Masterclass
Why this Masterclass? | Reviews| Details | Speakers | FAQ
The Journey Is Hard, Don't Get Lost in the First Leg!
Are you a new radiology resident feeling overwhelmed by the challenges of the field? Are you struggling to interpret images, communicate effectively with patients and colleagues, or manage your patients' care? Don't worry, we understand how tough it can be to navigate the complex world of radiology as an resident in the first few years.
Radiology Residents face these struggles every day. These struggles can lead to unfocused action, wasted resources, poor decision-making, and feelings of overwhelm. Faced with these struggles, it's no wonder why so many residents fall short of achieving their dreams.
But what if we told you that there was a solution to all of these problems?
Introducing Head Start Radiology
Luckily you do not have to waste your time and energy! We have put together all the information that you need to know at the start of your residency to plan it better and take informed decisions. We will share actionable tips to counter common problems that you face as early radiology residents (First/Second year / PGY1-3).
We have improved the content in the current edition after receiving feedback from earlier cohorts. The first part of the masterclass will focus on important resources such as what books to read and the second part will focus on how to make the most of your residency.
By the end of the Masterclass You Will Know:
How to Approach Radiology Residency – Lessons from PERSONAL EXPERIENCE of more than 15 years.
How to Optimize Routine Work and Academics During Residency.
What are the Best Radiology Resources that will Help You Learn Radiology FASTER.
How to collaborate with your colleagues and other departments.
Basics of Finance and Investing.
How to Use Chat-GPT and other AI tools during residency – NEW!
Imaging features of common cases that every radiology resident should know in their first year – NEW!
How to Approach Thesis and Research in general.
Access to EXCLUSIVE Facebook Community – NEW!
Check out the course page for a detailed list of topics covered: Head Start Radiology Course
So why wait? Invest in your future as a radiologist today and take advantage of this unique opportunity to gain the practical skills and knowledge you need to excel in your first few years.
Read What Our Previous Attendees Have To Say [ UNEDITED]
Details of the Head Start Radiology Masterclass
Duration: 3.5 hrs.
Platform: Online.
If you have already signed up you can access the course here : Head Start Radiology Course. For those who have not signed up for the course, can check out topics covered in the course on that page.
Fees: INR 1999/- (Approx 25 USD / 20 GBP) – Introductory Pricing.
If you have already signed up you can access the course here : Head Start Radiology Course. For those who have not signed up for the course, can check out topics covered in the course on that page.
Sign up For Future Updates:
Speakers
Speakers: Dr. Amar Udare and Dr. Devpriyo Pal
Dr. Amar Udare is a fellowship-trained, board-certified radiologist currently practicing in Calgary, Alberta. He did his radiology residency at Tata Memorial Hospital, India. He has authored multiple first-author research publications in reputed radiology journals. He has a special interest in teaching and founded RadioGyan.com, one of the top radiology websites worldwide! He likes to binge on not-so-mainstream TV shows and movies in his free time.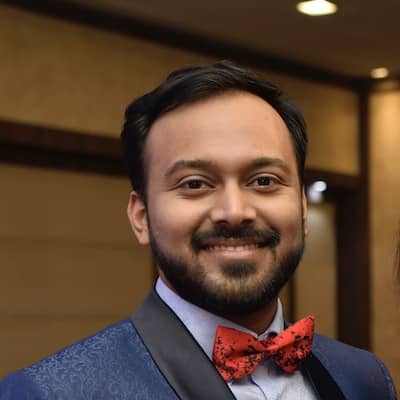 Dr. Devpriyo Pal, MD, is currently working as a Senior Resident. He likes teaching and is a mentor at Unherd and a founding member of I-RAD. He is a radiophysics nerd and content creator who regularly posts educational illustrations and images on Instagram, Facebook, and Twitter. He is also a member of TeamGyan and is the author of the Radiophysics with Friends project. Outside work and Radiology, he enjoys talking about tech, music, long drives, and consuming science fiction and Anime.
Frequently Asked Questions
This course is for radiology residents in their first few years. Ideally, first or second-year residents, but we believe anyone who feels lost in radiology will benefit from this course.
Practicing radiologists and fellows may not benefit a lot from this course as this is intended for students starting their radiology career. Also if you attended the first edition the information provided will be incremental as there will be repetition.
Sure. The course is aimed at residents just like you!
That's a reasonable question. There are plenty of resources available online but it is difficult to figure out which one works for you. We have invested our time and learned things the hard way so that you don't! And that's exactly why we spend hours designing this interactive course: for you to have that resource neatly in one package. That's why.
You have 30 days to access the material online.
INR 1999/- (Approx 25 USD / 20 GBP). This is an introductory discounted pricing so make sure you sign up before we raise our prices.
You can use a debit or credit card with international payments activated by using the automated registration flow above. UPI payments are NOT available.
No. The fees are non-refundable so please make sure you read all details of the course.
Make the Most of This Opportunity!
If you are genuinely interested in getting ahead in your radiology career, sign up for this unique learning experience. This will help you form a great base for you to build a fantastic career in radiology.