Learn Tips And Tricks from EXPERTS and
Jump-Start Your Radiology Career!
A Unique Interactive Radiology Course
Why this course? | Reviews| Details | Speakers | FAQ
The Journey Is Hard, Don't Get Lost in the First Leg!
Responsibilities. Self-doubt. Knowledge gaps. No peer group for support. No direct access to experts. Relentless distractions. Confusion about resources. Fear of failure.
Radiology Residents face these struggles every day. These struggles can lead to unfocused action, wasted resources, poor decision-making, and feelings of overwhelm. Faced with these struggles, it's no wonder why so many residents fall short of achieving their dreams.
Radiology is a vast field. As radiology residents, most of us waste at least a year or sometimes two years figuring out things! There is so much to learn, and there is so much to figure out! So many questions and no credible sources of information. We learned the hard way by wasting our time and making mistakes.
Introducing Head Start Radiology
Luckily you do not have to waste your time and energy! We have put together all the information that you need to know at the start of your career to plan it better and take informed decisions.We will share actionable tips to counter common problems that you face as early career residents.
We have improved the content in the second edition after receiving feedback from the first cohort of participants. The first part of the talk will focus on important resources such as what books to read and the second part will focus on how to make the most of your residency.
Read What Our Previous Attendees Have To Say [ UNEDITED]
Details of the Head Start Radiology Course
Format: Interactive course focusing on individual learning rather than didactic talks.
Brief Overview of Topics [Each subset has more topics that we will go through during the course]:
During Your Radiology Residency

Optimizing work in the department.

Improving your reporting speed.
Managing on-call duties.
Collaborating with colleagues in and outside your department.
And lots more!

Academics

What are the best books to read at each stage?
How to study more efficiently so that you get time to do other things in life?
Research opportunities
How to approach your thesis?
Get the most out of MS Word (includes demos). These hacks alone will help you save tons of time!
And lots more!

Year-wise residency goals

Approaching exams
Basics of finance and investing

AFTER Your Radiology Residency

What to do during the SRship / bond year?
How to apply to fellowships, including tips and templates for preparing your C.V.
Opportunities abroad.

QnA session.
By the end of the course, you will get a brief overview of radiology as a career and learn tips and tricks that will make your radiology journey more fruitful and enjoyable.
Date and time: Check the details above
Duration:  2:30-3 hrs.
Platform: Zoom.
The Zoom link will be emailed to the registered members one day before the conference.
Fees: INR 1999/- (Approx 25 USD / 20 GBP).
Total Seats: 30 Students only.
Speakers
Speakers: Dr. Amar Udare and Dr. Devpriyo Pal
Dr. Amar Udare is a fellowship-trained, board-certified radiologist currently practicing in Calgary, Alberta. He did his radiology residency at Tata Memorial Hospital, India. He has authored multiple first-author research publications in reputed radiology journals. He has a special interest in teaching and founded RadioGyan.com, one of the top radiology websites worldwide! He likes to binge on not-so-mainstream TV shows and movies in his free time.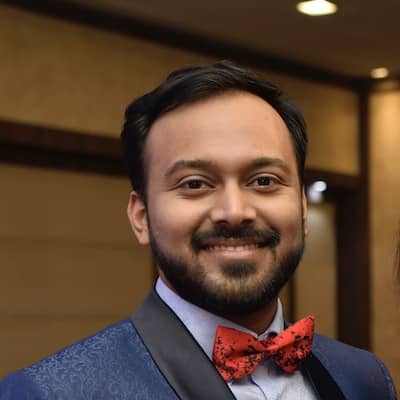 Dr. Devpriyo Pal, MD, is currently working as a Senior Resident. He likes teaching and is a mentor at Unherd and a founding member of I-RAD. He is a radiophysics nerd and content creator who regularly posts educational illustrations and images on Instagram, Facebook, and Twitter. He is also a member of TeamGyan and is the author of the Radiophysics with Friends project. Outside work and Radiology, he enjoys talking about tech, music, long drives, and consuming science fiction and Anime.
Frequently Asked Questions
This course is for early-career radiology residents. Ideally, first or second-year residents, but we believe anyone who feels lost in radiology will benefit from this course.
Practicing radiologists and fellows may not benefit a lot from this course as this is intended for students starting their radiology career. Also if you attended the first edition the information provided will be incremental as there will be repetition.
Sure. The course is aimed at residents just like you!
Desktop/Laptop is preferred but the course can also be viewed on mobile devices
Zoom
Headset
Good internet Connection
An open mind to learn!
That's a reasonable question. There are plenty of resources available online but it is difficult to figure out which one works for you. We have invested our time and learned things the hard way so that you don't! And that's exactly why we spend hours designing this interactive course: for you to have that resource neatly in one package. That's why.
INR 1999/- (Approx 25 USD / 20 GBP).
You can use a debit or credit card with international payments activated by using the automated registration flow above. UPI payments are NOT available.
Unfortunately no. Please make sure you have a good internet connection and do not have other commitments at the time of the conference.
No. The link is exclusively for you. On the day of the workshop only one person with the registered email and name will be allowed.
No. The fees are non-refundable so please make sure you read all details of the course.
Emails for registration are sent out automatically. Check your spam folder for the email address: admin at the rate radiogyan.com
Make the Most of This Opportunity!
If you are genuinely interested in getting ahead in your radiology career, sign up for this unique learning experience. This will help you form a great base for you to build a fantastic career in radiology.