Bookmark this page for future reference ('Ctrl+D' (Windows)/ '⌘ +D' (Mac users)! 
This is a simplified calculator for TI-RADS scoring of thyroid nodules on ultrasound based on the ACR White paper. It has a sleek UI mimicking the ACR chart for ease of use and includes recommendations for each score category.
Table of Contents
ACR TIRADS CHART
ACR TI RADS chart guidelines High Resolution image
TIRADS
TIRADS is a 5 point scoring system for thyroid nodules on ultrasound, developed by the American College of Radiology ( hence also termed as ACR- TIRADS). It helps to decide if a thyroid nodule is benign or malignant, combining multiple features on ultrasound.
How to calculate TIRADS score for thyroid nodules?
Step #1: Perform the ultrasound as per the ACR guidelines.  Read the ACR-TIRADS whitepaper and the simplified TIRADS article thoroughly. You can use the sonographer's worksheet  to document all the findings.
Step #2: Select the appropriate categories in the thyroid calculator above.
Step #3: Check the total score and recommendations as per the ACR thyroid chart at the bottom of the calculator.
Step #4: Use the TIRADS ultrasound reporting template to generate the report.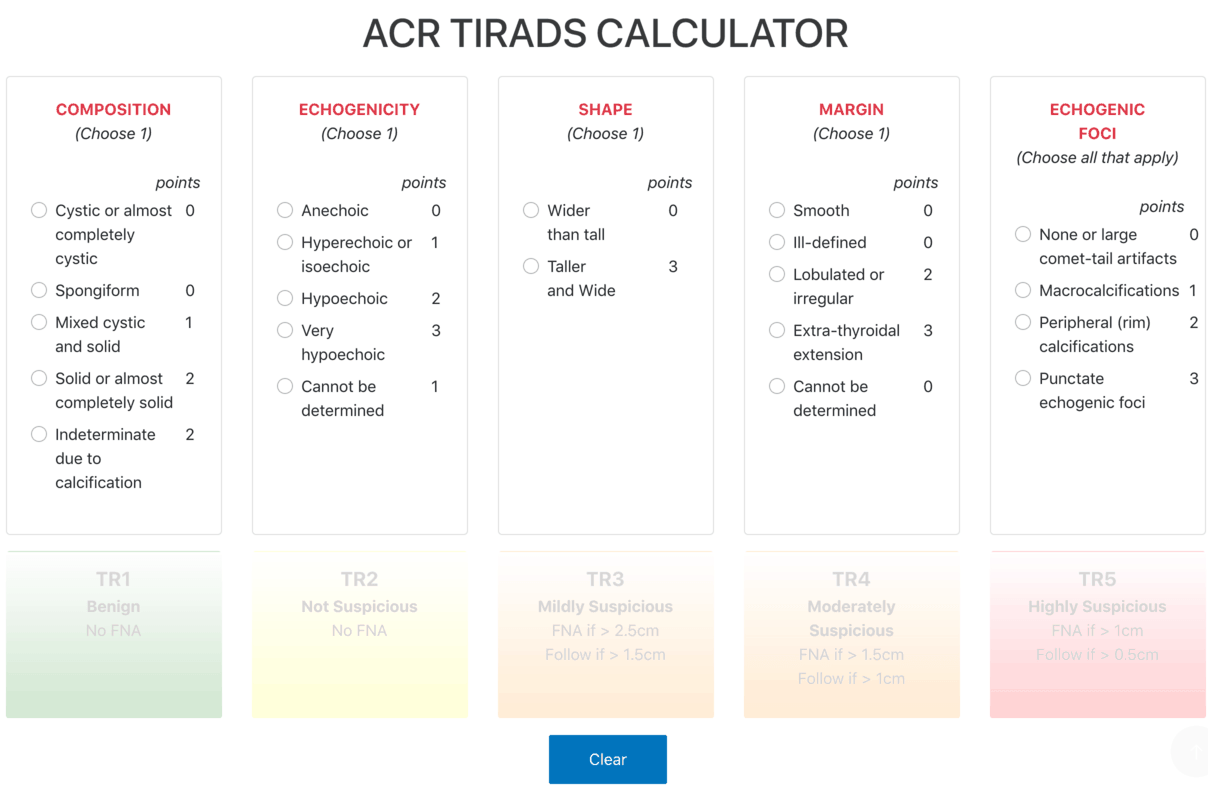 Disclaimer: The author makes no claims of the accuracy of the information contained herein; this information is for educational purposes only and is not a substitute for clinical judgment. This calculator is based upon the American College of Radiology (ACR) TIRADS classification but is not officially endorsed by the ACR.
Translated version is available in multiple languages, including Spanish language.
Para acceder a la versión en español de la calculadora TIRADS, use la opción de traducción en la esquina superior derecha.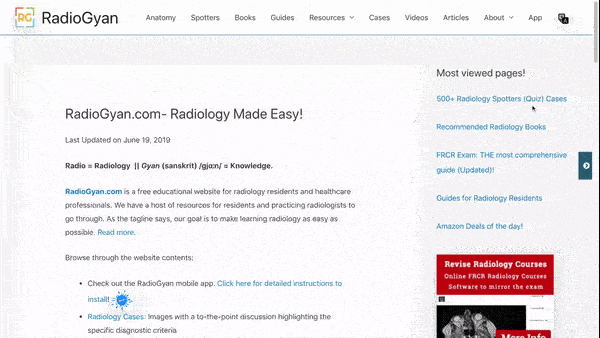 For more radiology resources, check out RadioGyan homepage!
Developed and maintained by Aniket Udare
Last Updated on
Latest posts by Dr. Amar Udare, MD
(see all)