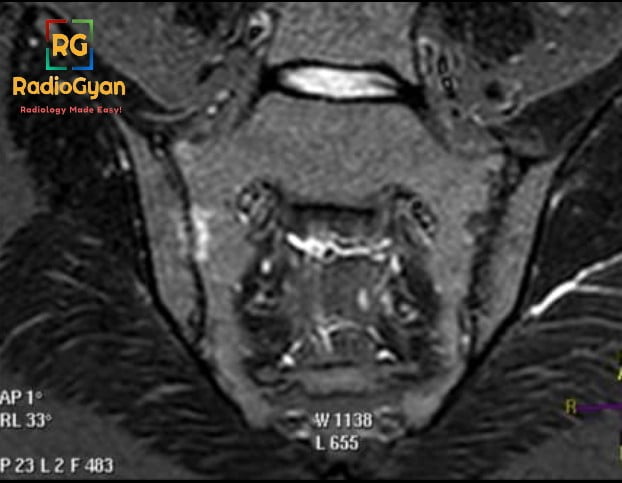 Quiz
Sacroiliitis is associated with all the following diseases EXCEPT?
Ankylosing spondylitis
Diffuse idiopathic skeletal hyperostosis
Crohn's disease
Reiter's syndrome
Answer: DISH-Diffuse idiopathic skeletal hyperostosis involves the sacroiliac ligaments, mimicking sacroiliitis; however, there are no subchondral erosions or sclerosis, and the synovial joints are spared.
Pathophysiology
Sacroiliitis is the inflammation of the sacroiliac joint and is associated with a wide range of spondyloarthropathies.
Assessment of SpondyloArthritis International Society (ASAS) criteria for inflammatory back pain in patients with back pain for >3 months include (4 out of must be present for diagnosis):
Age at onset <40 years
Insidious onset
Improvement with exercise
No improvement with rest
Pain at night (with improvement upon getting up)
Changes initially occur in the lower and middle third of the joint, and the iliac surface is more severely affected than the sacral side. Typical patterns of joint involvement include
Bilateral Symmetrical – ankylosing spondylosis, inflammatory bowel disease, psoriatic arthropathy
Bilateral Asymmetrical-reactive arthritis, osteoarthritis, gout
Unilateral – neoplastic lesion and infection.
Key Imaging Features
Slide to see the annotated image.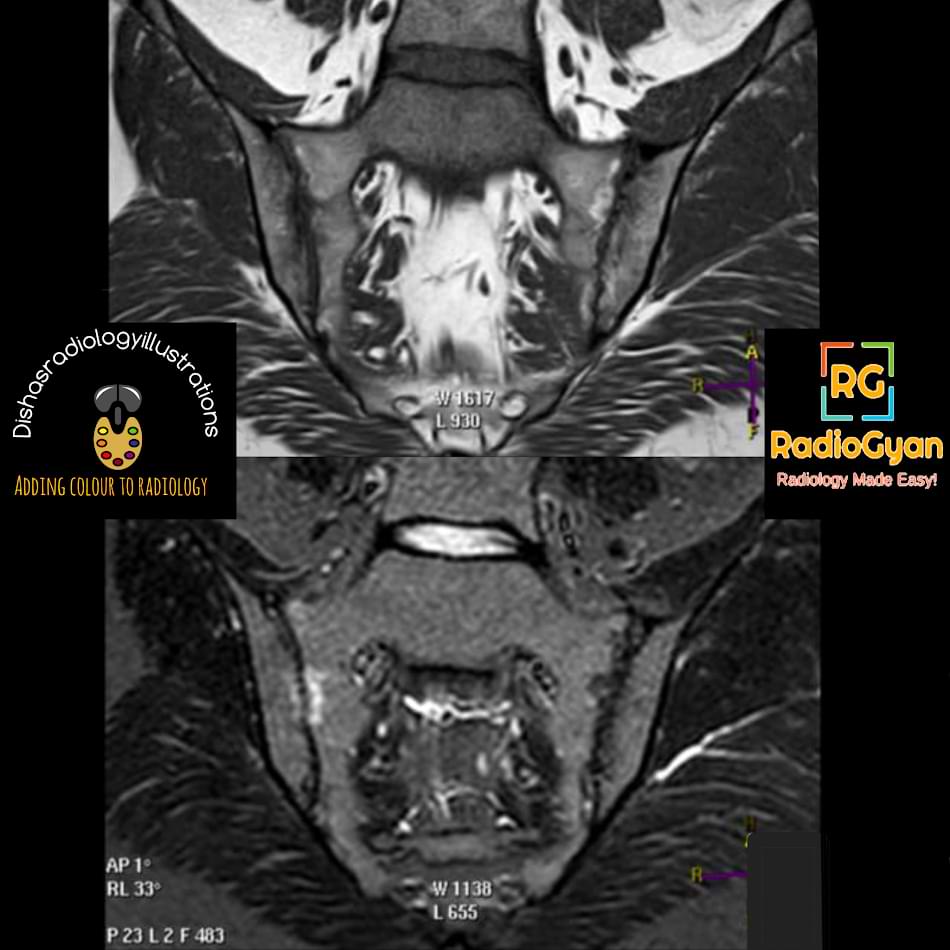 Original MRI Image
Annotated Image
MRI: features are divided as:
Inflammatory changes:
Periarticular bone marrow edema is the most reliable diagnostic feature for active sacroiliitis, seen as high signal intensity on STIR/water-sensitive sequences with corresponding enhancement in post-contrast sequences.
Synovitis and capsulitis: Thickening and contrast enhancement of the synovium and joint capsule seen in consecutive images (this will help in differentiating from peri-articular vasculature)
Enthesitis: Thickening and contrast enhancement in muscular attachments and the attachments of the extra-articular sacrospinous and sacrotuberous ligaments.
Structural lesions:
Subchondral sclerosis: areas of low signal intensity on all pulse sequences in the subchondral area.
Erosions: foci of bone loss predominantly along the anteroinferior aspect of the iliac side of the joint, better depicted on the T1-weighted oblique coronal sequence, causing apparent widening of the joint space
Periarticular fat deposits.
Backfill-: High T1-signal along the sacroiliac joints, filling up the bony erosions and surrounded by sclerosis, representing reparative fat metaplasia. Backfill is a specific finding in spondyloarthropathies. It may be an intermediate step between erosion and ankylosis.
Joint space narrowing and ankylosis (bony bridging) are the last steps in the disease process.
Radiograph and CT: detects chronic bony changes, including joint space pseudo widening, erosion, sclerosis, and bony ankylosis.
Technetium bone scintigraphy helps in localizing the disease to the sacroiliac joint.
Imaging Recommendation :
MRI is the most sensitive modality for the early detection of marrow edema, characterizing sacroiliac joint disease, and assessing disease severity.
Top 3 Differential Diagnosis :
Osteitis Condensans ilii- It is usually seen in childbearing women and is likely related to the abnormal high stresses incurred during pregnancy. It is caused by bone deposition at stress areas along the sacroiliac joint. Radiography and MRI reveal bilateral, symmetrical, sharply circumscribed, triangular-shaped areas of subchondral sclerosis on the iliac side, without erosions or joint space widening of the sacroiliac joint.
Hyperparathyroidism: Mimics the sacroiliitis by causing subchondral bone resorption and joint space widening without signs of active inflammatory lesions of sacroiliitis.
Sacroiliac joint infection : Features of infective sacroiliitis for differentiating from inflammatory sacroiliitis are intense bone marrow edema, intra-articular fluid, inflammation involving the periarticular soft tissues, and periarticular fluid collection or abscess.
Clinical Features :
Symptoms- low back pain radiating to bilateral buttocks and hip joints
Age/Sex predilection: Axial spondyloarthritis occur predominantly in young male patients.
Risk factors: Positive HLA-B27.
Classification System :
1. Modified New York criteria on Plain radiograph
Grade 0 – normal sacroiliac joints with well-defined margins
Grade 1- suspicious changes with incipient sclerosis
Grade 2- loss of definition of the articular margins, subchondral osteoporosis, and areas of reactive sclerosis;
grade 3- subchondral sclerosis of both sacral and iliac articular margins, erosions, reduced articular space, widening of the joint space, and partial ankylosis
Grade 4- complete ankylosis with residual sclerosis.
A bilateral score of grade 2 or higher or a unilateral score of grade 3 or higher is diagnostic for sacroiliitis radiographically.
2. ASAS active sacroiliitis classification system 2016- positive MRI
Bone marrow edema "in a typical anatomical area (subchondral bone)" and the "MRI appearance must be highly suggestive of axial spondyloarthritis"
Etymology and synonyms :
Ankylosing spondylitis derives from the Greek words ankylos meaning crooked, and spondylos meaning joint of the back. This is likely based on the severe kyphotic deformity in patients with end-stage ankylosing spondylitis.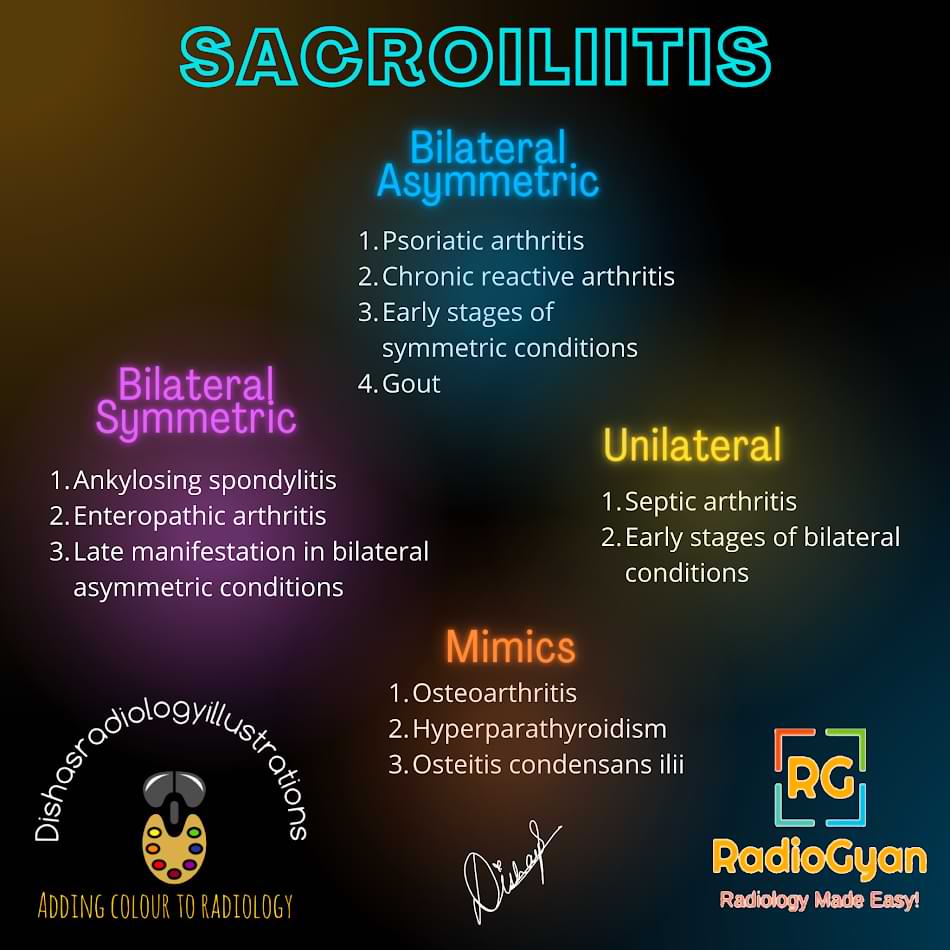 Treatment :
Physiotherapy
NSAIDs and muscle relaxants
Image-guided intra-articular anesthetic/steroid injections
Surgery -SI joint fusion with screws- last resort for patients with chronic pain
References:
Single best review article:
Tsoi C, Griffith JF, Lee RKL, Wong PCH, Tam LS. Imaging of sacroiliitis: Current status, limitations and pitfalls. Quant Imaging Med Surg. 2019;9(2):318-335. doi:10.21037/qims.2018.11.10
Other references:
1. Navallas M, Ares J, Beltrán B, Lisbona MP, Maymó J, Solano A. Sacroiliitis associated with axial spondyloarthropathy: new concepts and latest trends. Radiographics. 2013;33(4):933-956. doi:10.1148/rg.334125025
2.Diekhoff T, Lambert R, Hermann KG. MRI in axial spondyloarthritis: understanding an 'ASAS-positive MRI' and the ASAS classification criteria. Skeletal Radiol. 2022;51(9):1721-1730. doi:10.1007/s00256-022-04018-4
Co-Authors: Dr. Bhargavi Sovani. Illustration by Dr. Disha Lokhandwala.