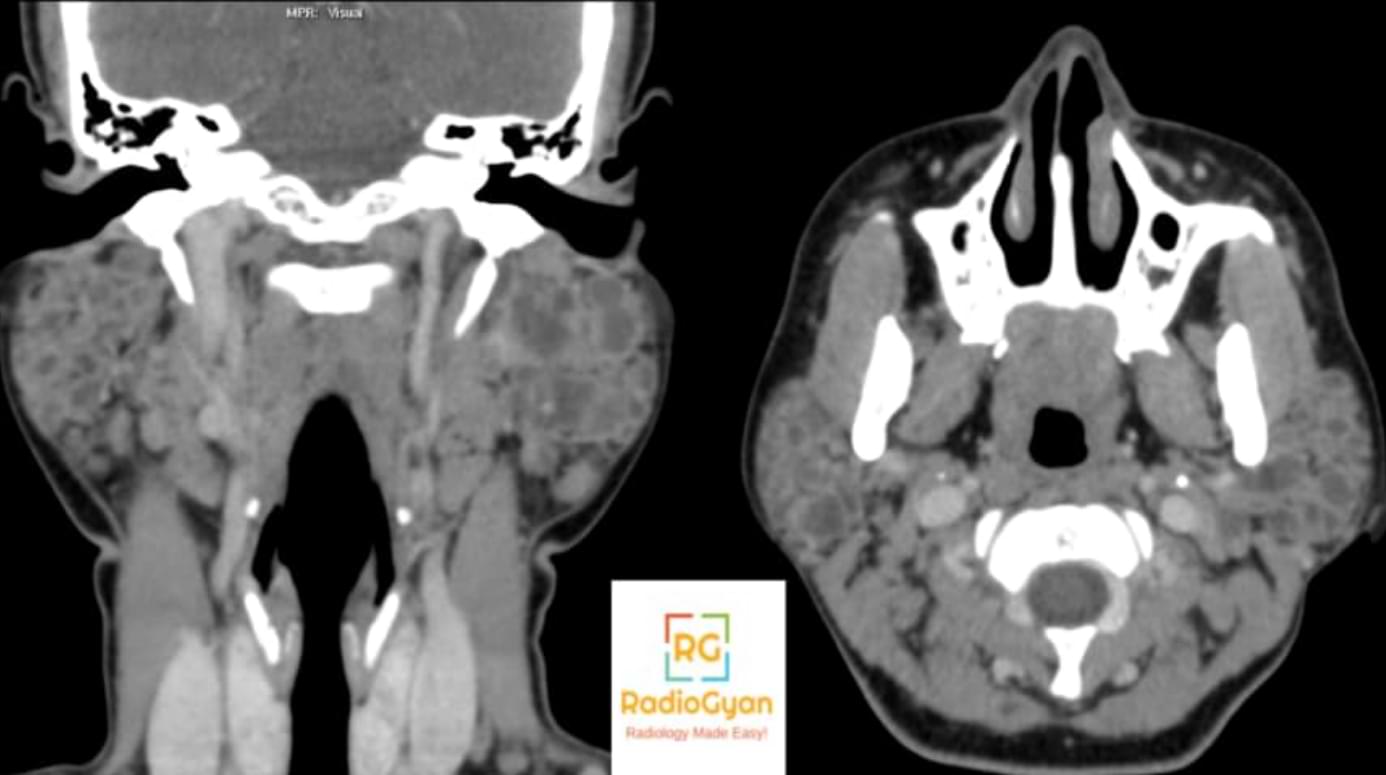 Quiz
Benign lymphoepithelial lesions are associated with all of the following except?
Parotid gland enlargement
Sialolithiasis
Cervical lymphadenopathy
Tonsillar hypertrophy
Pathophysiology
Benign lymphoepithelial lesions occur in the parotid gland as an early manifestation of HIV infection.  Lymphoepithelial cysts are thought to arise from cystic dilatation of terminal salivary ducts from obstruction due to lymphatic proliferation. Similar changes can also be seen in Sjogren Syndrome.
Key Imaging Features
Slide to see the annotated image.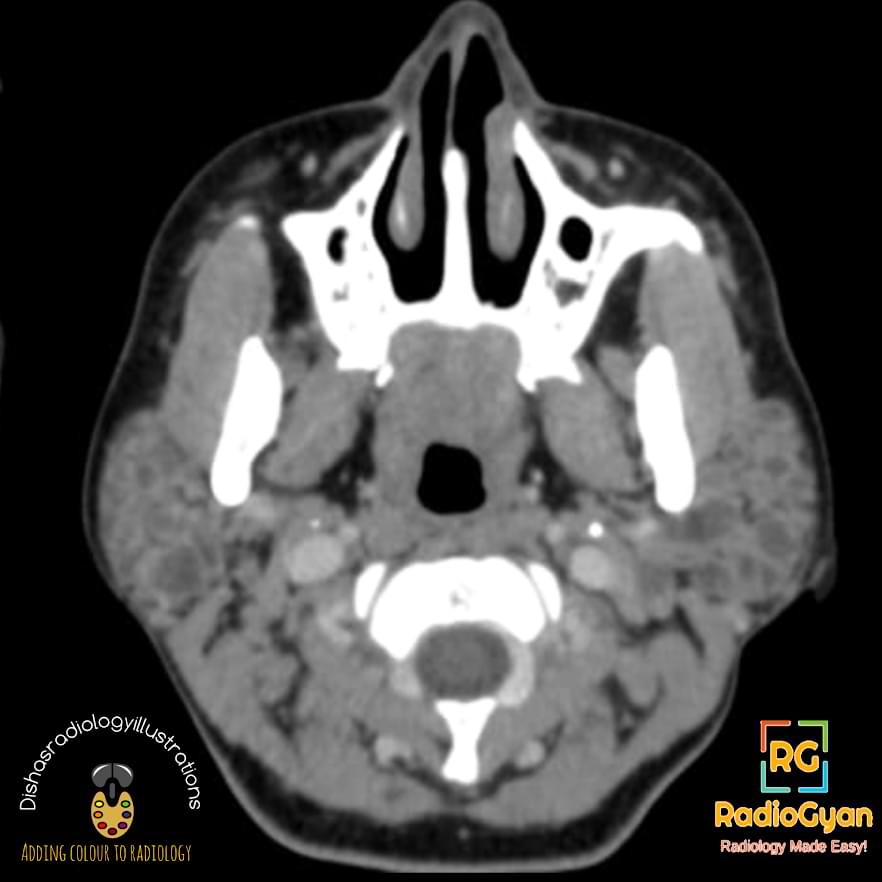 Original MRI Image
Annotated Image
CT
Multiple, bilateral, well-defined cystic and solid masses within enlarged parotid glands as seen in the case above. On post-contrast studies, bilateral parotid glands appear hyperdense with thin rim enhancing cystic lesions within. Solid lesions show heterogeneous enhancement. 
Reactive cervical lymphadenopathy. 
Adenoid, palatine and lingual tonsillar hypertrophy
MRI
Cystic lesion- fluid signal intensity and rim enhancement on contrast, better appreciated on STIR sequence.
Solid lesions-heterogenous signal and post-contrast enhancement
Hyperintense cervical lymphadenopathy, waldeyer lymphatic ring enlargement
USG  – Solid-cystic lesion within the enlarged parotid gland; cystic lesion may show thin septae, vascular pedicle or a mural nodule within
Imaging Recommendation :
Contrast-enhanced CT scan from the skull base to the clavicle to see the extent of parotid involvement and cervical lymphadenopathy
Top 3 Differential Diagnosis :
First branchial cleft cyst– Unilateral parotid cystic lesion.
Sjogren syndrome– Female over 40 years of age with symptoms of dry eye, mouth and skin, multiple bilateral parotid cysts. The heterogeneous appearance of the parotid gland, which is enlarged in the early stage and atrophic in the later stage of the disease
Warthin tumour– Solid-cystic lesions with a mural nodule, can be bilateral, multifocal but not innumerable; the solid component shows post-contrast enhancement.
Cervical lymphadenopathy and tonsillar hypertrophy help differentiate lymphoepithelial lesions from other differentials. 
 Clinical Features : 
Symptoms- painless bilateral parotid enlargement, tonsillar swelling and cervical lymphadenopathy
Age/Sex predilection- men are commonly affected, no age predilection
Risk factors if any- HIV infection – seen in up-to 1-10 percent of patients.
Classification System :
Three-tiered classification of benign lymphoepithelial lesions:
Persistent generalised parotid gland lymphadenopathy- solid lesions
Benign lymphoepithelial lesions- mixed solid and cystic lesions
Benign lymphoepithelial cysts- cystic lesions

Etymology and synonyms:
These are also known as Benign lymphoepithelial cysts associated with HIV (BLEC-HIV). These are also labelled as Benign lymphoepithelial lesions associated with HIV (BLEL-HIV).
Treatment :
Treatment with HAART in HIV patients
Intralesional doxycycline or alcohol sclerotherapy.
High dose radiotherapy.
Surgical excision is not recommended in AIDS patients
This article features in our Spotter Set 1. Access it below:
References:
Single best review article:
Diagnostic Imaging: Head and Neck by Bernadette L Koch MD, Bronwyn E. Hamilton MD, Patricia A. Hudgins MD FACR, H. Ric Harnsberger MD. Elsevier publications  – Third edition. ISBN-10: 9780323443012
Other references:
Martinoli C, Pretolesi F, Del Bono V, Derchi LE, Mecca D, Chiaramondia M. Benign lymphoepithelial parotid lesions in HIV-positive patients: spectrum of findings at gray-scale and Doppler sonography. AJR Am J Roentgenol. 1995;165(4):975-979. doi:10.2214/ajr.165.4.7677004
Co-Authors: Dr. Mansi Sarmalkar.. Illustration by Dr. Disha Lokhandwala.