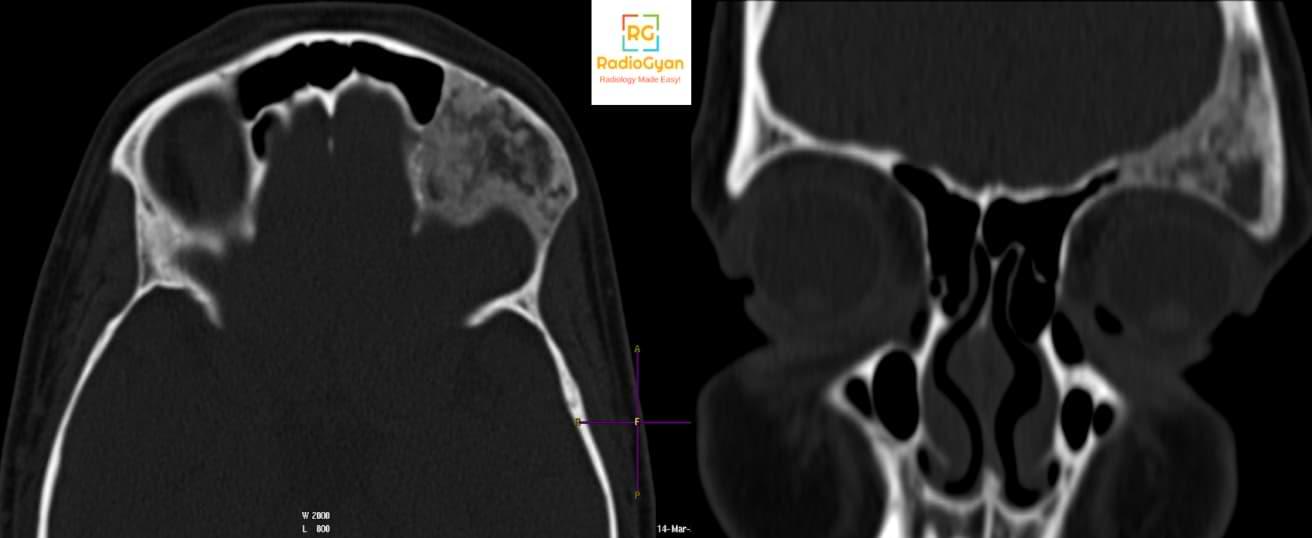 Quiz
Which of the following syndromes is NOT associated with Fibrous dysplasia?
McCune Albright syndrome.
Mazabroud syndrome
Jaffe-Lichtenstein disease
von-Hippel Lindau syndrome.
Answer: Von-Hippel Lindau syndrome is not associated with fibrous dysplasia.
Pathophysiology
Fibrous dysplasia (FD) is a benign bone disease wherein osteoblasts do not normally differentiate, leading to immature bone and fibrous stroma.
Key Imaging Features
Slide the image for an annotated image.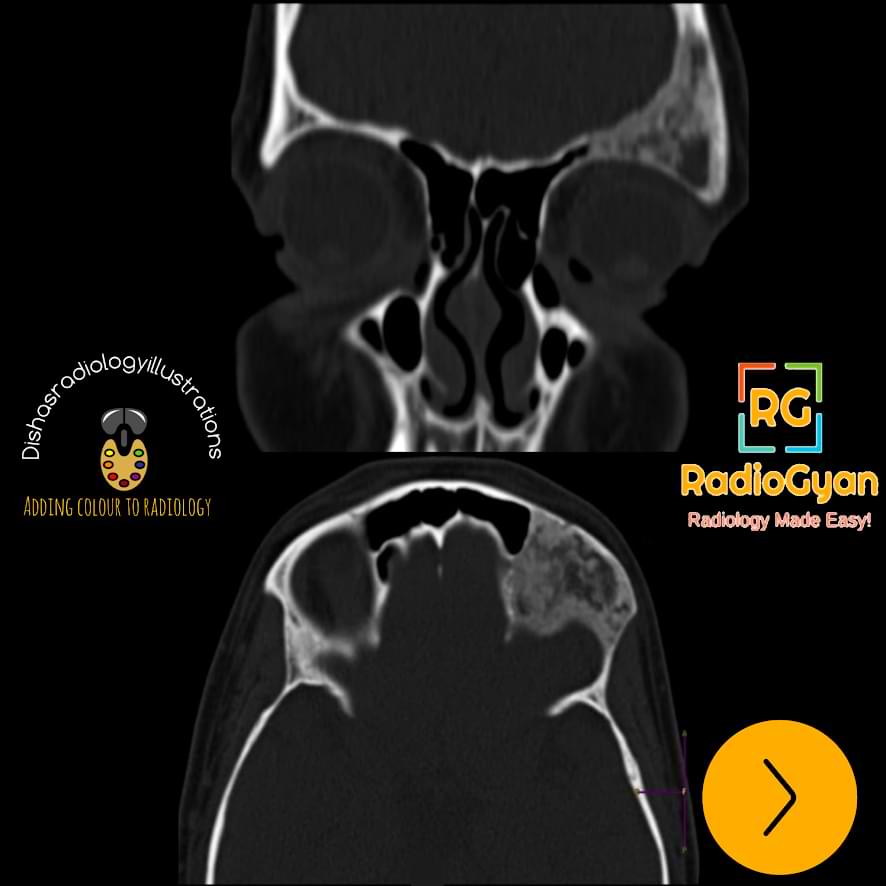 Original CT image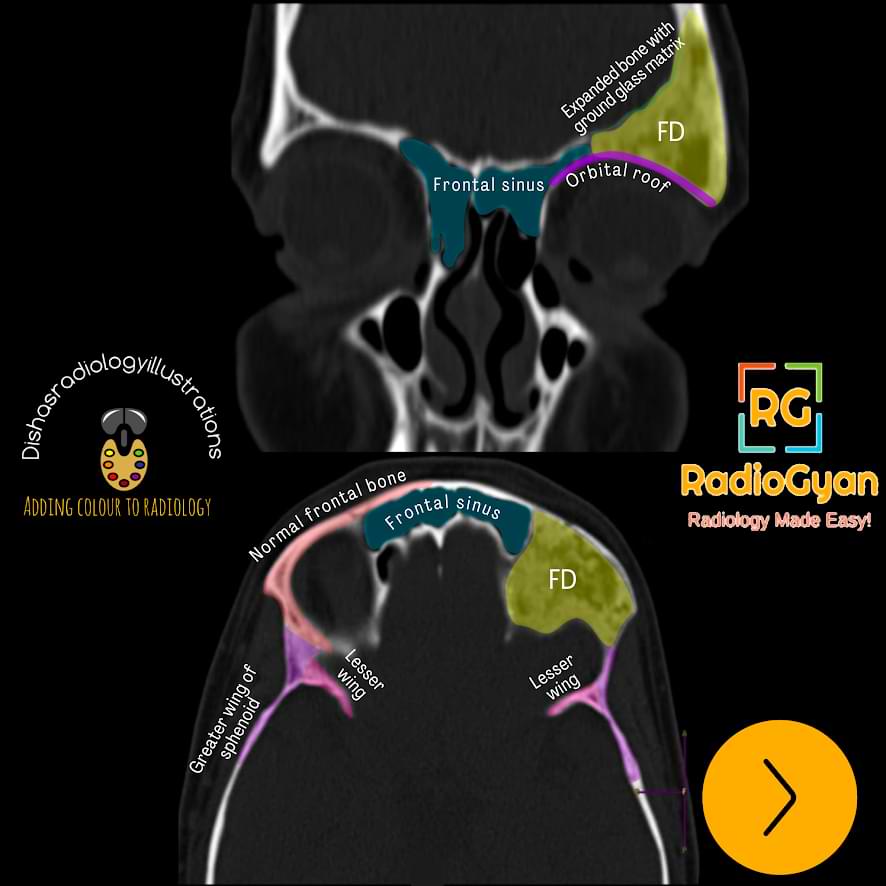 Annotated CT Image

Radiographs:
Intramedullary, well-defined expansile lesions.
Cortical contour is smooth.
It may show endosteal scalloping.
On conventional radiographs, they appear 'ground glass' or hazy, few may be radiolucent or sclerotic.
A thick layer of sclerotic bone around the lesion is classic – known as a rind sign
The absence of periosteal reaction is typical.
Fibrous Dysplasia can have a lucent appearance on radiographs and is a part of the FEGNOMASCHIC group of lesions.
FEGNOMASCHIC is a mnemonic for the differential diagnosis of lytic bone lesions. It stands for,
F -Fibrous Dysplasia
E -Eosinophilic granuloma and Enchondroma
G -Giant cell tumour
N -Nonossifying fibroma
O -Osteoblastoma
M-Metastases and Myeloma
A -Aneurysmal bone cyst
S -Solitary bone cyst
H -Hyperparathyroidism (brown tumours)
I -Infection
C– Chondroblastoma / Chondromyxoid Fibroma
Alternatively you can use this mnemonic : FOGMACHINES as it is easy to remember.
Fibrous Dysplasia
Osteoblastoma
Giant Cell Tumor
Metastasis / Myeloma
Aneurysmal Bone Cyst
Chondroblastoma / Chondromyxoid Fibroma
Hyperparathyroidism (brown tumors) / Hemangioma
Infection
Non-ossifying Fibroma
Eosinophilic Granuloma / Enchondroma
Solitary Bone Cyst
CT Features:
Typical ground-glass appearance as seen on radiographs.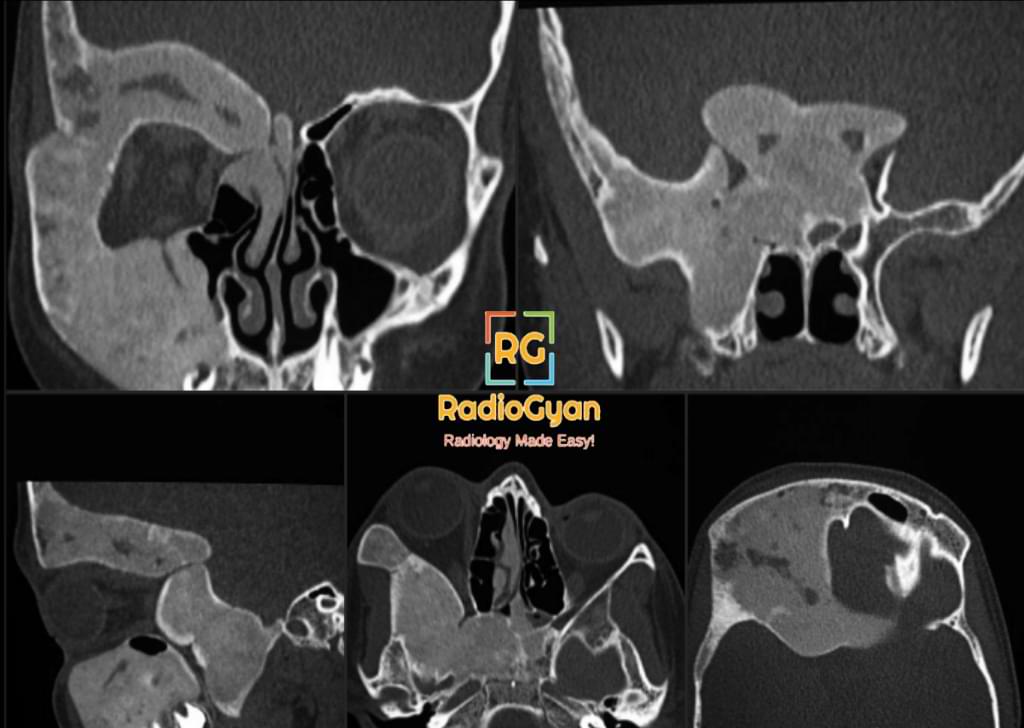 MRI features :
Intermediate to low intensity on T1- weighted images, intermediate to high intensity on T2 – weighted images
Heterogeneous enhancement after contrast administration. Diffuse enhancement can give rise to "milk cloud" appearance.
MRI appearance can simulate an aggressive lesion.
Nuclear Medicine:
Non-specific increased uptake is present in these lesions on radiotracer scans.
Imaging Recommendation :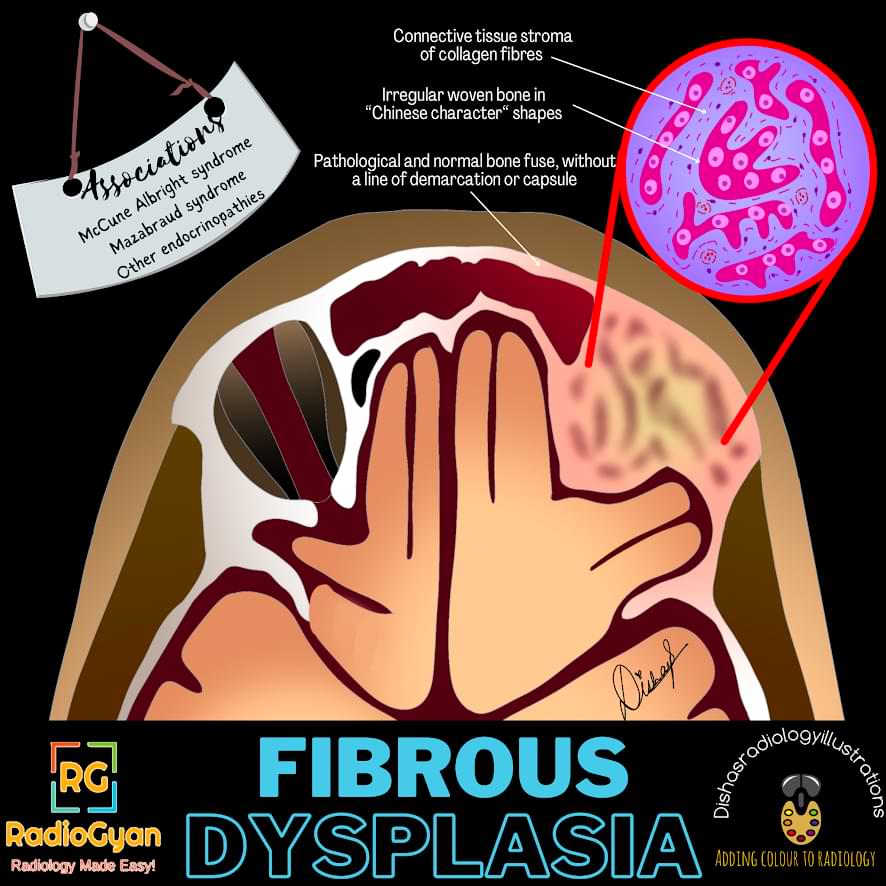 Radiographs are sufficient for diagnosis in most cases. CT can be performed in selective cases for confirmation. Best to avoid MRI as it can show an aggressive appearance.
Top 3 Differential Diagnosis :
Pagets disease: Cortical sclerosis and thickening is seen in Paget's, which is absent in FD.
Jaffe-Campanacci Syndrome

Triad of nonossifying fibromas, axillary freckling, and café au lait (lacks neurofibromas).
Can simulate polyostotic forms of FD. However, the café au lait in J-CS is like the Coast of California, while those in McCune-Albright resemble the Coast of Maine.

Neurofibromatosis: Osteitis fibrosa cystica in NF can mimic FD, but there will be other findings of NF.
Clinical Features :
Symptoms: may be an incidental finding or can present with pain and compression over adjacent structures( especially in craniofacial disease- there is compression of nerves exiting neural foramina of the skull base)
Age/Sex predilection: monostotic disease may present in 2nd or 3rd decade, and polyostotic presents in children
Progression:

Age-related changes: with an increase in age, there is decreased number of cells in the lesion , changing the classic radiographic appearance of ground glass to a more dense and sclerotic pattern.
Treatment-related changes: Bisphosphonates cause the development of parallel sclerotic metaphyseal bands. (These bands develop in any growing child treated with bisphosphonates and are not specific to FD)

Complications: pathological fractures, malignancy,benign changes like arachnoid bone cyst formation and myxoid changes.
Classification System :
Monostotic – 80% AKA Jaffe-Lichtenstein disease.
Polyostotic – 20% McCune-Albright syndrome: UNILATERAL FD associated with extra-skeletal abnormalities,
Mazabraud syndrome: FD with associated intramuscular myxomas.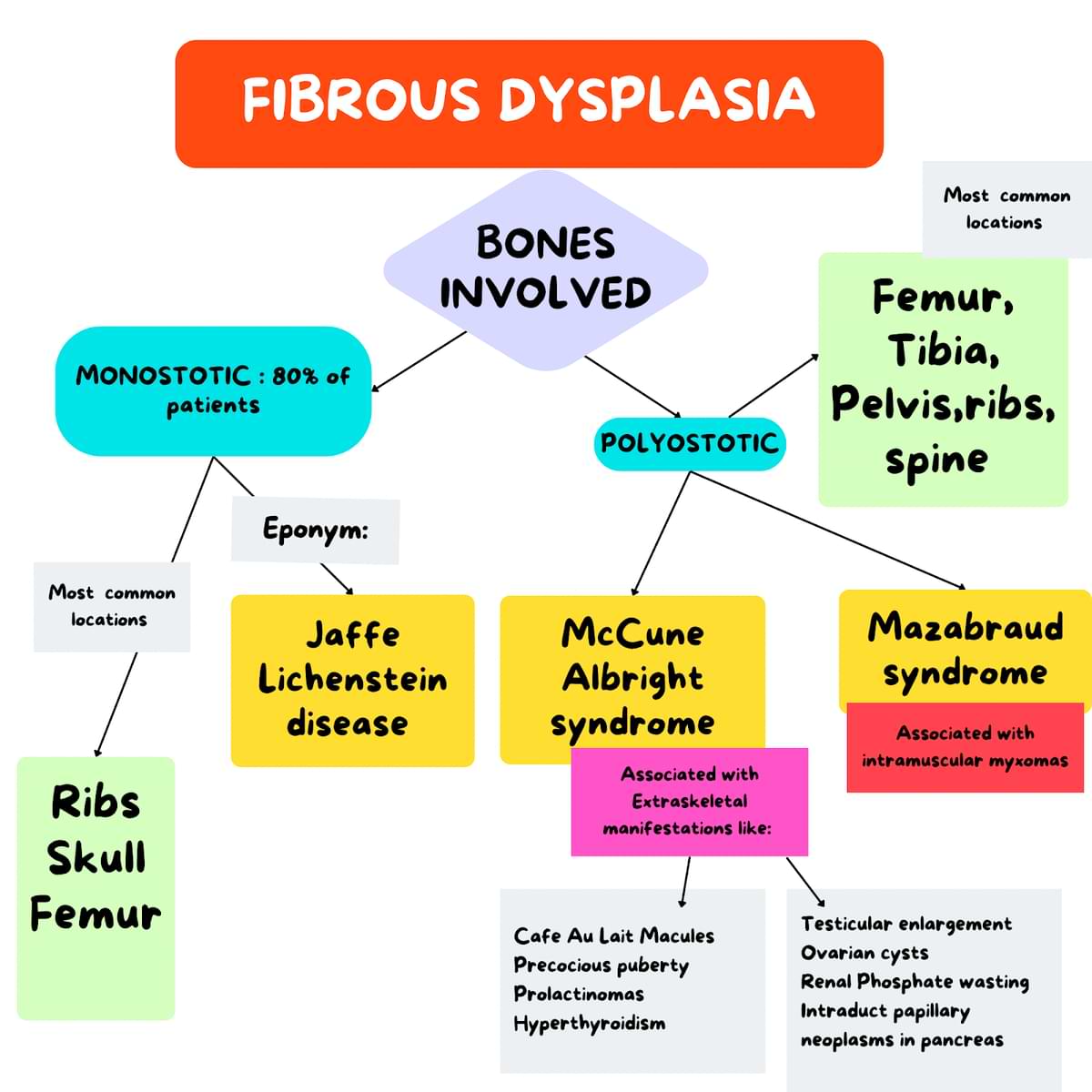 Etymology and synonyms :
Marrow is replaced by fibrous tissue, hence the name fibrous dysplasia.
Also known as osteitis fibrosa and osteodystrophy fibrosa
Treatment :
Symptom management, endocrinology evaluation in case of polyostotic form. Surgery is reserved for aggressive symptomatic cases, especially in craniofacial dysplasia.
References:
Single best review article:
Kushchayeva YS, Kushchayev SV, Glushko TY, Tella SH, Teytelboym OM, Collins MT, Boyce AM. Fibrous dysplasia for radiologists: beyond ground glass bone matrix. Insights Imaging. 2018 Dec;9(6):1035-1056. doi: 10.1007/s13244-018-0666-6. Epub 2018 Nov 27.
Other references:
Fitzpatrick, K.A. et al. (2004) "Imaging findings of fibrous dysplasia with histopathologic and intraoperative correlation," American Journal of Roentgenology, 182(6), pp. 1389–1398.
Co-Authors: Dr. Bhargavi Sovani. Illustration by Dr. Disha Lokhandwala.