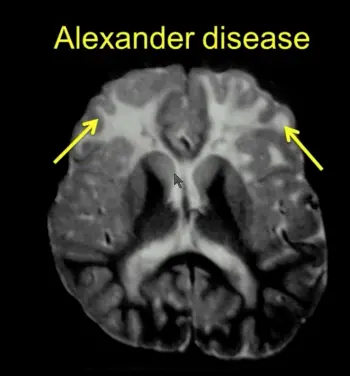 Topics covered:
Normal myelination.
Hypoxic Ishemic Encephalopathy.
Dysmelinating and demyelinating disorders.
Approach to dysmyelinating disorders depending on

Involvement of grey matter / white matter or both
Central/ Peripheral involvement.
Enhancement pattern
Symmetrical involvement.
Head size.
Systemic involvement.

Important disorders are covered with typical imaging findings.
Check out the Atlas of normal myelination in neonates on our anatomy page.
Go through this excellent Imaging flowchart from the AJR article titled here.
Click here to to read an  excellent presentation on Normal Myelination by Fang Yu 1 M.D., Michael Wang 1 M.D., Kiran Sargar 2 M.D., Yutaka Sato 3 M.D., Achint K. Singh 1 M.D. 1: University of Texas Health Science Center San Antonio.
Resources:
Related Posts ↓
📧 Radiology Newsletter↓
Get Updates and Exclusive Radiology Content
About the Author
---
Dr. Amar Udare, MD, DNB

Dr. Amar Udare is a board-certified radiologist. He is currently working as a fellow radiologist at McMaster University, Canada. He has a passion for teaching (#FOAMrad and #FOAMed) and has been a semi-finalist for the 2018 and 2020 Aunt-Minnie Most effective Radiology Educator Awards. He has authored multiple peer-reviewed publications which can be accessed on
PubMed
and
Google Scholar
.