In our recent article: Pulmonary embolism diagnosis: What else the radiologist MUST report! We had posted the above image. This patient presented with breathlessness after vertebroplasty. Here are more images: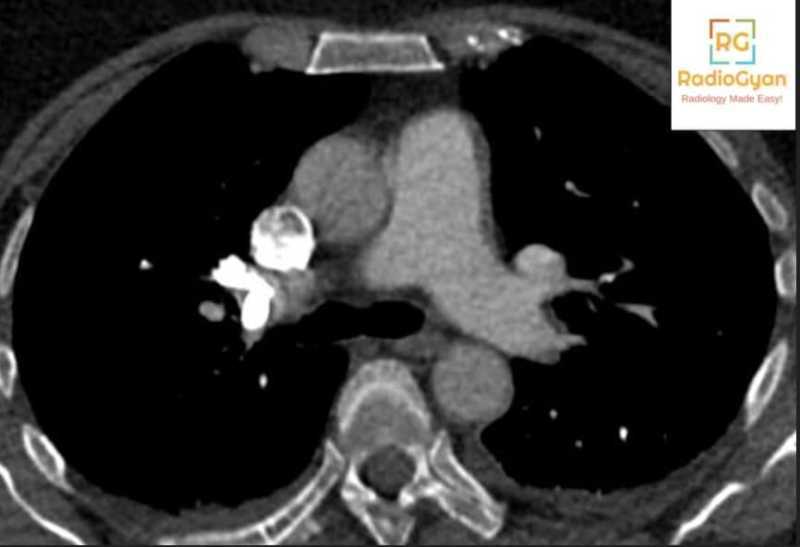 To confirm that these are pulmonary cement embolism and not dense contrast I have shown the same images with HU values. HU values of the thrombus correspond to that of the vertebroplasty cement.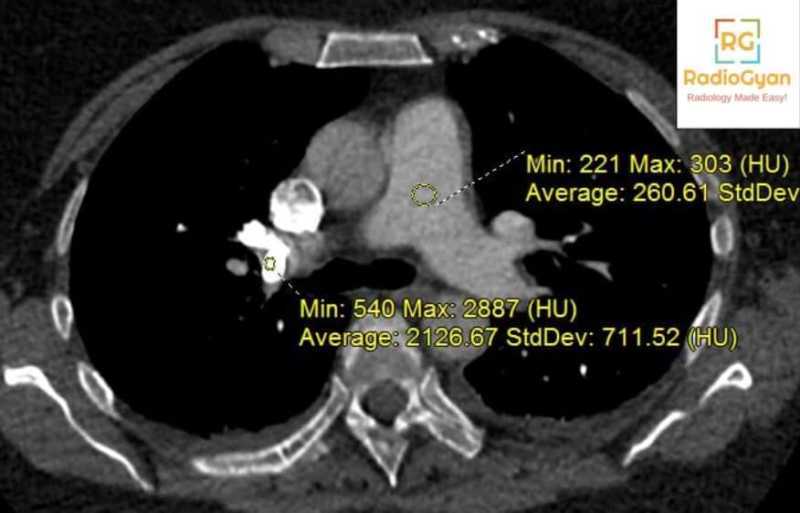 Also, note in these sagittal images, you can visualize the cement going into one of the branches of the pulmonary artery upwards!
Final diagnosis: Pulmonary cement embolism after vertebroplasty
Discussion:
Introduction:
Cement leakage is the most frequent complication after percutaneous vertebroplasty and kyphoplasty

Leakages can cause a wide range of complications including asymptomatic damage to the adjacent soft tissue, nerve irritation through compression of nerve roots and pulmonary cement embolisms (PCE).

Most cases of PCE can go undiagnosed as the patients can be asymptomatic and smaller emboli may be missed on radiographs

Incidence on MDCT has been reported to be approx 23% in percutaneous vertebroplasty (PVP).

Incidence is more in balloon kyphoplasty (BK) than PVP.
Symptoms of pulmonary cement embolism after vertebroplasty :
Symptoms are often delayed.

Include:

Chest pain

Dyspnea

Rarely respiratory distress.

Death from pulmonary cement embolism has also been reported but is very rare.
Pathophysiology :
Poly Methyl Methacrylate (PMMA) from the vertebroplasty enters VALVELESS veins of the vertebral systems into the thoracic veins

Common causes:

Injecting when PMMA is still in the liquid stage.
Forceful injection of PMMA.
Imaging features of pulmonary cement embolism after vertebroplasty:
Seen as dense filling defects along the distribution of pulmonary arteries.

Distinguishing

pulmonary cement embolism from calcified granuloma :

Branching high-attenuation area of

more than 500 HU

(as shown in the figure above) along the expected course of the pulmonary artery.

High-attenuation area was smaller than the proximal luminal diameter of the pulmonary artery

Newly developed branching high-attenuation area

if prior imaging available for comparison.

Leakage of cement into the inferior vena cava

is an important risk factor for pulmonary cement embolism
Management of pulmonary cement embolism after vertebroplasty:
Depends on

Central vs peripheral location

Symptomatic vs asymptomatic patients.

Krueger et.al have described a

flowchart for management

of pulmonary cement embolism in their

article

.
More images, references and further reading for pulmonary cement embolism after vertebroplasty:
Krueger A, Bliemel C, Zettl R, Ruchholtz S. Management of pulmonary cement embolism after percutaneous vertebroplasty and kyphoplasty: a systematic review of the literature.

European Spine Journal

. 2009;18(9):1257-1265. doi:10.1007/s00586-009-1073-y.

Sinha N, Padegal V, Satyanarayana S, Santosh HK. Pulmonary cement embolization after vertebroplasty, an uncommon presentation of pulmonary embolism: A case report and literature review.

Lung India : Official Organ of Indian Chest Society

. 2015;32(6):602-605. doi:10.4103/0970-2113.168119.

Kim YJ, Lee JW, Park KW, et al. Pulmonary cement embolism after percutaneous vertebroplasty in osteoporotic vertebral compression fractures: incidence, characteristics, and risk factors. Radiology. 2009;251:250–259. doi: 10.1148/radiol.2511080854. [

PubMed

]