Update: 2023 Edition now available.
Radiology without Tears by Dr. S Raghuwanshi and Dr. G Raghuwanshi are great books and very easy to recommend. There are two volumes and they are a focussed attempt at being a complete yet concise guide for the practical part of the final exams in Post Graduate courses of India and largely succeeds in that endeavor.
The first volume does well to collect and organize a lot of information looking for which is a frequent source of frustration for residents. It comprehensively covers the different set pieces like Instruments, Interventions, contrast media, and drugs used in Radiology.
The section on Radiography and Barium Procedures has been written meticulously and I personally found it to be an invaluable tool, especially for residents of this day and age who often find their preparation somewhat lacking when facing Examiners who are extremely fond of conventional radiography.
The Question and Answer format is also easier to process and reproduce during exams. There are also separate sections on General Viva topics, a list of spotters, long and short cases along with sample answers and summaries of important topics.
The second volume has contributions from several other authors and deals with Case discussions and does a good job of laying down the groundwork for how to approach cases which the resident can then build upon.
Common and Typical examples of cases are arranged according to systems and discussed in depth in a Question-Answer pattern with an abundance of mnemonics and tables to help in recall. Some images do suffer from being of low resolution but most of them get the work done. The book does give an overview of the FRCR 2B exam and how it compares to Indian exams but this is not its strong suit.
All in all, these are handy books that deserve a spot in the arsenal of most exam-going radiology residents in India.
You can get the book on Amazon: Radiology Without Tears Volume 1 and Volume 2
A few screenshots from the book (shared by the Author). Click on an individual image to enlarge.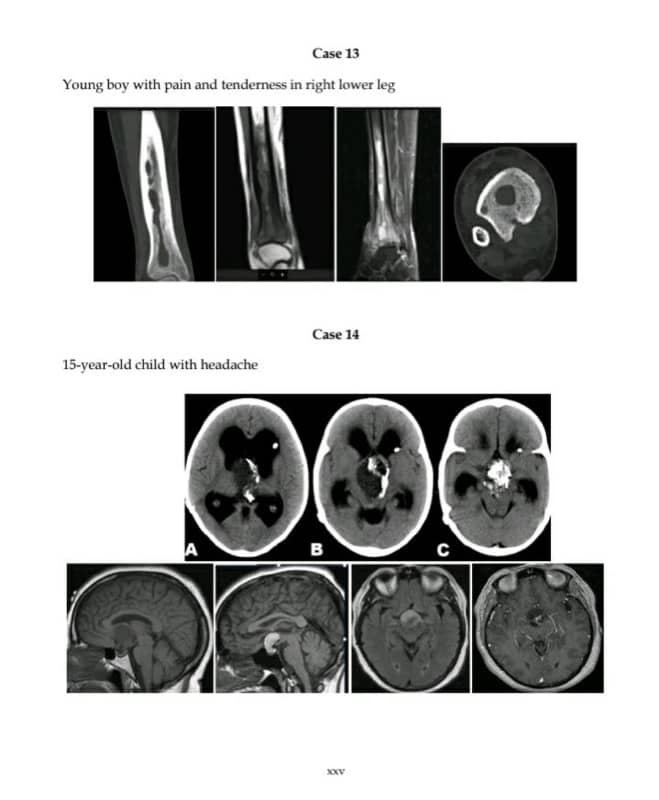 More Radiology Book recommendations :
Contributed by TeamGyan member Dr. Devpriyo Pal.