Quiz
True v/s False Lumen of Aortic Dissection
Intimal defect – blood enters media of aortic wall – "dissects" the aortic wall longitudinally.
Two lumens separated by dissection flap: True lumen and False lumen – formed because of the dissection flap.
| | True Lumen | False Lumen |
| --- | --- | --- |
| Size | Usually smaller (compressed by false lumen) | Usually larger due to higher pressure and lesser resistance |
| Shape | Round | Cresenteric |
| Contrast density | Similar to other arteries | Less dense contrast due to delayed opacification. |
| Thrombosis | Less likely | Common |
| Configuration | No beak or cobweb sign | Beak Sign. Cobweb sign |
Distinguishing True lumen vs false lumen Aortic Dissection
Beak sign of false lumen: Acute angle commonly formed by the false lumen against the true lumen.
Bird Beak Sign (slide to compare)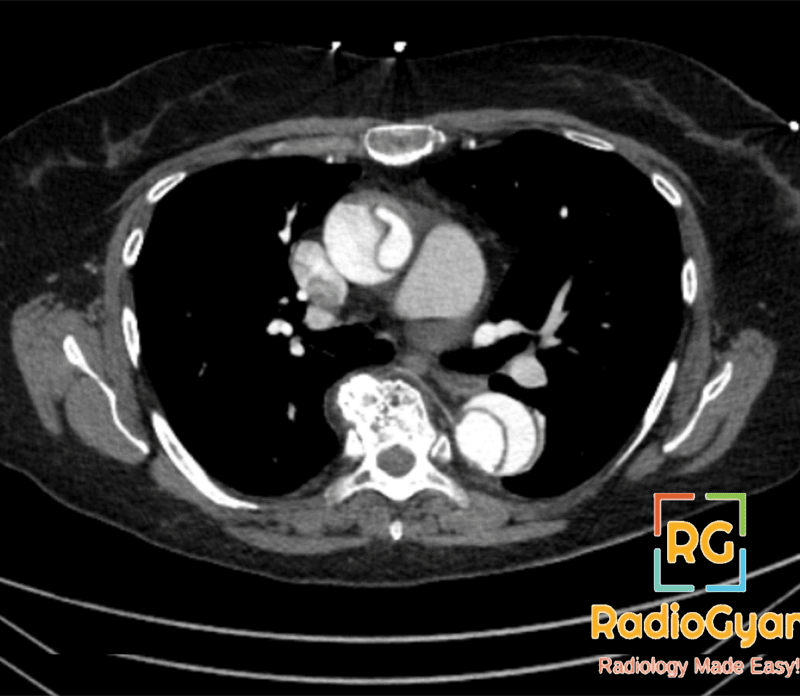 CT Angiogram
Cobweb sign of false lumen: Fine strands of dissected media tissue forming a web cluster.
Mercedes Benz Sign : Triple channel dissection due to secondary dissection within one channel
Widening of superior mediastinum > 8cm and progressive aortic enlargement on radiographs.
CT is imaging modality of choice in acute cases. MRA is good for follow up.
Key is to report what portion of the aorta is involved.
Ascending aorta : Stanford A – Acute worrisome – Acute management (Surgical).
Beyond ascending aorta – Stanford B – Be calm (Conservative management).
Classification systems for Aortic Dissection
Stanford classification
Type A (60%): Involves ascending aorta, regardless of site of origin
Type B (40%): Does not involve ascending aorta
DeBakey classification
Type I: Originates in ascending aorta, involves at least aortic arch, and may involve descending aorta
Type II: Originates in and confined to ascending aorta
Type III: Originates in descending aorta; IIIa: Limited to descending aorta; IIIb: Extends below diaphragm
Analysis and reporting algorithm for diagnostic CT findings
Remember the mnemonic : DISSECTION –
Dissection or other acute aortic syndrome: Yes/No?
Is ascending aorta involved: Yes/No?
Intimal tear location
Size of the true and false lumen.
Segment(s) of aorta involved
Extent and involvement of aortic branches.
Complications –
Thrombus in the false lumen
Inspect False/True lumen
Other factors to consider : Trauma, age sex
Notify the provider
Source: Aortic Dissection and Other Acute Aortic Syndromes: Diagnostic Imaging Findings from Acute to Chronic Longitudinal Progression
Management
Type A: Surgery due to involvement of aortic root
Type B: Conservative treatment and Surgery in complicated cases (organ ischemia, rupture, descending aorta > 6cm,hemodynamic instability.)
Mesenteric, renal, extremity ischemia
Rupture, aneurysmal enlargement of false lumen; descending aorta > 6 cm
Hemodynamic instability; pseudocoarctation syndrome; distal embolization.
Access the above case as a full DICOM image set (includes report impression): Aortic Dissection full DICOM set
References and further reading: