Quiz
The least likely feature of abdominal tuberculosis is?
A. Necrotic lymph nodes
B. Mesenteric vascular engorgement
C. Ascites
D. Stricture
Answer: Mesenteric vascular engorgement – commonly seen in Crohn's disease, prime differential of intestinal TB.
Pathophysiology
Intestinal TB can involve any part of the gastrointestinal tract. The terminal ileum and ileocaecal valve are the most commonly involved (about 90% of cases) because of abundant lymphoid tissue, physiological stasis, and increased rate of absorption in the region.
Modes of infection of intestinal TB include:
Ingestion of infected food, milk, or sputum
Hematogenous spread from distant focus, for eg: lung
Contiguous spread from infected adjacent foci- eg: renal, fallopian tubes or adnexa, psoas abscess, secondary to Pott's spine
Through lymphatic channel
Inflammation starts in the submucosal lymphoid tissue resulting in wall thickening due to the formation of epithelioid tubercles and lymphoid hyperplasia. After 2-4 weeks, caseous necrosis of the tubercles leads to ulceration of the overlying mucosa. Further extension occurs into the deeper layers of the bowel wall and to regional lymph nodes. Fibrosis and scarring occur in the advanced stage of the disease.
Key Imaging Features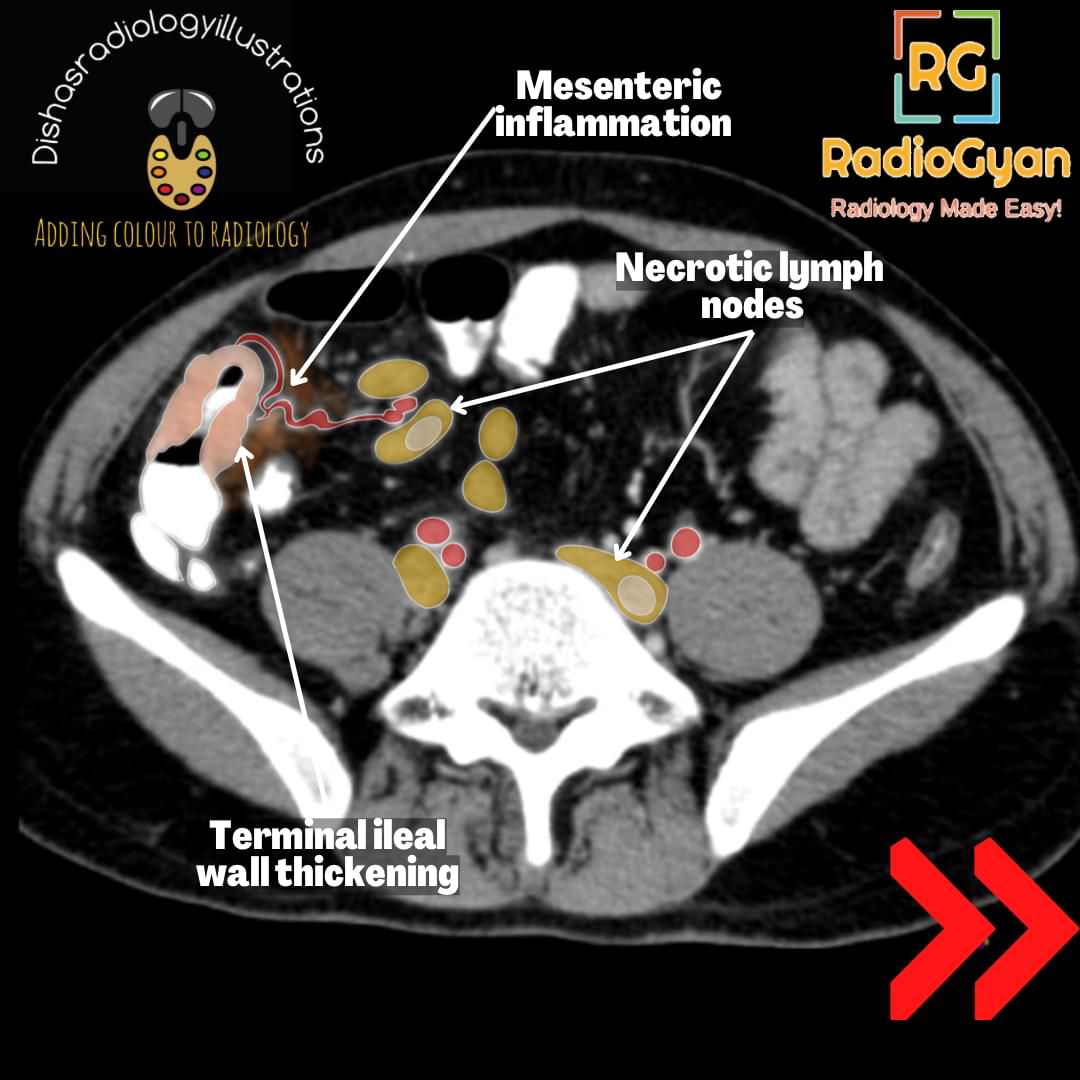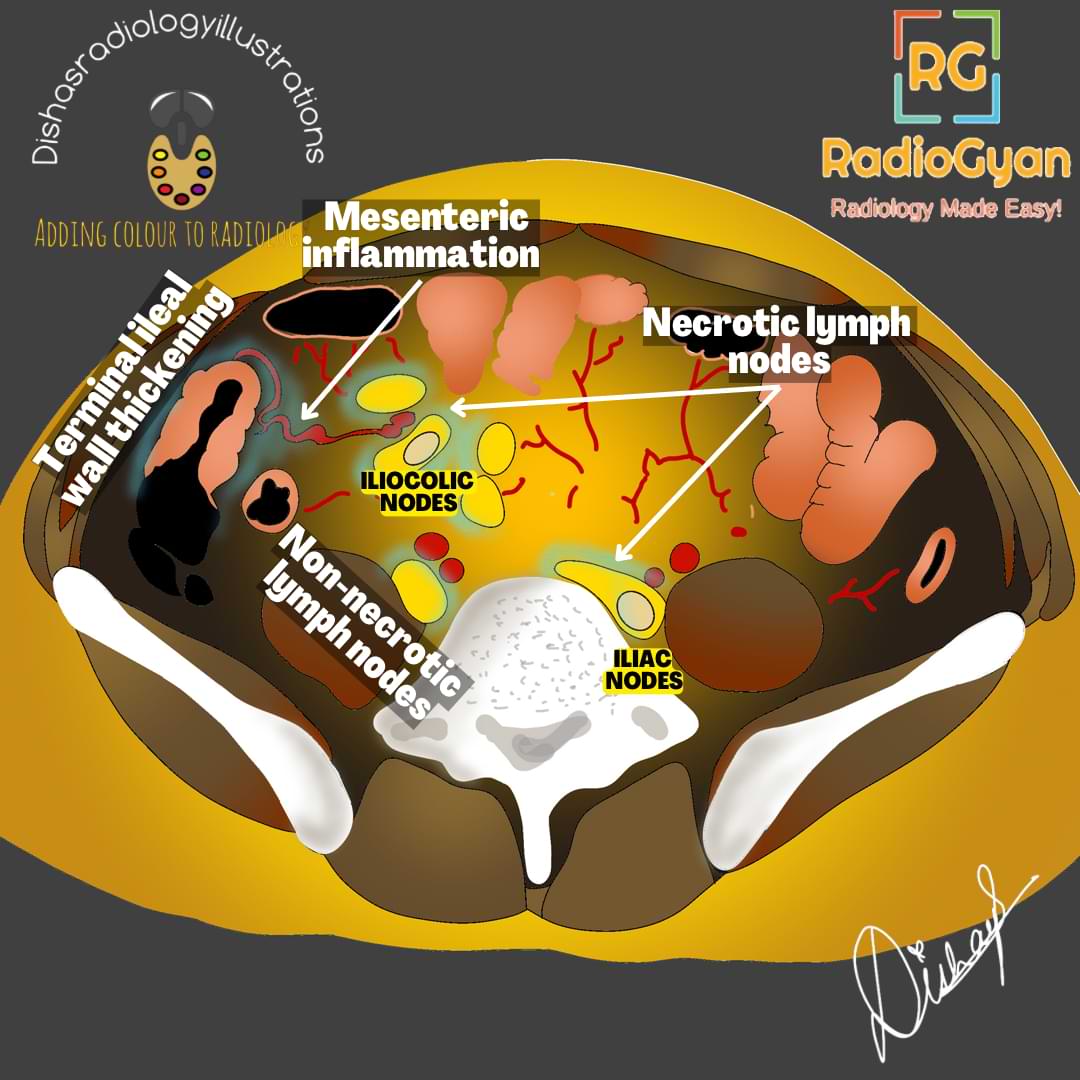 CT and MRI

Circumferential asymmetric thickening of the ileocecal valve and medial wall of the cecum (cone-shaped cecum) with an exophytic extension engulfing the terminal ileum. Enhancement of mucosa or the entire wall occurs in active inflammation.
Progressive cecal scarring.
Lymphadenopathy in mesenteric, omental, and peripancreatic regions showing central caseous necrosis with peripheral enhancement, as seen in our case shown above.
Peritoneal involvement is seen in widespread abdominal tuberculosis with omental thickening and ascites.

Barium studies:

Barium meal follow-through (BMFT): Active disease shows irregular and nodular narrowing of the ileocecal junction, thickening of mucosal folds, ulcerations, clumping of bowel loops, assessment of bowel motility for differentiating true obstruction from pseudo-obstruction and demonstration of complex fistula. Various signs include,
Stierlin's sign – rapid emptying of the cecum with the passage of barium from terminal ileum to ascending colon, which occurs due to irritable mucosa of the cecum.
Fleischner's sign/ inverted umbrella sign- wide patulous and gaping ileocecal valve with narrowing of the terminal ileum.
Gooseneck deformity– contracted, cicatrized, and pulled-up cecum with straightening of the terminal ileum.
String sign– a persistently narrowed segment of the intestine due to inflammation or stricture.
Chicken intestine: Hypersegmentation of the barium column.
Barium enteroclysis has higher sensitivity for detecting mucosal abnormalities and mild strictures.
However, barium studies provide no extraluminal information.
USG:

Cecum and terminal ileum wall thickening and the color flow in the wall for assessing the treatment response
Necrotic lymph nodes, ascites, peritoneal and omental thickening.
Pseudokidney sign- pulling of the ileocecal region in the subhepatic position.
USG -guided ascitic fluid aspiration for diagnosis

Radiograph:

Abdomen- acute intestinal obstruction or pneumoperitoneum.
Chest – signs of active or healed tuberculosis.
Imaging Recommendation :
CT enterography is the investigation of choice because of a better depiction of the mural and extraluminal findings.
Top 3 Differential Diagnosis :
Crohn's disease: Circumferential bowel wall thickening, long segment involvement with skip lesions, pseudodiverticula, mesenteric hypervascularity, and fibrofatty proliferation. No ascites or necrotic lymph nodes. Long duration of symptoms with extraintestinal manifestations. Mesenteric hyperemia is commonly seen, which is usually absent in tuberculosis.
Primary cecal malignancy- elderly population, asymmetric nodular cecal wall thickening with non-necrotic lymph nodes, metastatic lesions. Final diagnosis by endoscopic biopsy.
Small bowel lymphoma: primary site of involvement is the ileum, aneurysmal dilation of the bowel loops, non-necrotic lymphadenopathy, and hepatosplenomegaly.
Clinical Features :
Age/Sex predilection: Equal sex predisposition, young adults.
Risk factors -malnutrition, alcoholism, diabetes, chronic renal failure, AIDS
Symptoms- Abdominal pain, anorexia, fever, change in bowel habits, nausea and vomiting, weight loss, and abdominal distension
Complications: Upper and lower gastrointestinal bleeding, fistula and stricture formation, bowel obstruction, intussusception, perforation, and malabsorption.
Classification System :
Three morphological types of ileocecal tuberculosis are ulcerative, hypertrophic, and ulcerohypertrophic, with ulcerative being the most common.
Ulcerative form shows superficial, transverse ulcers which heal by fibrosis.
Hypertrophic form shows a thickening and mass-like appearance of the bowel associated with scarring and fibrosis.
Etymology and synonyms :
Tuberculosis comes from the Latin word "tuberculum," which means a "small swelling." Robert Koch identified and described the bacillus causing tuberculosis and was awarded the Nobel Prize for this discovery.
Treatment :
Medical treatment with antituberculous drugs, namely isoniazid, rifampicin, pyrazinamide and ethambutol depending on the drug resistance. Surgical procedures are done in the case of complications.
Bypassing of involved bowel segments – entero-enterostomy, ileo-colostomy.
Radical resection of involved segments – right hemicolectomy.
Conservative surgeries- strictureplasty, in strictures causing more than 50% luminal narrowing.
References:
Single best review article:
Debi U, Ravisankar V, Prasad KK, Sinha SK, Sharma AK. Abdominal tuberculosis of the gastrointestinal tract: revisited. World J Gastroenterol. 2014;20(40):14831-14840. doi:10.3748/wjg.v20.i40.14831
Other references: Sharma R, Madhusudhan KS, Ahuja V. Intestinal tuberculosis versus crohn's disease: Clinical and radiological recommendations. Indian J Radiol Imaging. 2016;26(2):161-172. doi:10.4103/0971-3026.184417
Co-Authors: Dr. Mansi Sarmalkar.