Last Updated on March 2, 2020
Radiology Spotters
This is a set of 10 Radiology Spotters.
These are contributed by Dr Atul Deshmukh.
This is a mixed bag of spotters but mainly has cross section cases.
We have optimized the images for this set for mobile users. Do let us know in the comments if you notice the difference in page loading times.
Here are instructions about spotters: General instructions for spotters
Here is the list of rest of the spotters : Radiology spotters- RadioGyan.com.
More Radiology resources here: Radiology resources – RadioGyan.com
If you wish to contribute spotters please submit them here.
If you have any suggestions/ corrections contact us here
You can go through cases with diagnosis and description here.
Related Posts ↓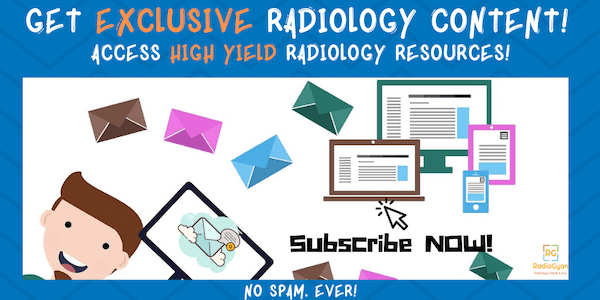 About the author
---
Dr. Amar Udare, MD, DNB

Dr. Amar Udare is a board-certified radiologist. He is currently working as a fellow radiologist at McMaster University, Canada. He has a passion for teaching (#FOAMrad and #FOAMed) and has been a semi-finalist for the 2018 and 2020 Aunt-Minnie Most effective Radiology Educator Awards. He has authored multiple peer-reviewed publications which can be accessed on
PubMed
and
Google Scholar
.