Last Updated on March 2, 2020
Each post has 10 radiology spotters.
This set is contributed by Dr Tejendra Ramani.
Spotters slides will advance automatically at the end of a minute.
Most of the spotters are straightforward.
Best way to attempt is to write down answers on a piece of paper and then check them at the end of the presentation.
Answer slides are at the end of each presentation which are accompanied by links to individual cases if you wish to read more about these.
Get into the practice of writing COMPLETE answers for all spotters so that you do not commit silly mistakes in the exam. For eg "Osteosarcoma involving the right distal femur" is a better answer than just writing "osteosarcoma".
Here is the list of rest of the spotters : Radiology spotters- RadioGyan.com.
If you wish to contribute spotters please submit them here.
If you have any suggestions/ corrections contact us here
You can go through cases with diagnosis and description here.
Related Posts ↓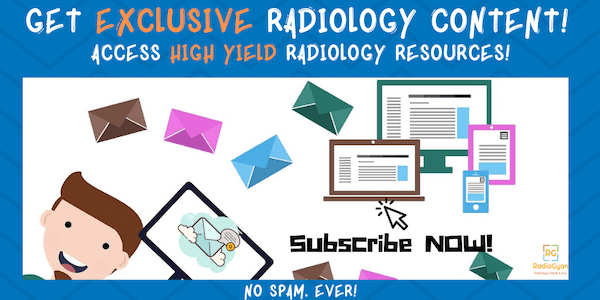 About the author
---
Dr. Amar Udare, MD, DNB

Dr. Amar Udare is a board-certified radiologist. He is currently working as a fellow radiologist at McMaster University, Canada. He has a passion for teaching (#FOAMrad and #FOAMed) and has been a semi-finalist for the 2018 and 2020 Aunt-Minnie Most effective Radiology Educator Awards. He has authored multiple peer-reviewed publications which can be accessed on
PubMed
and
Google Scholar
.