What is Nephrometry score?
RENAL Nephrometry Score was developed to standardize the assessment of anatomical features of renal tumor. The scoring system is based on the five most reproducible features that characterize the anatomy of a solid renal mass on imaging, commonly contrast enhanced renal mass protocol CT scans:
R: Radius-scores tumor size as maximal diameter
E: Exophytic/endophytic properties of the tumor
N: Nearness of the deepest portion of the tumor to the collecting system or renal sinus
A: Anterior (a)/posterior (p) descriptor
L: Location relative to the polar line.
How do you calculate Nephrometry score?
Each component is scored, and the total gives the Nephrometry score. This helps to stratify renal lesions into low, intermediate and high risk of complications for surgical planning.
| Component | 1 Point | 2 Points | 3 Points |
| --- | --- | --- | --- |
| R (radius, maximal diameter) (cm) | ≤ 4 | 4-7 | ≥ 7 |
| E (exophytic/endophytic) | ≥ 50 % exophytic | < 50% exophytic | Completely endophytic |
| N (nearness to collecting system/renal sinus) (mm) | ≥ 7 | 4-7 | ≤ 4 |
| A (anterior/posterior locator) | No points given. Descriptor of "a," "p," or "x" assigned to describe mass location | | |
| L (location relative to polar lines) | Entirely below lower polar or above upper polar line | Mass crosses polar line | 50% of mass is across polar line or mass is entirely between polar lines or mass crosses axial midline |
R.E.N.A.L Nephrometry Score
How to determine location relative to polar lines for R.E.N.A.L. Nephrometry score: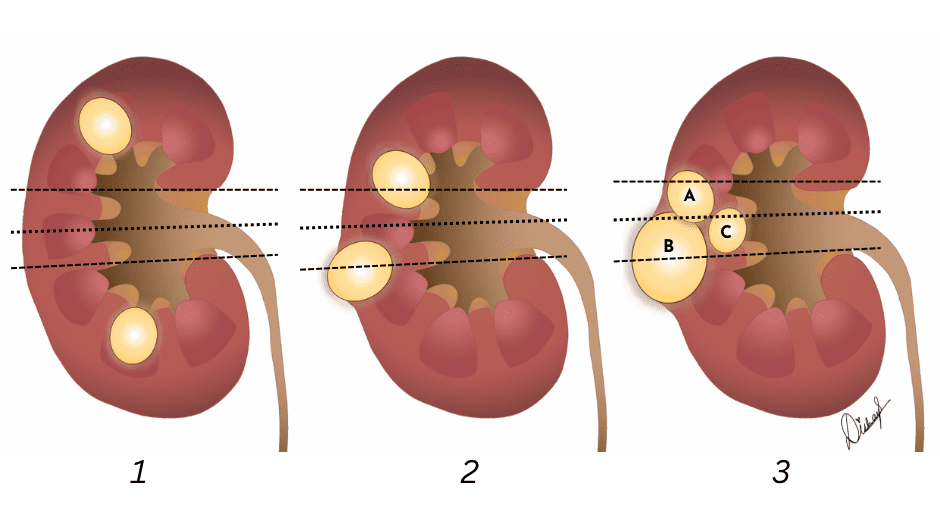 Reference:
Kutikov A, Uzzo RG. The R.E.N.A.L. nephrometry score: a comprehensive standardized system for quantitating renal tumor size, location and depth. J Urol. 2009;182(3):844-853. doi:10.1016/j.juro.2009.05.035
Check out other radiology useful calculators:
Disclaimer: The author makes no claims of the accuracy of the information contained herein; this information is for educational purposes only and is not a substitute for clinical judgment.