Gallbladder polyp seen on ultrasound
Short interval follow-up US within 1-2 months with optimized grayscale, color Doppler technique, and patient preparation
Short interval follow-up US within 1-2 months with optimized grayscale, color Doppler technique, and patient preparation
or
CEUS or MR for further characterization
Referral to oncologic specialist
Refer to gastrointestinal specialty guidelines
Select the morphology of the polyp:
Impression:
Please enter the size of the polyp!
Round up polyp size to the nearest millimeter.
On follow-up:

Increase of ≥ 4 mm in < 12 months OR reaches threshold size within category - recommend surgical consult
Decrease of ≥ 4 mm - stop following

Surgical consult may be an acceptable alternative for polyps 10-14 mm in Extremely Low Risk category
It is optional to consider polyps Low Risk instead of Extremely Low Risk if certain ethnicities are known (North Indian, North/South American Indigenous, local incidence).
If unsure between categories, choose Low Risk category.
Gallbladder polyps are relatively common findings on imaging studies, with an overall prevalence of approximately 5% in the general population. Most gallbladder polyps are benign, however, it is important to differentiate between benign and malignant polyps since malignant polyps may require surgical intervention. The Society of Radiologists in Ultrasound (SRU) has developed guidelines to aid radiologists in the evaluation and management of gallbladder polyps.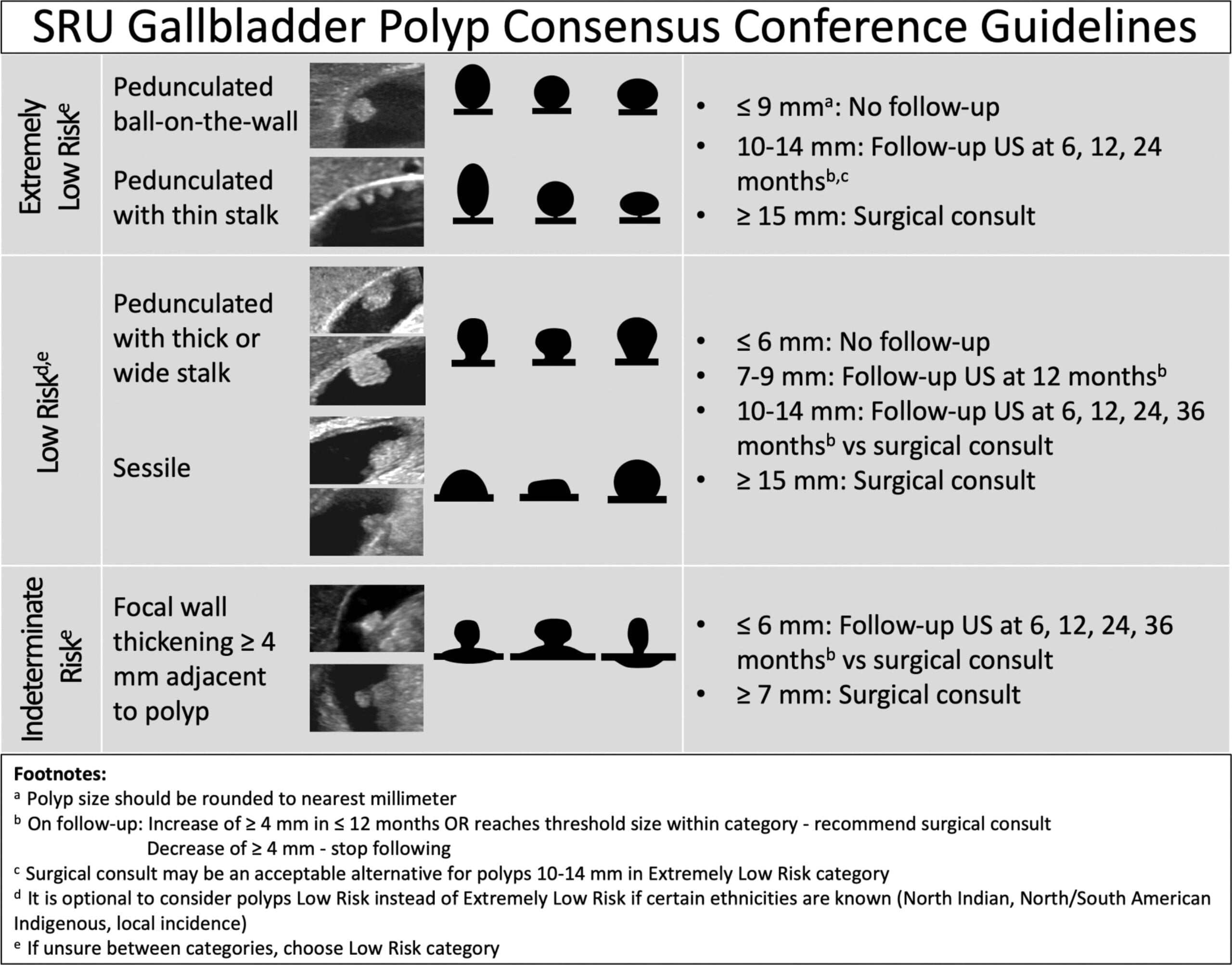 The Society of Radiologists in Ultrasound (SRU) has established guidelines for the management of gallbladder polyps based on the available evidence and expert opinion. Gallbladder polyps can be classified into three distinct categories based on their morphologic features: extremely low risk, low risk, and indeterminate risk. Polyps that fall under the extremely low risk category typically exhibit a pedunculated growth pattern with a "ball-on-the-wall" configuration or thin stalk. Conversely, low risk polyps present with a pedunculated growth pattern, but with a thick or wide stalk, or a sessile configuration. Polyps that fall into the indeterminate risk category exhibit focal wall thickening adjacent to the polyp. This classification system enables healthcare professionals to more accurately assess the risks associated with gallbladder polyps and devise appropriate treatment plans accordingly.
Check out other radiology useful calculators:
Watch this detailed video regarding SRU recommendations for Gallbladder polyp surveillance
Disclaimer: The author makes no claims of the accuracy of the information contained herein; this information is for educational purposes only and is not a substitute for clinical judgment.
References:
Management of Incidentally Detected Gallbladder Polyps: Society of Radiologists in Ultrasound Consensus Conference Recommendations. Aya Kamaya, Christopher Fung, Jean-Luc Szpakowski, David T. Fetzer, Andrew J. Walsh, Yewande Alimi, David B. Bingham, Michael T. Corwin, Nirvikar Dahiya, Helena Gabriel, Walter G. Park, Matthew R. Porembka, Shuchi K. Rodgers, Mitchell E. Tublin, Xin Yuan, Yang Zhang, and William D. Middleton