Last Updated on March 2, 2020
Normal anatomy variants radiology
This is a set consisting of 10 common normal anatomy variants radiology Cases.
These cases are contributed by Dr. M Venkatesh!
You will often encounter a lot of normal variants during routine reporting. It is important to be aware of these as one can erroneously report them as a pathology which will not only lead to unnecessary investigations and but also anxiety for the patients.
You can compare these cases with normal anatomy modules which we have compiled.
These are very important from the FRCR point of view as well.
You can go through a few more anatomical variants here: Normal anatomy variants radiology.
Here are instructions about radiology cases and spotters: General instructions for spotters
Here is the list of rest of the radiology cases/spotters: Radiology spotters- RadioGyan.com.
More Radiology resources:

Normal Imaging Anatomy modules: Learn and revise imaging anatomy. Links are divided by anatomy and modality.
Cases: Radiology cases with important diagnostic points.
Videos: Radiology videos from other websites with important teaching points highlighted.
Spotters:  Sets of 10 radiology spotters, one minute for each spotter.
Articles: Descriptive articles on common imaging topics, including Journal club.
Software: Links to common radiology software.
Radiology Conferences: Updates about upcoming radiology conferences and CMEs.

If you wish to contribute radiology cases/spotters please submit them here.
If you have any suggestions/ corrections contact us here
If you wish to support RadioGyan.com, you can do that here:  Support RadioGyan for Free!.
Related Posts ↓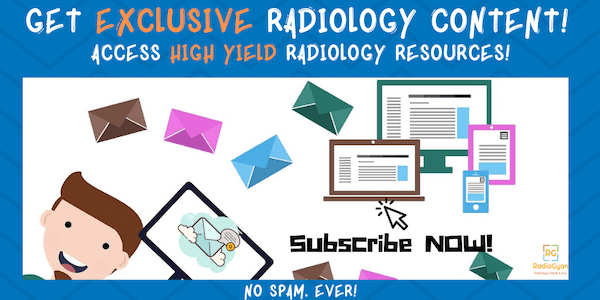 About the author
---
Dr. Amar Udare, MD, DNB

Dr. Amar Udare is a board-certified radiologist. He is currently working as a fellow radiologist at McMaster University, Canada. He has a passion for teaching (#FOAMrad and #FOAMed) and has been a semi-finalist for the 2018 and 2020 Aunt-Minnie Most effective Radiology Educator Awards. He has authored multiple peer-reviewed publications which can be accessed on
PubMed
and
Google Scholar
.