Last Updated on March 2, 2020
Bone Tumors Radiology cases with MRI and CT
This is a set of 10 excellent bone tumors radiology cases that all radiology residents MUST KNOW.
I will advise residents to attempt the same set without the MRI images here:Bone tumors radiology ONLY RADIOGRAPHS
These 10bone tumors radiology cases have been contributed by Dr. Rajesh Botchu -Browse rest of the cases contributed by him! He is an eminent musculoskeletal radiologist practicing currently in the UK. You can browse an exhaustive collection of MSK radiology cases on this website.
You can also register for MSK radiology courses and webinars conducted by his team. The next webinar on Spine imaging is FREE. So don't forget to register for it!
Few of the cases are tough and you may not get them as spotters in the exam but most of them definitely qualify for long cases.
Out of two long cases in the exam, one of them is usually a bone tumor / MSK radiology case. So go through these cases multiple times and read the relevant theory.
Here are instructions about radiology cases and spotters: General instructions for spotters
Here is the list of rest of the radiology cases/spotters: Radiology spotters- RadioGyan.com.
More Radiology resources

Normal Imaging Anatomy modules.: Learn and revise imaging anatomy. Links are divided by anatomy and modality with anatomy videos.
Cases: Radiology cases with important diagnostic points.
Videos: Radiology videos from other websites with important teaching points highlighted.
Spotters:  Sets of 10 radiology spotters, one minute for each spotter.
Articles: Descriptive articles on common imaging topics, including Journal club.
Software: Links to common radiology software.
Radiology Conferences: Updates about upcoming radiology conferences and CMEs.

If you wish to contribute radiology cases/spotters please submit them here.
If you have any suggestions/ corrections contact us here
If you wish to support RadioGyan.com, you can do that here:  Support RadioGyan for Free!.
Related Posts ↓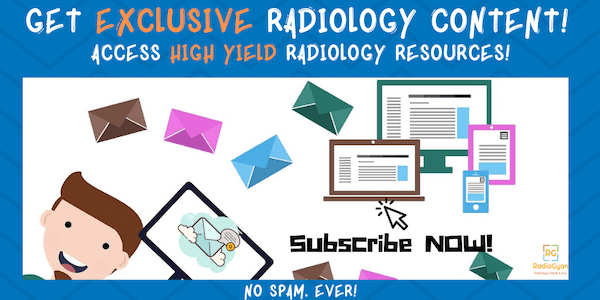 About the author
---
Dr. Amar Udare, MD, DNB

Dr. Amar Udare is a board-certified radiologist. He is currently working as a fellow radiologist at McMaster University, Canada. He has a passion for teaching (#FOAMrad and #FOAMed) and has been a semi-finalist for the 2018 and 2020 Aunt-Minnie Most effective Radiology Educator Awards. He has authored multiple peer-reviewed publications which can be accessed on
PubMed
and
Google Scholar
.