The Problem
Automatic injectors are now commonly used in MDCT and MRI for intravenous contrast/saline administration. Considering the increasing volume of investigations, these are indispensable. Although it is very convenient to use the SAME syringe for multiple consecutive patients to save time and cut costs, it can be a potential source of infection. Multiple-use of syringes is known to be associated with increased risk of infection, which is particularly important in sick patients and single use syringes that are disposable should be preferred. For example, a study conducted by Buerke et.al found that the first four samples of each simulation experiment were sterile, and the subsequent probes were found to be contaminated with typical dermal bacteria, such as staphylococci (1). The use of a one-way valve too does not guarantee the prevention of cross-contamination as documented by Nandy et.al in their study published in the American Journal of Infection Control (2).
There are multiple reasons why Single-Use Disposables should be re-used with caution. These include (3):
Single-use devices may not be designed to allow thorough decontamination.
Reprocessing may alter device characteristics, and performance may be compromised as a result.
Single-use devices do not undergo extensive testing validation and testing for reuse.
Single-use devices may cause cross-infection due to design (for example, fine bores of tubes).
Some materials can absorb certain chemicals, which can gradually leach from the material over time.
Chemicals may corrode or change device materials.
Device material may experience stress during reuse and may fail, stretch, or break.
Inadequately cleaned equipment can carry bacterial endotoxins, which remain after bacteria are killed.
Owing to these, re-use of single use medical devices is banned in many countries including China, France and the UK (4).
The Solution
Buerke et. al in another study published in the American Journal of Radiology proved that single use syringes prefilled with contrast and saline, revealed no bacterial contamination as opposed to multiple-use of conventional saline injection for patients which revealed contamination with coagulase-negative staphylococci in two saline syringes (5). A simple analogy is that of reusing medical syringes and the increased incidence of infections often encountered in IV drug users. Although there is a far higher risk in IV drug abusers, cross-contamination of contrast syringes does pose a potential health risk.
Hence, the re-use of single use disposables for CT/ MRI injectors should be avoided. An important downside to this practice is loss of time efficiency due to the increased number of syringe changes required. However, Buerke et al. in the same study found that using the single-use protocol the time required for assembly of the automatic injection system to be only slightly longer (2.3 ± 1.1 minutes) than that for the multiple-use protocol (2.0 ± 1.4 minutes), which amounts to hardly a few seconds (5). Use of prefilled syringes can help to cut down the time required for CT / MRI injections (5).
Bayer Single use Syringes for MEDRAD® Injection Systems.
Bayer Syringes for MEDRAD® Injection Systems ensure optimal device performance, thereby enhancing patient safety.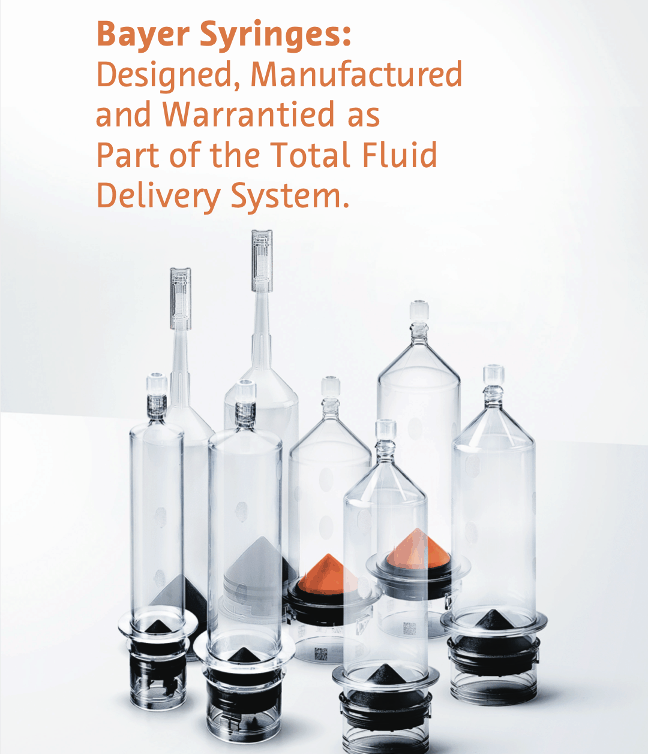 These are manufactured in the United States facility, and so far Bayer has supplied over 300 million syringes to 20,000 hospitals and imaging centers worldwide – a testament to the quality and trust radiology professionals have placed in Bayer Syringes. Their goal is to continue providing syringes and disposables of the highest quality, so you can provide the best quality care to your patients.
Why choose Bayer single use syringes over other products?
Bayer syringes are made according to strict quality and reliability controls at every step of the production process. Only Bayer Syringes and disposable products have been specifically designed, manufactured, and validated to work reliably with corresponding systems, this means your injector is ready to perform even the most demanding protocols.
Designed for your MEDRAD® Injector
Bayer Syringes are designed, tested and warrantied as integral components for your Bayer MEDRAD® Injection Systems.
Strict Vendor Qualification
Each supplier has been carefully chosen, audited and certified to provide materials that completely adhere to our chemical composition and purity specifications.
Our US-based manufacturing facility produces syringes to extremely tight tolerances. The volume of silicone coating inside the syringe barrel is precisely controlled. This facilitates optimal device performance and accurate fluid delivery.
Every syringe package adheres to strict specifications and rigorous environmental and transportation simulation testing. This ensures your syringes arrive at your facility sterile and uncompromised.
Specific, medical-grade materials are selected via a strict vendor qualification process to ensure optimal injector performance and patient care. Bayer's development sourcing procedures adhere to internationally required biocompatibility standards, ensuring the safety profile of your syringes. Bayer thoroughly inspects each and every syringe barrel for particulates. That reduces patient risk and provides an additional level of patient safety.
Contact details:
Bayer Pharmaceuticals Pvt. Ltd.
Bayer House, Central Avenue, Hiranandani Estate,
Thane (W), 400607.
Email: medrad.service@bayer.com
Customer Care Number: 022-25311234
PS: If you contact them, do mention that you came from RadioGyan :).
References:
Buerke B, Mellmann A, Stehling C, Wessling J, Heindel W, Juergens KU. Microbiologic contamination of automatic injectors at MDCT: experimental and clinical investigations. AJR Am J Roentgenol. 2008;191(6):W283-7.
Nandy P, Young M, Haugen SP, Katzenmeyer-Pleuss K, Gordon EA, Retta SM, et al. Evaluation of one-way valves used in medical devices for prevention of cross-contamination. American Journal of Infection Control. 2017;45(7):793-8.
Mansur JM. Reuse of Single-Use Devices: Understanding Risks and Strategies for Decision-Making for Health Care Organizations: Joint Commission International; 2017 [Available from https://www.jointcommissioninternational.org/assets/3/7/JCI_White_Paper_Reuse_of_Single_Use_Devices2.pdf.
Wang D, Wu J. Reprocessing and reuse of single-use medical devices in China: a pilot survey. BMC Public Health. 2019;19(1):461.
Buerke B, Puesken M, Mellmann A, Seifarth H, Heindel W, Wessling J. Microbiologic contamination and time efficiency of use of automatic MDCT injectors with prefilled syringes: Results of a clinical investigation. AJR Am J Roentgenol. 2010;194(2):299-303.
*Disclaimer:
This is a sponsored post by Bayer Pharmaceuticals Private Limited (Bayer). RadioGyan will receive remuneration for the content posted and marketed. This post is ONLY for informational purposes. The information contained herein should not be utilized to diagnose or treat a health problem or disease without referring to the product information for the product referenced. While every reasonable effort has been made to ensure accuracy of content, it is the responsibility of the practitioner, relying on experience and knowledge of the patient, to determine dosages and the best treatment for each individual patient. RadioGyan or Bayer shall not be responsible or in any way liable for the continued accuracy &/or veracity of the information or for any errors, omissions or inaccuracies or for any injury and/or damage to persons or property arising from relying on the information contained in this article or otherwise. RadioGyan or Bayer shall not be responsible/ liable for miscommunication of this data if they are altered/ tampered in any manner. Opinions expressed in this article do not necessarily reflect the views of Bayer / RadioGyan / Dr. Amar Udare. Medical knowledge is constantly changing, so standard safety precautions must be followed. For the use of registered medical practitioners or healthcare professionals or hospitals or laboratories only. PP-M-SD-IN-0002-1, Approved Aug 2020