Prometric is the global leader in conducting licensing exam with test centers all over the world. However because of the COVID-19 pandemic they had to shut down their centers at most places. In these "unprecedented" times the ProProctor Prometric Exam is an excellent solution to this problem. But is it really as good as Prometric claims to be? Read on to find out.
What is the ProProctor Prometric Exam?
ProProctor is a remote assessment solution by Prometric. It enables candidates to take up their licensing exams from anywhere securely while being monitored by a team of remote proctors via webcam. Here is a short explanatory video from the Prometric website:
All exams may not be eligible for the remote version. You can find out if your exam can be taken remotely on this page: Search Prometric Exams
I had to take the Canadian MCCQE part 1 licensing exam and the in-person exam was canceled. The next available date was three months later and given the current situation there was no guarantee that these restrictions will be lifted by then so I decided to take the exam remotely via ProProctor.
Once you book the exam on the Prometeric website, you will get an email with your login details and a few instructions.
There is a long list of instructions but here are the important ones and how should you prepare for your exam:
Perform a system check once from the computer you wish to take the exam and from the location, you wish to take the exam. It will check your microphone, web camera, and internet speed. Here is the link that https://rpcandidate.prometric.com/
You will need an original, valid (unexpired), government-issued photo & signature bearing identification is required in order to take an exam. Make sure that you keep this ready on your desk on the night BEFORE your exam so that you do not have to hunt for it when the proctor asks you.
Following items are NOT allowed:

Outerwear, hats, food, drinks, purses, bags or briefcases, notebooks, watches, cell phones, electronic devices, or wearable technology.
Eating, drinking, smoking, and chewing gum.
Written notes, published materials and other testing aids are strictly prohibited (Duh 😒 !).
Outerwear such as heavy coats, parkas, raincoats, etc.

Changing location while testing, turning off lighting or audio, speaking to or receiving aid from other individuals is strictly prohibited.
All rules for the in-person exam are applicable to the ProProctor exam too. Make sure you do not cheat as you may be barred from taking the exam again.
Where should you take the remote proctored exam?
If you have the option of taking it in a reasonably quiet office where you would not be disturbed that would be ideal. You can request your work colleagues if you can borrow their room for a day.
If not then you can plan to take it from a Hotel / Airbnb away from the city center to ensure that there are no disturbances. The only issue with this arrangement is that you may need some time to adjust to the new place. You can book the place a couple of days in advance to make sure that you get accustomed to it and test the internet connection. If you are new to Airbnb, sign up using this link to get up to 95 CAD 🤑 off on your first booking. Click here to sign up
The last and the best option according to me is taking the exam from your home. Because you are used to the place it is ideal for taking the exam. You know what issues you may run into so you can take care of them in advance. If you live in a house, you should not face any issues. If you are taking the exam from a Condo or Apartment you should make sure that you take the necessary steps to avoid being disturbed. I took the exam from my apartment and had put up a notice on my front door a day before requesting my neighbors something similar to this poster. I also was hoping that the fire alarms do not go off on exam day and I am glad that they didn't!
Irrespective of where you take the exam, make sure you get used to the place and test your system from the site.
What computer should you take the ProProctor Prometric Exam from?
You can use a laptop or desktop (with a webcam and microphone) for the exam. You may bump into issues if you are using a computer at your workplace as there are usual virtual PCs and your internet often has a VPN / firewall. Prometric recommends having a wired internet connection. Dual monitors are NOT allowed. External web cameras and microphones are allowed but earphones are not allowed. I gave the exam using my MacBook Pro and over WiFi. I used an external Logitech mouse and a mouse pad.
Make sure you download the ProProctor App from here: https://rpcandidate.prometric.com/ . If you try to launch your exam anytime before the scheduled day you will get an error on the app. On the exam day, you can launch it one hour before your scheduled time. For Mac OS users there are additional instructions to install the app which are provided in the ProProctor User Guide.
What to expect on test day?
On the day of the exam, you will have to sign in on this link using the credentials you received in your confirmation email. Once you are in the software will take over your system and you will not be able to use any other application on your computer (more on this later in the post).
Once you are logged in the application will perform a system check again. If you have multiple cameras or microphones you need to select the correct one on the system check page (check image below) otherwise you will not be able to run the test.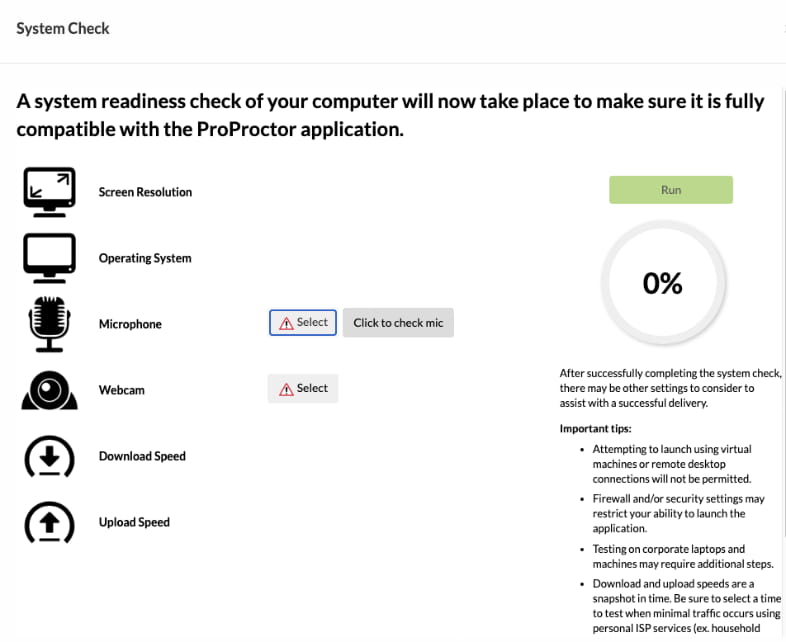 The system will now connect you to a proctor who will perform a security check of your workspace and surroundings. You will be asked to confirm your identity and the exam that you have opted for. Following this, the proctor will ask you to show your workspace and surroundings on the web camera. A lightweight laptop or a portable webcam will be handy for this. They want to ensure that you are taking the exam from a closed room so they see four corners of your ceiling. They will also want to check your pockets so make sure you do not have anything on you and preferably wear something with few/ not pockets. Your workspace should not have anything other than your laptop. Two napkins were allowed and those were inspected by the proctor. This ProProctor security check takes about 10 minutes and has to be repeated every time you take a break or are disconnected from the system.
There are no restrictions on what you should be wearing but I would suggest that you dress up as you would for any other exam.
When the proctor is happy with their assessment, they will let you in for the exam. While you take the exam a remote proctor will monitor your web camera feed. The second proctor will communicate with you over chat and audio (the first proctor is on video and audio). At any time during the exam you need help you can chat with the proctor using the "Chat option".
The exam interface was similar to the in-person exam interface which probably would be the case for you as well. There were no issues with the interface and software as such. Well at least for the first half an hour! About 30 minutes into the exam, I got an error message on my screen that I do not have an internet connection and my exam was disconnected. I did not anticipate this and was not sure what needed to be done. My internet was working fine. I checked my email to see if I had received any communication from Prometric and if I have to take the exam again, which would have been a nightmare given the prep that I had put in the exam 😥.
I checked the Prometric website to see if help was available. The chatbot on the website was not very helpful and I expected to talk to a real person. I tried to log in again. I was able to log in to the system but had to wait more than 20 minutes in the queue for the proctor. I thought it was a system error and everybody else was trying to log in again at the same time. Now this is a catch-22 situation because you cannot access anything else on your computer, you cannot leave your workspace and you cannot exit the application as that will take to back in the queue once you log out and log in again. I wasted more than an hour trying to log in. Before I gave up, I decided to restart my computer and voila! That worked. I was greeted by a proctor within no time and was able to continue the exam where I left after the mandatory security check.
This happened at least 6 times during the exam and every time I wasted at least 20 minutes in this process. I got the same error every time in spite of having functional high-speed internet. I assume these could be due to too many people taking the exam at the same time and an increased server load. Not only was it annoying to do it all over again every time but it was difficult to concentrate on the exam with all these interruptions. It took me more than 11 hours to finish an exam which was scheduled for 8 hours. Some of my colleagues ended up spending more than 12 hours. Some of them were able to get help from the Prometric Chat section but that had its own issues. You can check the common system error codes and solutions in this document: ProProcotor FAQs and Common Error Codes.
So my advice is anytime you get kicked out just restart your system and log in again.
Final thoughts on the Prometric ProProctor Exam:
The Prometric ProProctor remote exam is a convenient solution for those who cannot take in-person exams but it's far from ideal. If you have an exam that can wait, I would suggest signing up for the in-person exam as the stress with these frequent interruptions can negatively impact your performance. On the other hand, if you are confident of your preparation and you can arrange for a good test-taking environment, you should take the remote exam instead of waiting for the next in-person exam.
Best of luck! If you have any questions, you can let me know in the comments section below.
Disclaimer: The author makes no claims of the accuracy of the information contained herein; this information is for educational purposes only. If you have any questions regarding the exam, make sure you contact Prometric and your respective exam authority. All information is sourced from available resources on Google.