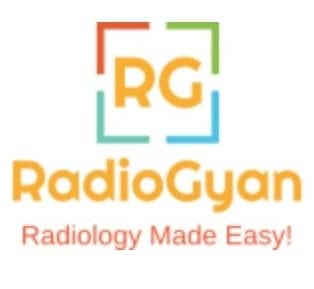 What?
Radio = Radiology
Gyan (Sanskrit) = Knowledge.
RadioGyan.com is a free educational website for radiology residents and healthcare professionals. We have a host of resources for residents and practicing radiologists to go through. As the tagline says, our goal is to make learning radiology as easy as possible.
Why?
Learning is a never-ending process. After completing residency one tends to lose touch of learning, especially if you end up into private practice. The main motive of starting RadioGyan.com is to help radiology residents with resources that will aid them during their residency and for preparing for their exams. As I post cases/ articles/ videos for them,  I would be learning along with them as well.
How?
I would be posting cases which I have collected during residency/fellowship/ radiology practice. These will be followed by short to-the-point imaging findings. I will add a few links for further reading for each case and the important things that one needs to remember while reporting that particular case. Original articles would be posts that would be helpful for residents, like which books to read, how to prepare for the examinations, etc. Currently, there are a lot of radiology resources on the internet and it's difficult to select which ones to follow. I would also collect good videos/articles from free online resources so that the readers get important filtered information in one place. Thanks to all the followers of the website, we got featured in the 2018 AuntMinnie Most Effective Radiology Educator list!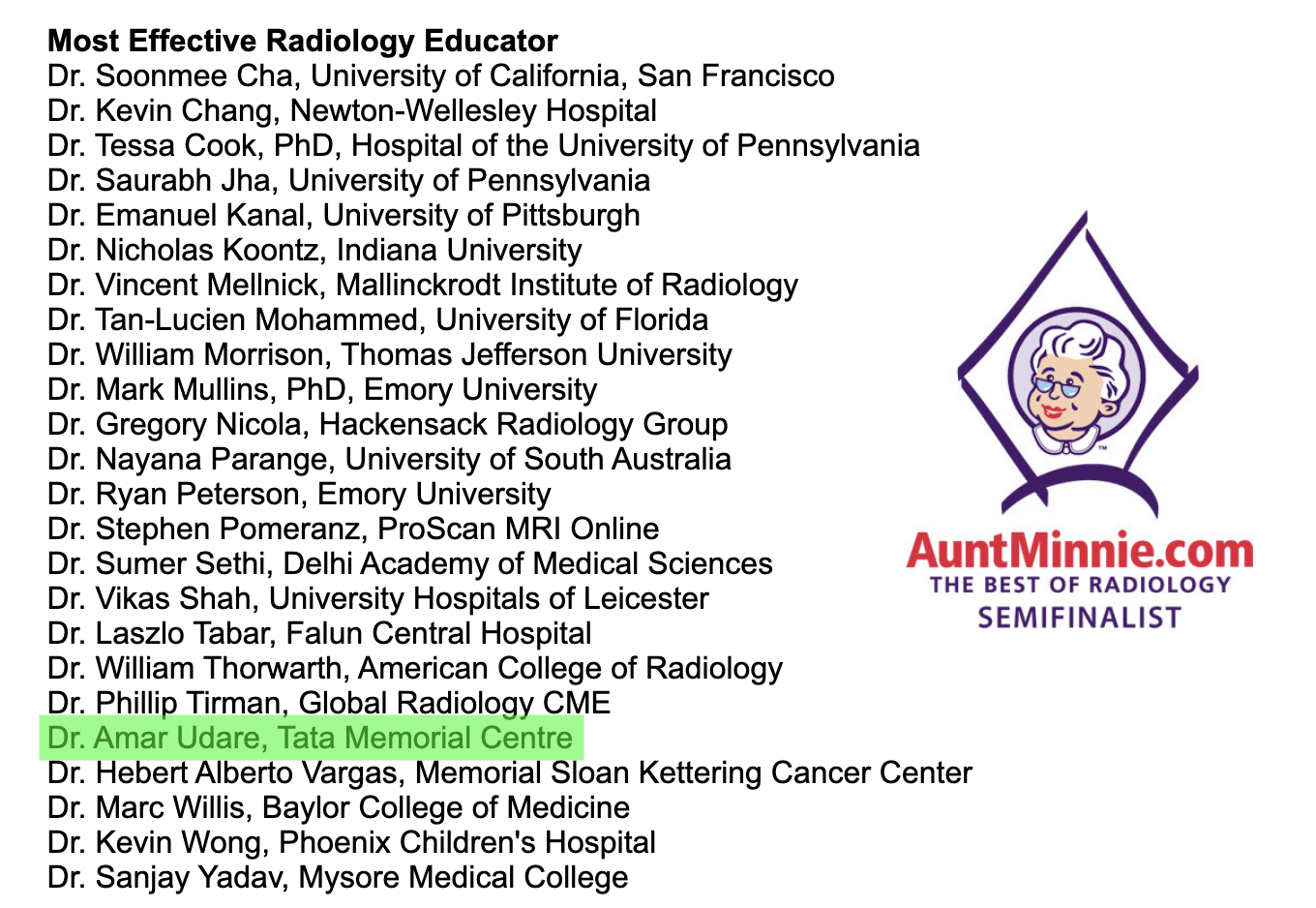 Where?
Cases have been collected by me from various sources. Thanks to :
Tata Memorial Hospital.
Lokmanya Tilak Municipal Medical College and Dr Anagha Joshi madam.
Deenanth Mangeshkar Hospital and Dr Sanjay Desai Sir.
B.K. Diagnostic Center and Dr. Girish Kursija.
Who? 
Dr. Amar Udare.  MBBS ( KEM Hospital, Mumbai) MD Radio-diagnosis ( Gold Medalist, Tata Memorial Hospital, Mumbai ) DNB Radio-diagnosis ( National Board of Examination) Fellowship In Body Imaging ( Lokmanya Tilak Municipal Medical College, Sion) Fellowship In MSK Radiology (Deenanath Mangeshkar Hospital, Pune) Fellow in Abdominal Imaging (University of Ottawa, Canada) Check out my international publications here. Apart from radiology, I also blog about my life experiences here. Here is a list of contributing authors: Contributing Authors I intend to collaborate with other like-minded authors who wish to post their content. If you wish to contribute, please drop in a mail here. You can also post your cases here.
Licensing and Terms of Use:
All original content is copyrighted. Instead, you are free to share the corresponding web pages. If you wish to obtain permission to use content from the website, you can request it here. Read the detailed terms and privacy policy of the website.
Contact Us
If you have any queries or suggestions, contact us.
Collaborate with us
If you have a website/blog with similar content as ours and wish to collaborate with us to contact us and we can work on something together for sure!
Advertise with us
If you wish to advertise with us you can drop us a mail at admin[at]radiogyan.com or use the contact form contact us.
Support RadioGyan development:
Why should you donate to RadioGyan? Tl;DR
🙏  A token of gratitude for the work that I do!
🧾  Helps me pay the website hosting and maintenance bills!
😄 Better user-experience – Faster website servers.
📷 Better editing software for the web content and YouTube page.
🎙 Improved hardware : Microphones and camera.
Click here to support (Supports multiple currencies and payment methods)
UPI : radiogyan@dbs (Using your preferred UPI app (Google Pay, PhonePe, PayTm).) | PayPal | YouTube Membership Goals achieved so far with the help of #TeamGyan Supporters:
Upgraded to top-notch web hosting for the website. The website loads way more faster, even on mobile devices.
Got a dual monitor setup for better YouTube Live Sessions using a Dell Monitor with my MacBook Pro.
Got a Blue Yeti Microphone as the audio quality with the default Mac microphone was sub-par.
Next Goals that need funding:
iOS and PlayStore RadioGyan App.
Ability to share DICOM sets on the website.
Green Screen setup for live videos.
Additional servers in other countries to improve website performance (CDN functionality)
RadioGyan has been helping radiology residents all over the world since its inception. Although the website is free for its users, building and maintaining website needs investments in terms of time and money. Part of it is covered by Google Ads and the Amazon affiliate program. These interfere with user-experience and if there is enough support I intend to get rid of these in the future. I am always working to improve the content on the website and all its social media account. I work on the website alongside my radiology job and try to finance this solely with income from this source (and my time). By becoming a supporter, you'll be financially assisting me to develop new and improved site features that will be free for the benefit of all. Here are ways how you can support RadioGyan:
The best way to contribute is to share the website with your friends and colleagues. More people it reaches more satisfying it is for us!
Contribute cases and radiology related material. Submit your cases here.
YouTube channel membership (🤩 additional perks, costs less than a ☕️) : Click here to join Team Gyan on YouTube!
Alternatively, you can support us by buying products from the Amazon website, at absolutely no extra cost to you! And this includes ANY product, need not be related to radiology. You don't pay a penny, yet contribute to the development of the website. Pretty cool, isn't it?  Here are instructions to do that:

Click on the image/link below.
Browse your desired product. It can be ANY product. Not necessarily related to radiology.
That's it! You won't be charged anything extra. You can verify that by checking the price of the product by directly visiting from Amazon.
Click here to deals of the day from Amazon.
Happy learning! P.S.  I am developing the software backend of the website as well. So if you have any suggestions or corrections please feel free to contact me