Radiant viewer is the best DICOM viewer for Windows. It is lightweight and offers a range of functions. And the best part is that it is FREE to download and use. Installing the software on personal computers is easy, just like installing any other Windows software. However, installing Radiant Viewer at the workplace can be a bit difficult due to certain restrictions.
Computers in hospitals are often managed by the IT department and for security reasons installation of programs needs administrator assistance. It may not be feasible to get permissions on every computer for all users. The solution is to use portable versions of software that do not require special permissions.
Why should you install a portable version of the Radiant DICOM viewer?
By pass restrictions from your system administrator / IT department
You can load it in a USB drive and use it any Windows computer.
You can save a copy on the cloud and download it wherever you want to use it.
Works on both 32 and 64-bit systems.
How to install a portable version of Radiant DICOM viewer on Windows PC?
Step 1: Download the regular version of the Radiant DICOM viewer for Windows from here: Download Radiant viewer. The download should begin automatically. Do not install from other sources as they may not be secure.
Step 2: Click on the installer as you would do for any other software. Accept the terms and conditions (I am sure you are not going to read them!).

Step 3: Choose custom installation instead of the recommended "Express" installation.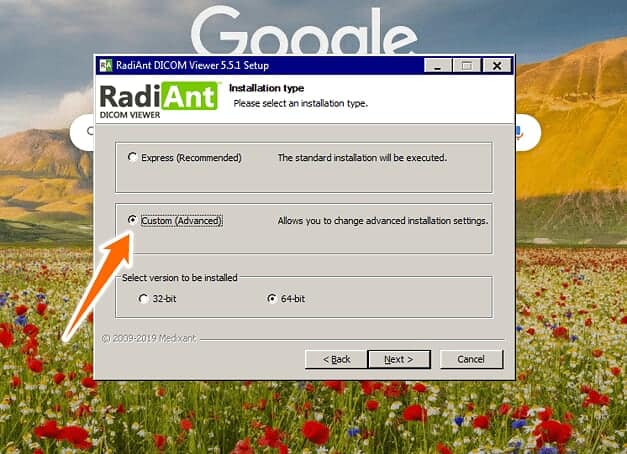 Step 4: Click on the browse icon to select a custom installation path.
Step 5: Select the location you wish to install the application. Make sure you do not select "C drive" / the drive where Windows is installed. Access to that drive is blocked by administrators in institutes. You can also select a USB drive.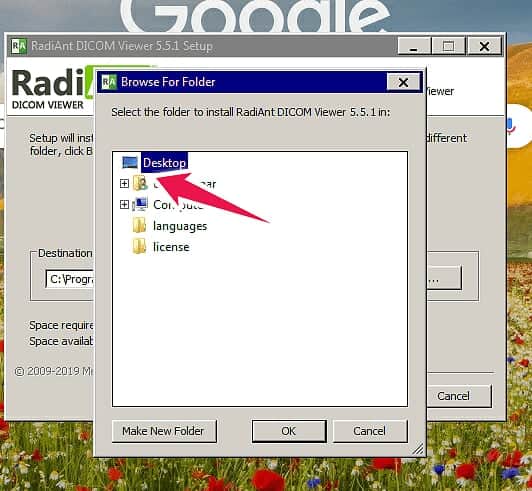 Step 6: Done!
You have successfully installed a portable version of the Radiant DICOM viewer for Windows! You can open it by clicking on the RadiAnt Viewer icon in the folder that you selected to install the program.
If you have any questions, drop me a message and I will be happy to help! https://radiogyan.com/contact/
Check out our dedicated page of useful radiology software:
Frequently asked questions:
Can we install a portable version of the Radiant DICOM viewer for Windows?
Yes. Check the detailed instructions in the post above.
Is Radiant viewer free?
Yes. Radiant Viewer is free for personal use. You will have to click on the trial license option while installing it.
What is the best DICOM viewer for Windows computers?
Radiant DICOM viewer.