Every year before and during counseling several hundred aspiring radiologists find themselves facing this familiar conundrum: Should I choose DNB Radiology in this institute or MD Radiology in that institute?
This problem is not new and if you are looking for a simple one-size-fits-all solution to this, then I am afraid you will not find it. I do not think a simple solution can exist to this question ever simply because it is not a question of one being better than the other. Rather it is usually about one option being better than another for a particular person.
So the real question is this: which is a better fit for you? The answer depends on several conditions and in this article, we are going to explore the different factors which can help you make an informed decision. Although this post focusses on radiology, most of what is said is applicable to other specialty branches as well.
First things first: What is the difference between MD and DNB?
While MD/MS courses are the older and more familiar training courses seen in Medical Colleges, the Diplomate of National Board (DNB) degree is comparatively newer. It is usually awarded after a three-year residency in a Private Hospital with a teaching program. All DNB courses are officially run by the National Board of Examinations (NBE), which is an autonomous academic body, and the degree is also awarded by the NBE. Importantly, this was not the case previously, as till around 2016, DNB courses had a separate entrance examination called the DNB CET but that is only of historical importance these days as currently, the entrance exam is the same as NEET-PG/INICET with centralized counseling.
Familiarity: Do people know about the DNB degree and how much does it matter?
The MD degree is not only more familiar to medical professionals it is also better known among the general population. While this may not matter in radiology as much as it does in other subjects where you perform more patient-facing work, this does lead to some differences in practice, especially in smaller towns and cities where the DNB degree may be unfamiliar to people and this can indirectly affect you at the beginning of your practice.
Having said that, if you have the skills, in the long run, it does not matter much as your skills and work become your identity. The scenario is also rapidly changing as more and more DNB specialists are coming up and compared to a decade back, the situation has changed dramatically. Moreover, even this difference ceases to exist in big cities and large multispecificialty hospitals where you are solely judged by the skills and knowledge that you bring to the table instead of your institute of training.
Training: Is MD superior to DNB or vice-versa?
The MD and DNB residency have some key differences but there are some areas where the line between them gets blurred.
Traditionally, an MD residency implies a three-year post-graduate training in a Government or Private Medical College or a teaching hospital. An MD in a Govt. Medical College (GMC) comes with the usual description of a large number of patients while private medical colleges (PMC) will usually have fewer patients. "Fewer patients" and "less workload" are relative terms and should always be interpreted in the correct context.
For instance, a typical daily schedule of 40 Ultrasounds exams, 20 CT exams, and 10 MR exams per resident may seem significantly lower than some busy departments which boast of 80 Ultrasound exams, 40 CT exams, and 25 MR exams, the difference depends less on the absolute number and more on certain factors like:
Adequate guidance and supervision while reporting
Sufficient time to examine complicated cases
Sufficient exposure to different subspecialty cases
Time off to study daily cases
A DNB residency is usually in a Private Hospital with a teaching program but there are certain examples of DNB courses offered by some GMCs as well. The workload and working environment in a DNB residency usually have more in common with a PMC than a GMC but that does not mean all DNB residencies are "less hectic" than an MD Radiology program in a GMC.
As long as a training program has a minimum number of clinical cases to work through, has all the modalities, and has faculty who are supportive, the training will be good irrespective of where it is taking place.
Variation: "It depends on the institute!" – but does it really?
You'll often find people say, "MD is the safer choice" while choosing a DNB institute "depends on the institute". While I agree that this holds true for a lot of cases, the fact remains that there's more to this than meets the eye.
The origin of this idea comes from the fact that the training in DNB institutes varies wildly with some residency programs competing on an even footing with premier central Institutes of the country while others are spectacularly deficient in pretty much every way. Having said that, the standard of training is not consistent in all government institutes either. There are plenty of GMCs which do not have the infrastructure needed to support residents but are running a training program nevertheless. The only thing guaranteed in a GMC is the number of patients but that is not enough – especially in Radiology where you need a lot of expensive equipment and strong clinical subspecialties.
Academics is another factor that depends on individual effort from residents as well as supportive faculty. Even in a department with good infrastructure and resources, you can have zero academics while the opposite may also hold true.
Infrastructure: The good, the bad, and the ugly
In radiology residency, you need adequate exposure to all modalities. On average, a good DNB institute is more likely to have all modalities running well and the reason behind this is consistent funding. There are several GMCs that lack one or more modalities, and there are also those which have a modality but students do not get training because the machines break down and are not fixed on time or maintained well enough. This is much less likely to happen in a privately run enterprise.
Moreover, even if you have all the modalities in a GMC, you often run into the problem of a PPP system or a Public Private Partnership system. This is a situation where a GMC enters into a partnership with a Private Entity: the GMC provides lands and payment to the Private Entity and is responsible for the establishment and maintenance of diagnostic (CT/MRI) or Interventional (DSA) services. This system, while good for patient care, is frequently bad for trainees because the Private Entity employs its own consultant radiologists who are not obligated to play an active role in the training of residents.
Subspecialty Exposure: Not all colleges and hospitals are built the same
One of the advantages of a Medical College is the opportunity to deal with all types of patients across all specialties but unfortunately, this does not hold true for all hospitals. There are plenty of training programs that provide a high level of training in one sub-specialty but almost no training in others. A good example would be a dedicated cancer hospital or a dedicated children's hospital – both of them are less likely to provide you with robust training in obstetrics which is something that you will need if you intend to start private practice right after your residency.
You are more likely to enter into such a training program with DNB than with MD as the latter is more common in a Medical College which provides more opportunities for a well-rounded general radiology training while the former is seen in many private or government specialty centers with a training program.
Post-Residency Bond: Sounds terrible but maybe not for everyone
This is something exclusive to MDs in a GMC, especially in State Medical Colleges where you are expected to work in the state for a fixed period after your residency. A bond can help you get started or it can throw a wrench into your plans. It is important to know about the bond policy of a state before choosing an institute.
Who is it good for?
For people who want to start private practice immediately
For people who want to continue working in a Govt. setup and gain confidence
Who is it not good for?
For people who want to get further training (Fellowship/SR-ship/NEET-SS)
For people who want to apply for a position abroad
For people who want to leave the state.
Fees and Stipend
DNB Programmes typically have a higher annual fee than MD programs. The fee has been fixed for all institutes by NBE while the stipend depends on the State. Kindly refer to updated guidelines/notices at https://natboard.edu.in/.
Fees and stipend for MD Radiology vary from institute to institute and there are no set guidelines for these. However as most MD colleges are affiliated to government hospitals their fees and stipend are reasonable.
Exit exams
One of the scariest things about a DNB residency is the final exam. This is because while the MD exit exam has traditionally had a pass rate higher than 95%, the same cannot be said to be true for DNB. In fact, if you look at the trends in the past few years, you'll find the pass rate fluctuating between 65-80%.
The most important reason behind this is the challenging exam conditions: Both the final and practical exams are held in an unfamiliar environment – an institute that is different from the home center of the examinee. This is in stark contrast to the MD exams which are almost always held at the home center and the candidates get to enjoy all the advantages that come with it.
There are also differences in the exam pattern with the DNB exam having a more objective pattern with OSCEs in the practical component, the most challenging aspect remains the completely different exam centers with relatively lower pass rates.
These dismal pass rates are not specific to Radiology but are seen with other subjects as well as shown in the above table – some more than others. The DNB exit exam is unequivocally harder than the MD counterpart but it does force a student to work harder as well to gain a solid foundation.
Primary DNB vs Secondary DNB: What are these?
Primary DNB refers to the 3-year DNB PG courses that we have been discussing till now. However, that is not the only DNB Radiology course that exists. The Secondary DNB is a two-year course for those who already have a Diploma in Radiology such as DMRD or DRD. It has a separate entrance exam called Post Diploma Centralised Entrance Test (PDCET). The total duration of training for someone who gets a secondary DNB after a Diploma in Radiology is 4 years i.e. 2 years of diploma and 2 years of DNB but at the end of it, the DNB degree is equivalent to all other postgraduate radiology degrees i.e. MD or Primary DNB.
MD and DNB Equivalence: What does it mean?
This has implications for your career after your residency – especially if you want to have a career in academic medicine. This notice from 2018 has clearly stated the requirements of a DNB teaching program/Hospital for the DNB degree to be considered equivalent to an MD degree.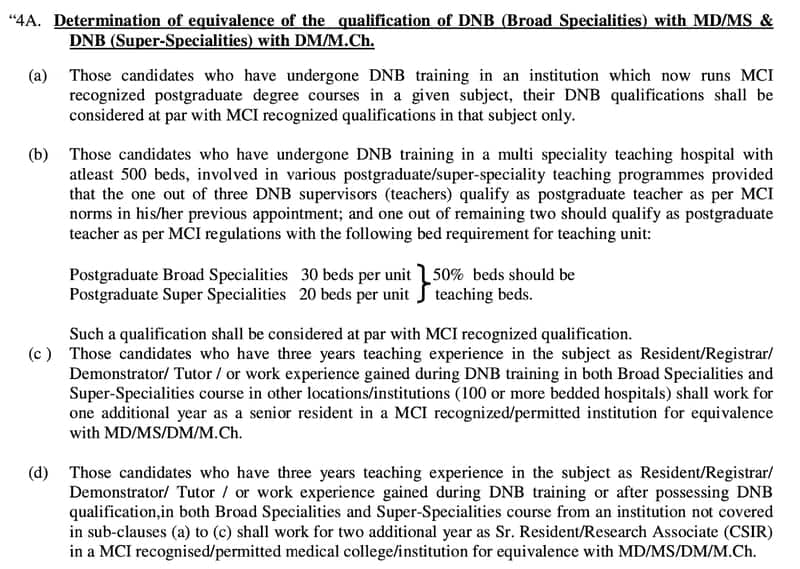 Conclusion
Choosing between a DNB and an MD/MS Postgraduate Radiology course will depend on all the factors mentioned above and how they apply to a specific candidate and their circumstances. It is also important to understand that your future success depends on many factors other than the 3 years of residency, so even if you end up compromising on your institute, you will get plenty of opportunities to excel! I hope the information that we have put together helps you in making the best choice for a great start to your career in Radiology!
This post has been contributed by #TeamGyan Member Dr. Devpriyo Pal. He is a radiophysics nerd and content creator who regularly posts educational illustrations and images on Instagram, Facebook, and Twitter.