Nodule Type
Number of nodules
Impression :
Please fill out the required fields.
Caveats for using the Fleishner guidelines calculator for incidental pulmonary nodules:
Applicable for patients ≥35 years old with incidental pulmonary nodules on CT imaging.

Not to be used for

Lung cancer screening

For patients with known primary cancer

Immunocompromised patients.

Management depends on the most suspicious lung nodule.

IN ADULTS, all CT scans of the thorax should be reconstructed and archived with contiguous thin sections (≤1.5 mm, typically 1.0 mm) to accurately characterize and measure small pulmonary nodules. Multiplanar reformats in the sagittal and coronal planes are also recommended.
Follow-up CT studies should be performed with a low dose protocol.
For smaller nodules, dimensions are average of long and short axes, rounded to the nearest millimeter. Thus the size threshold (<6 mm) corresponds to a rounded measurement of 5 mm or less as per these guidelines.
For nodules more than 10mm both long and short axes dimensions are documented.
Volume thresholds of 100 and 250 mm3 are used for volumetry instead of the 6- and 8-mm thresholds used for linear measurements.
Prior imaging studies should always be viewed to assess stability. Comparison between the earliest available study and the most recent study should be performed.
All attenuation measurements for nodules should be made on the thinnest available soft-tissue window images.
Risk Factors for Malignancy

Nodule Size and Morphology: Larger nodules and spiculated margins are worrisome.
Nodule Location:

Lung cancer - Upper lobes.
Adenocarcinoma and Mets- Peripheral portions
Squamous cancers - Near hila
Perifissural solid nodules are usually benign intrapulmonary lymph nodes.

Nodule Multiplicity: Multiplicity is associated with a lower risk of malignancy especially > 5.
Nodule Growth Rate: Volume doubling time for cancers are in the range of 100–400-day range and correspond to an increase in diameter by 26%.
Emphysema and Fibrosis: Increased risk.
Age, Sex, Race, and Family History
Tobacco and Other Inhaled Carcinogens

Follow-up CT is NOT recommended when small nodules have a perifissural or other juxtapleural location and a morphology consistent with an intrapulmonary lymph node, even if the average dimension exceeds 6 mm.
Recommendations for nodules detected on incomplete CT chest studies, for eg. Nodules at lung bases covered on CT abdomen:

Most small nodules (<6 mm) - No further investigation
Intermediate-size nodules (6–8-mm) nodules- Follow-up CT of the complete chest after an appropriate interval (3–12 months depending on clinical risk) to confirm stability and to evaluate additional findings.
Large or very suspicious nodule -  Complete dedicated CT thorax examination for further evaluation.
Fleischner Society 2017 Guidelines for Management of Incidentally Detected Pulmonary Nodules in Adults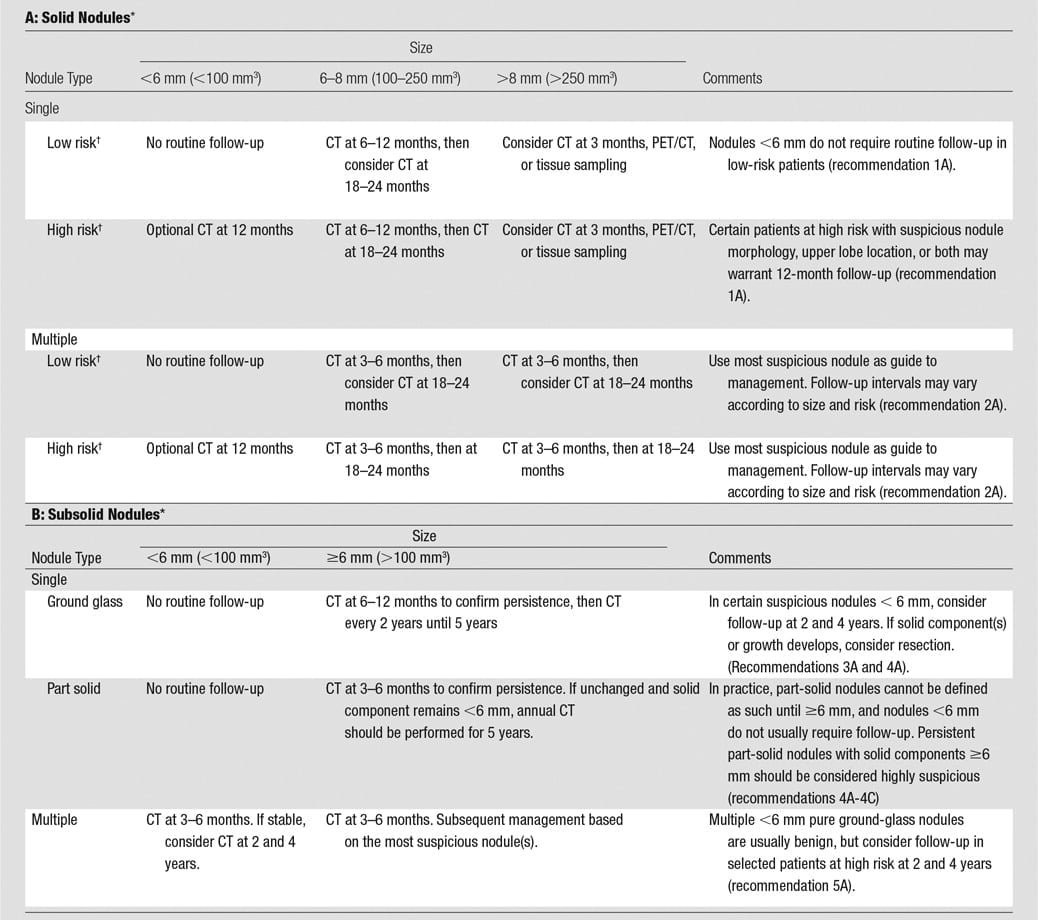 Reference: Guidelines for Management of Incidental Pulmonary Nodules Detected on CT Images: From the Fleischner Society 2017 Heber MacMahon et.al. Radiology 2017 284:1, 228-243. Read the complete article here: https://pubs.rsna.org/doi/10.1148/radiol.2017161659