Quiz
Which of the following is a feature of this pathology?
Force on palm.
Force on back of wrist.
Force on the back of the elbow.
Twisting injury at elbow.
Pathophysiology
Distal radial fracture occurring due to fall on outstretched hand, or force to dorsal aspect of distal forearm.
Key Imaging Features
Radiographs:
Distal radial fracture with volar displacement of distal fragment.
May be extra articular or may extend intra-articularly.
Need to check for concomitant other fractures and misalignment of other joints in the region of the wrist.
Imaging Recommendation:
For primary diagnosis and to differentiate from Colles fracture and other distal radial injuries: Wrist radiographs.
In case of comminuted fracture and intra articular extension CT may be needed for planning surgical management.
If soft tissue injuries and disruption of triangular fibrocartilage complex is suspected: MRI.
Top 3 Differential Diagnosis :
Colles' fracture: Dorsal angulation of distal fragments. Also a more common type of fracture overall, more common in patients with osteoporosis (thus females of old age.) Key differences in Smith's fracture and Colles fracture owing to their mechanisms of injury, and their resultant deformities are as follows.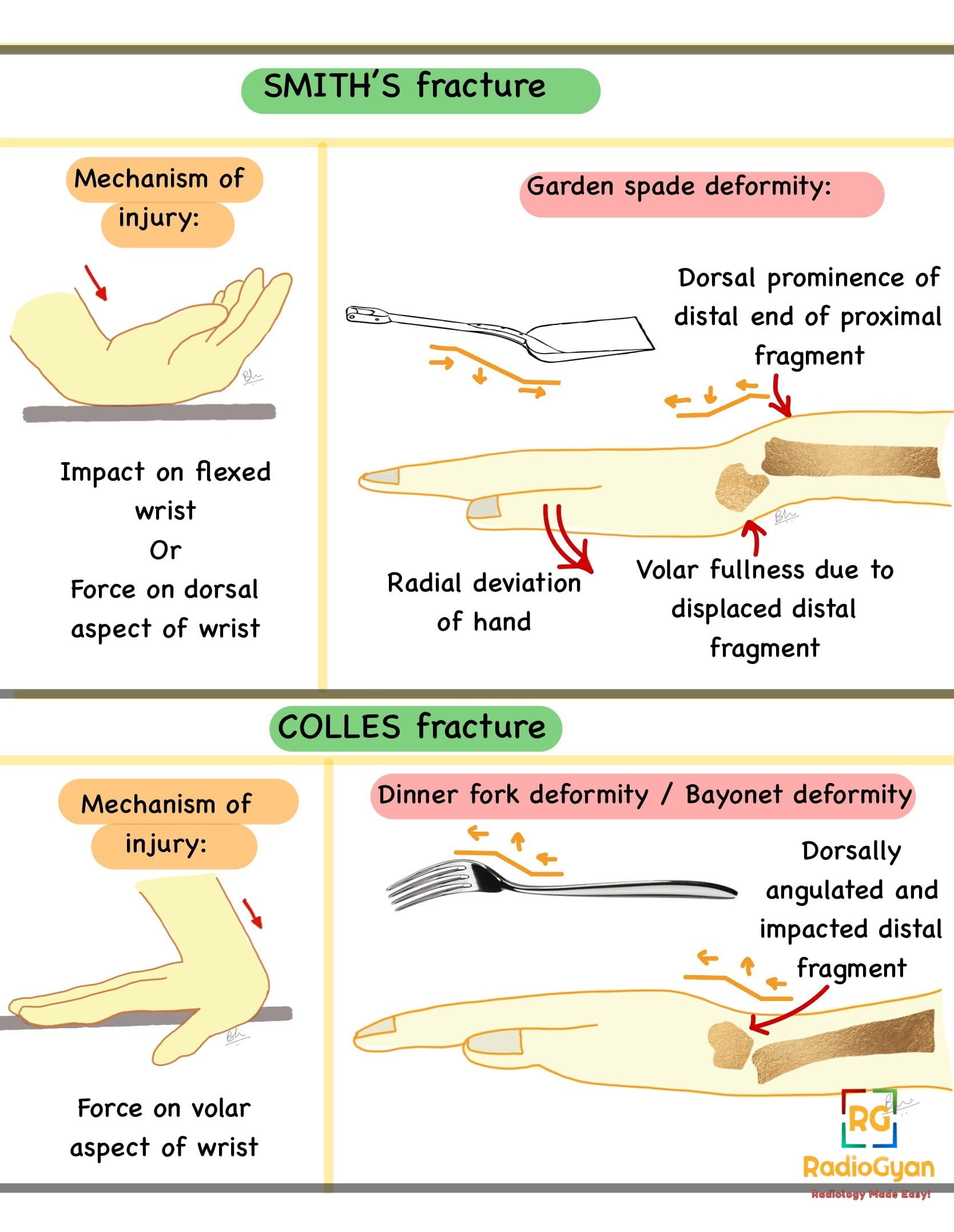 You can read more about Colle's fracture here:
Barton Fracture – Intra-articular distal radius fracture with displacement of radiocarpal joint dorsally. Type 2 Smith's fracture is a reverse Barton fracture (volar displacement)
Reverse Barton fracture – Intra-articular distal radius fracture with volar displacement of radiocarpal joint. Type 2 Smith's fracture is a reverse Barton fracture
Clinical Features :
Symptoms : History of injury, followed by:

Immediate: Pain, deformation of wrist joint, often called 'garden-spade deformity' , swelling on the volar side. Ulna may become prominent on the dorsal aspect. May be associated with ulnar or median nerve compression.
Delayed : Malunion, tendon entrapment, carpal tunnel syndrome, complex regional pain syndrome.

Age/Sex predilection: Younger age group.
Risk factors if any : High energy trauma.
Classification System : Thomas Classification
The Smith fracture classification system, also known as the Thomas classification system, is a method used to categorize fractures of the distal radius. It was developed by Dr. Robert A. Smith and Dr. John L. Thomas. The system classifies fractures based on the direction of displacement and the involvement of joint surfaces. Here are the types of fractures in the Smith classification system:
Type I: These fractures are extra-articular (do not involve the joint surface) and have a simple or wedge-shaped pattern.
Type II: These fractures involve the joint surface and are displaced in a volar (toward the palm) direction.
Type III: These fractures also involve the joint surface but are displaced in a dorsally (toward the back of the hand) direction.
Etymology and synonyms :
Smith Fracture is named after Robert William Smith, an Irish surgeon.
This fracture is also called Reverse Colles fracture, owing to the more common Colles fracture having a radial displacement opposite to that of Smith's fracture.
This injury was first described for French physician Jean- Gaspard-Blaise Goyrand, and is hence also known as

Goyrand fracture.
Treatment :
Non displaced: Immobilisation after closed reduction.
Minimally comminuted: Closed reduction with k-wires.
Displaced: Open reduction and internal fixation with volar plate.
References:
Single best review article:
Other references:
Saxton, J.A., Montgomery, J.R. and Spicer, P.J. (2021) "An overview of the named wrist fractures," Contemporary Diagnostic Radiology, 44(24), pp. 1–5.
Hunter, Tim & Peltier, L & Lund, Pamela. (2000). Radiologic history exhibit: Musculoskeletal eponyms: Who are those guys?. Radiographics : a review publication of the Radiological Society of North America, Inc. 20. 819-36.
International CME for Today's Radiologist Shama Jaswal and Kevin M. Rice, MD Aug 12, 2020 Smith Fracture
Schroeder JD, Varacallo M. Smith's Fracture Review. [Updated 2022 Nov 25]. In: StatPearls [Internet]. Treasure Island (FL): StatPearls Publishing; 2022 Jan-.
Distal radius fractures – statpearls – NCBI bookshelf (no date). (Accessed: February 11, 2023).
Case co-authored by TeamGyan Member Dr. Bhargavi Sovani. Illustrations by Dr Bhargavi Sovani.